Danielle Wightman-Stone

|
While catwalk shows make take the glory, a fashion week presentation really does allow the designer to showcase the inspiration around the collection, allow press and buyers to see the pieces up close, as well as give them the chance to really appreciate the craftsmanship of the designs. The autumn/winter 2018 season at London Fashion Week saw 28 presentations on-schedule, and FashionUnited shares its favourite five presentations.
Sophia Webster 'I Don't Need A Mango to Tango'
You can always count on Sophia Webster to create a theatrical display, in previous season we've had a winter wonderland, delicate fairies, and even mermaids, and for autumn/winter 2018 we entered the opulent, vibrant and intensely competitive world of ballroom and Latin dance, complete with dancing models.
Taking inspiration from Baz Luhrmann's 'Strictly Ballroom', you could see the film's central character, Tina Sparkle, throughout the presentation, from the crystal encrusted heels to the beaded clutch bags and the studded, feathery lattice sandals that had a Latin flavour to them.
"The collection and show theme this season is very close to my heart as I grew up with competitive dancing," explains Sophia Webster. "Dance costumes have to be made in striking colour combinations, sequins and crystals to attract the attention of judges, and I loved bringing all this to life in AW18. There is endless inspiration to create a bold and spirited collection, which is at the same time sexy, feminine and wearable.''
The presentation really was a spectacle, with the Hotel Café Royal's Pompadour Ballroom being the perfect backdrop to the hundreds of dance trophies, glittery shoes and dancing models who shined on podiums to a soundtrack that included the Spice Girls.
There were so many highlights from the strappy peep toe sandals inspired by Blackpool Tower Ballroom's famous gilt, Rococo ceiling to her signature speech bubble bags featuring phrases including 'Groove is in the Heart', 'Shall We Dance' and 'Twinkle Toes', which featured gold disco-ball kiss locks and ornate rococo handles. This was all complemented perfectly by feather and embellished garments created by Christian Cowan.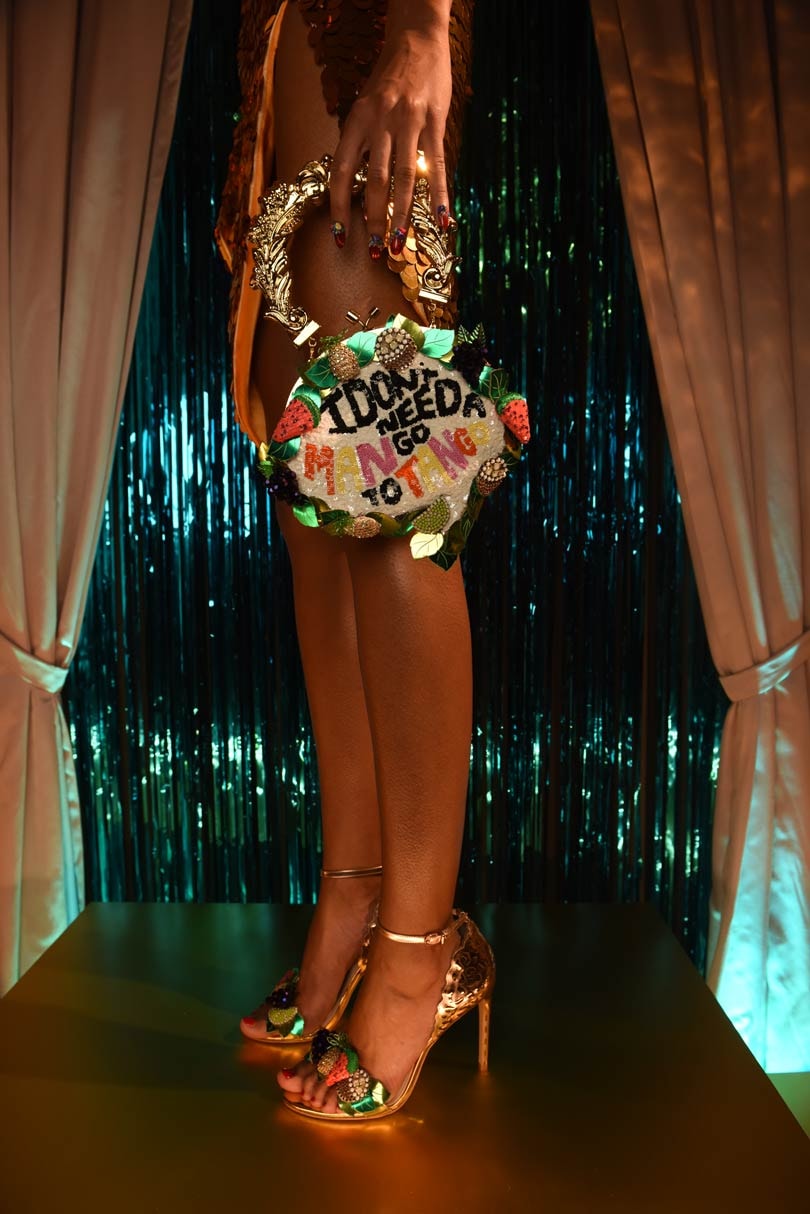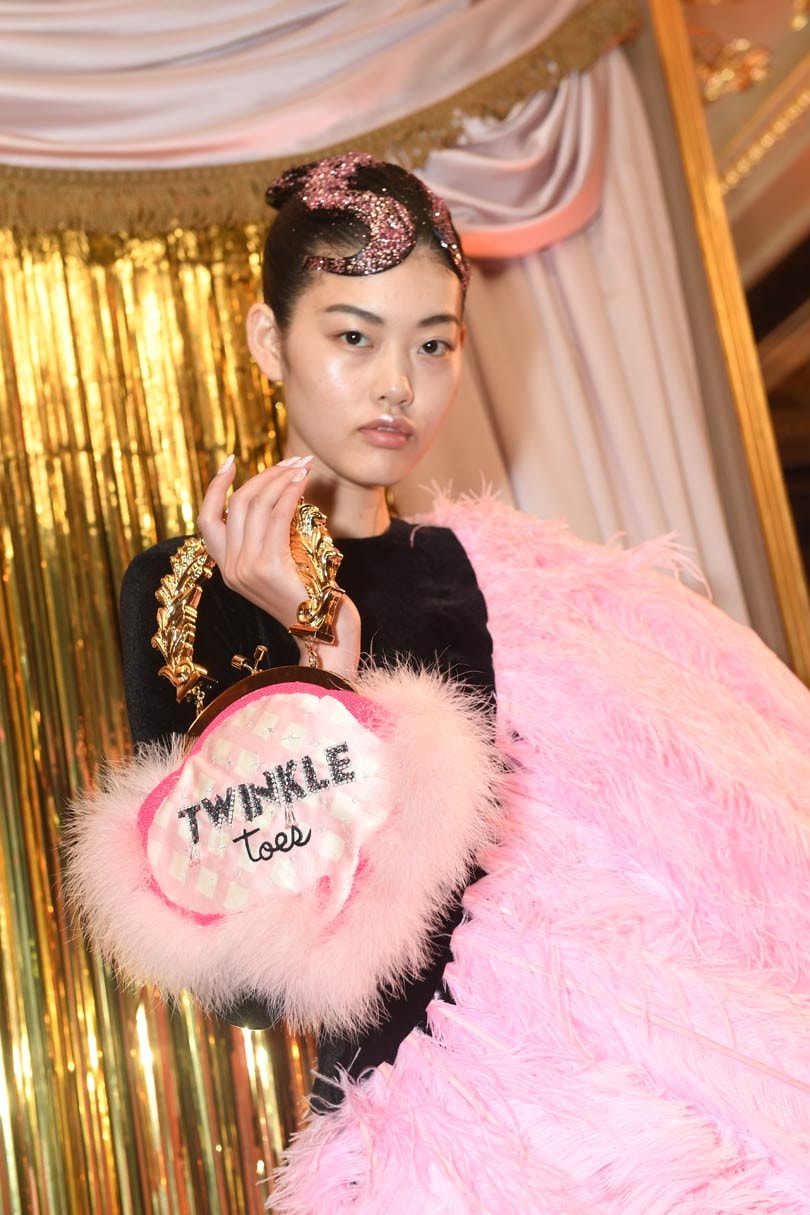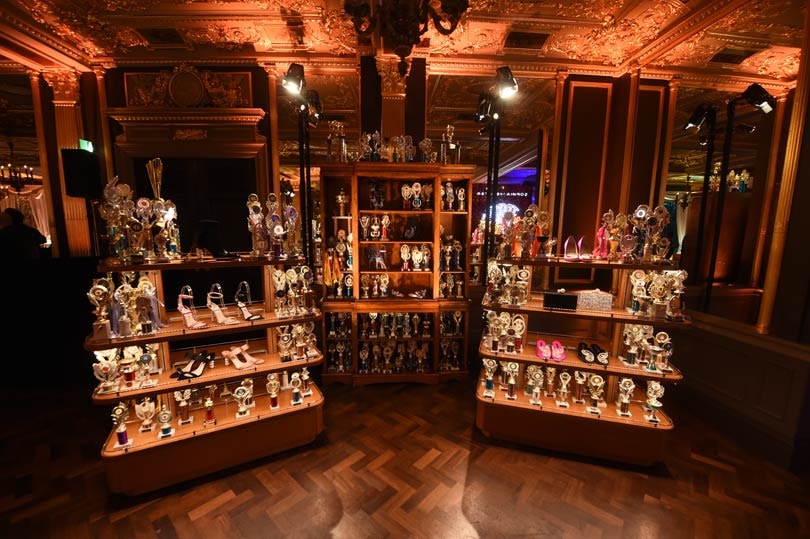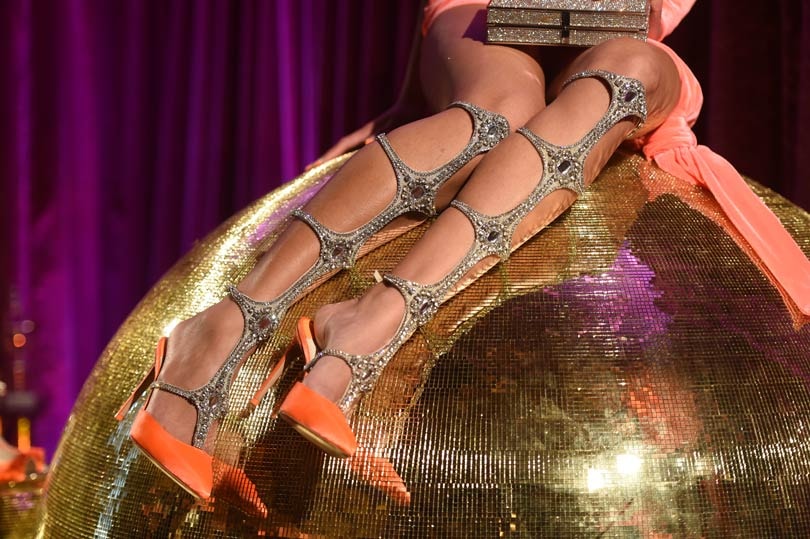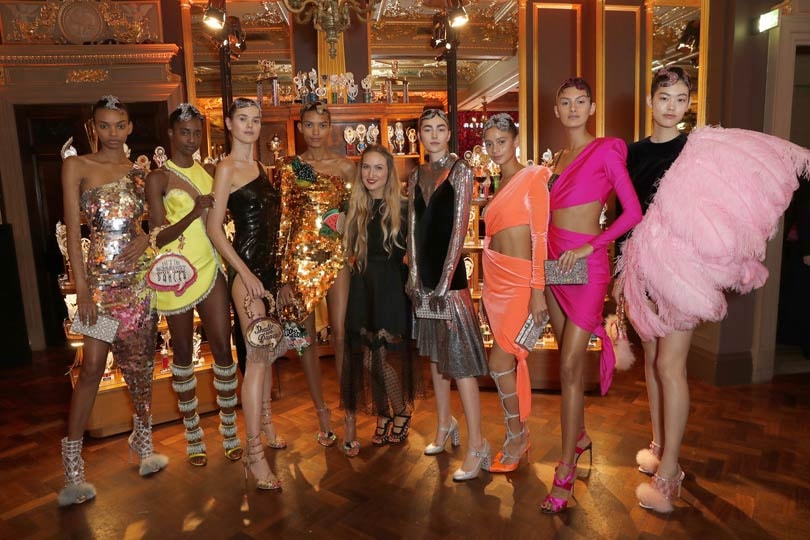 Images: courtesy of Sophia Webster
Ryan Lo 'I Love Me!'
Returning to presentation format, Ryan Lo showed off a special collection of his greatest hits against the powder puff pink gallery of restaurant Sketch, "It is simply about what I love to do!", explains Lo.
Celebrating his signature styles, the presentation showed off the designer's creative use of various fabrications, from tactile knitted tulle worked into A-line princess frocks and lace made up into chevron striped candy floss nightgowns. Also spotted was jacquard woven with silver butterflies on trench coats and puff-sleeved Victorian-inspired dressed.
Dominated by black and white, there were also pops of pastel shades, as well as bright pink, with the designer's ongoing collaboration with milliner Stephen Jones, showcasing Yayoi Kusama-inspired pumpkin berets in a glitter candy palette.
Highlights had to be the rainbow tulle maxi dress, the handmade flower embellishments and beading detailing on the pussy bow blouses, and Lo's little black dresses of ruffled tulle and polka dots.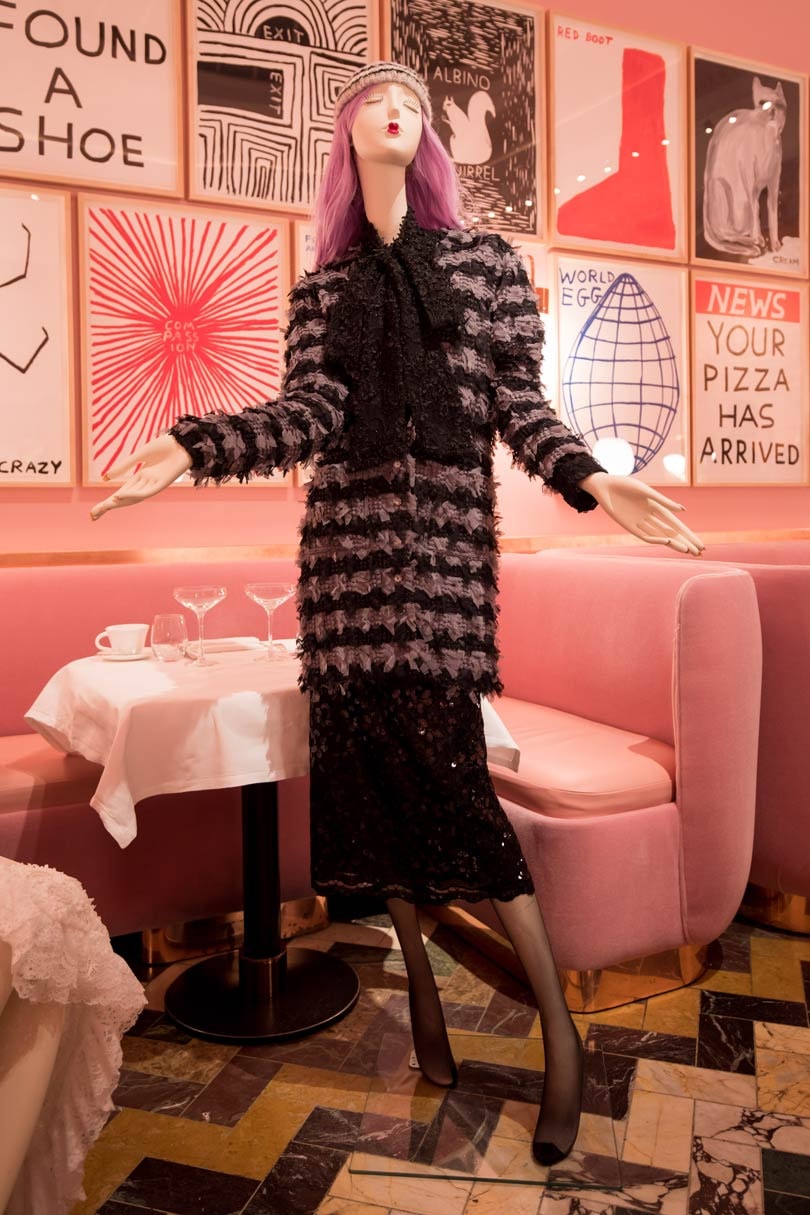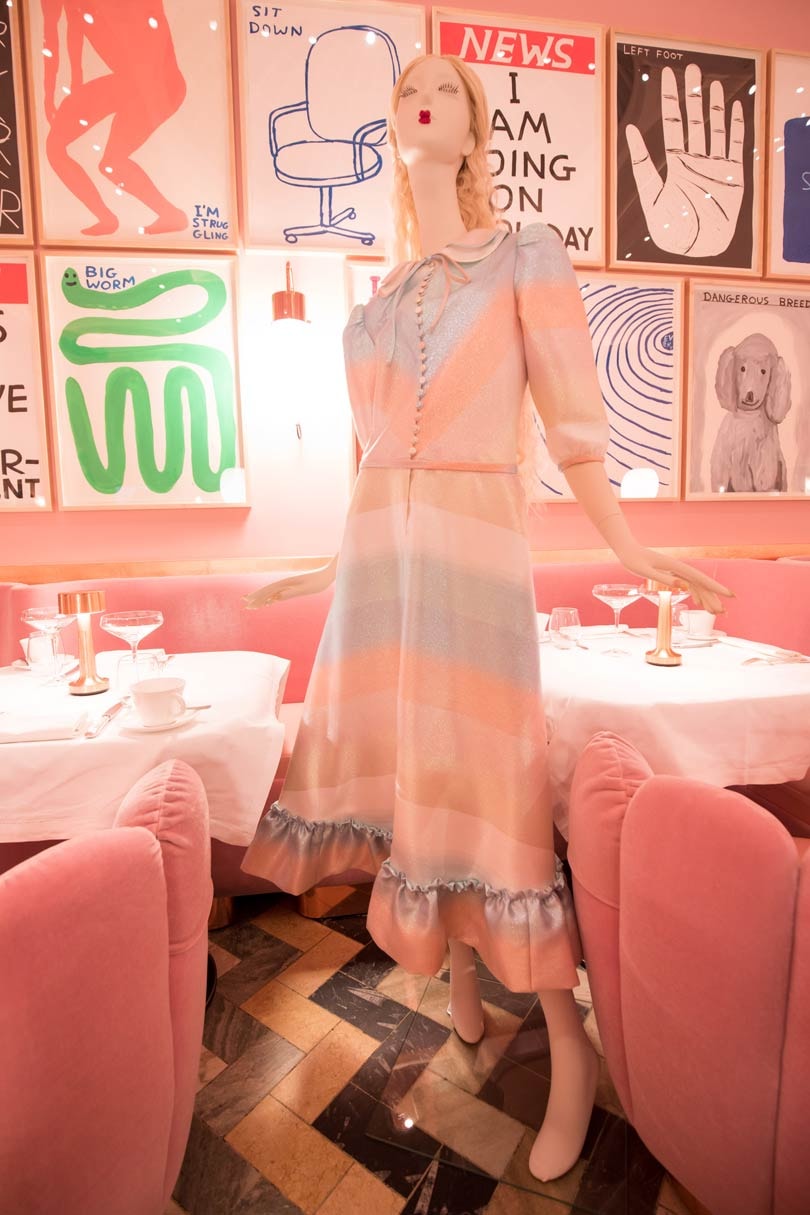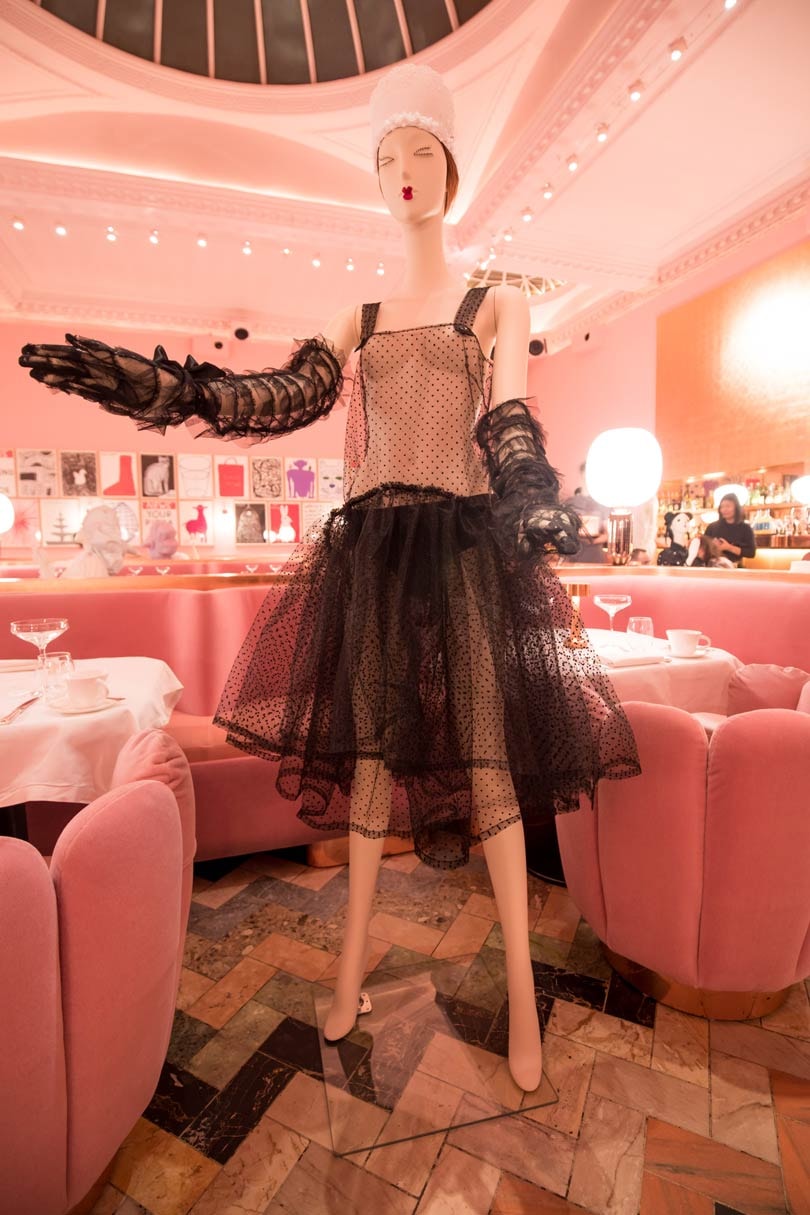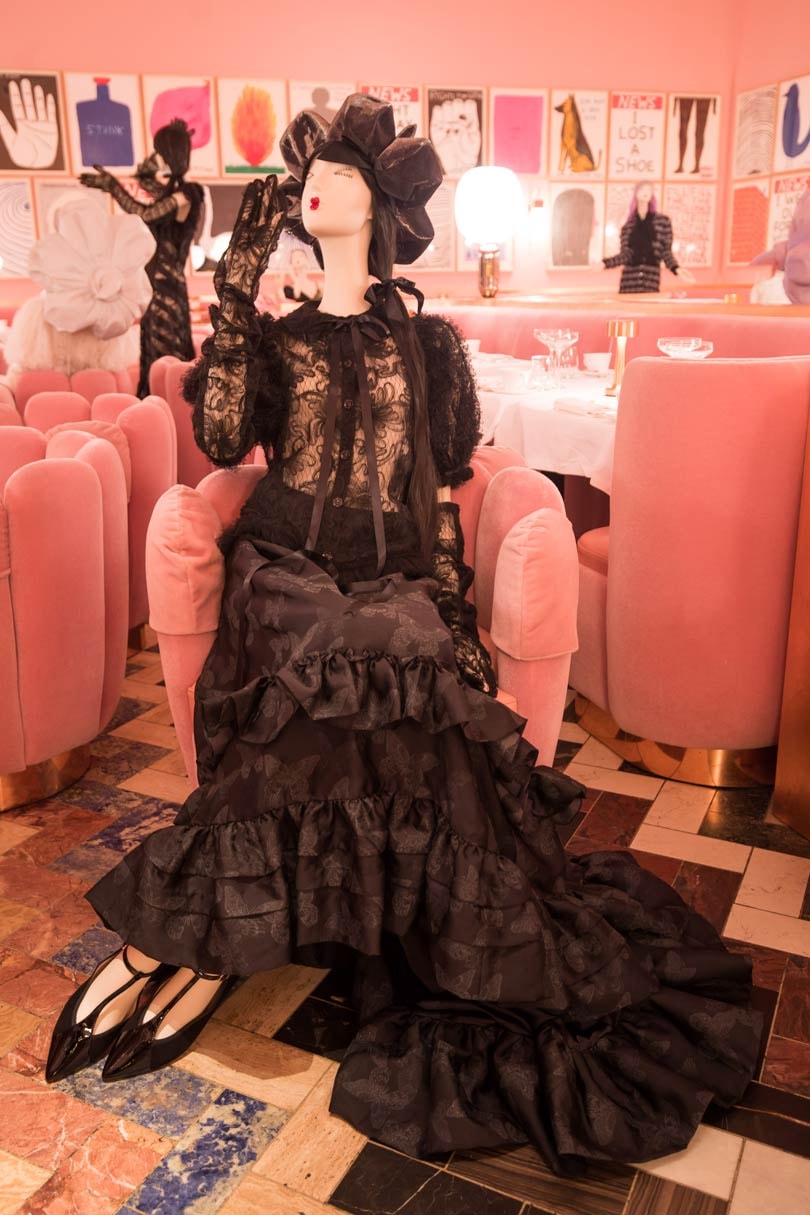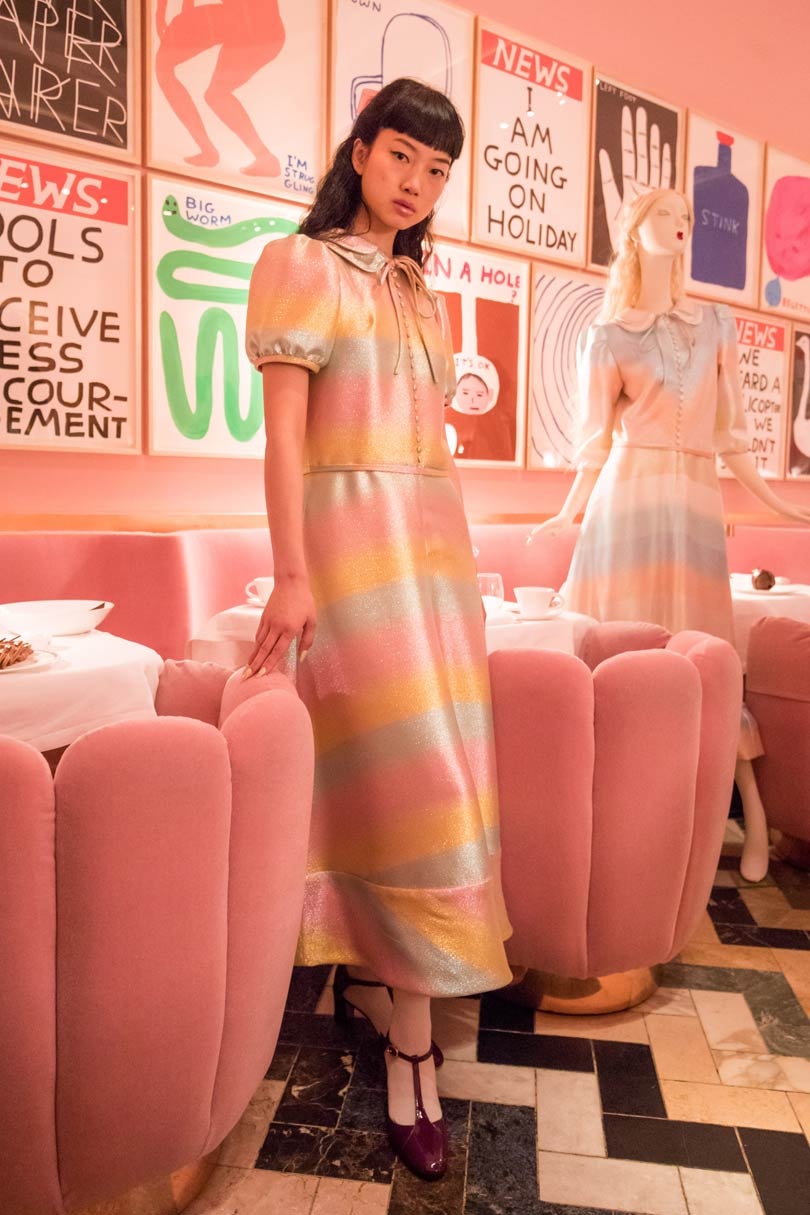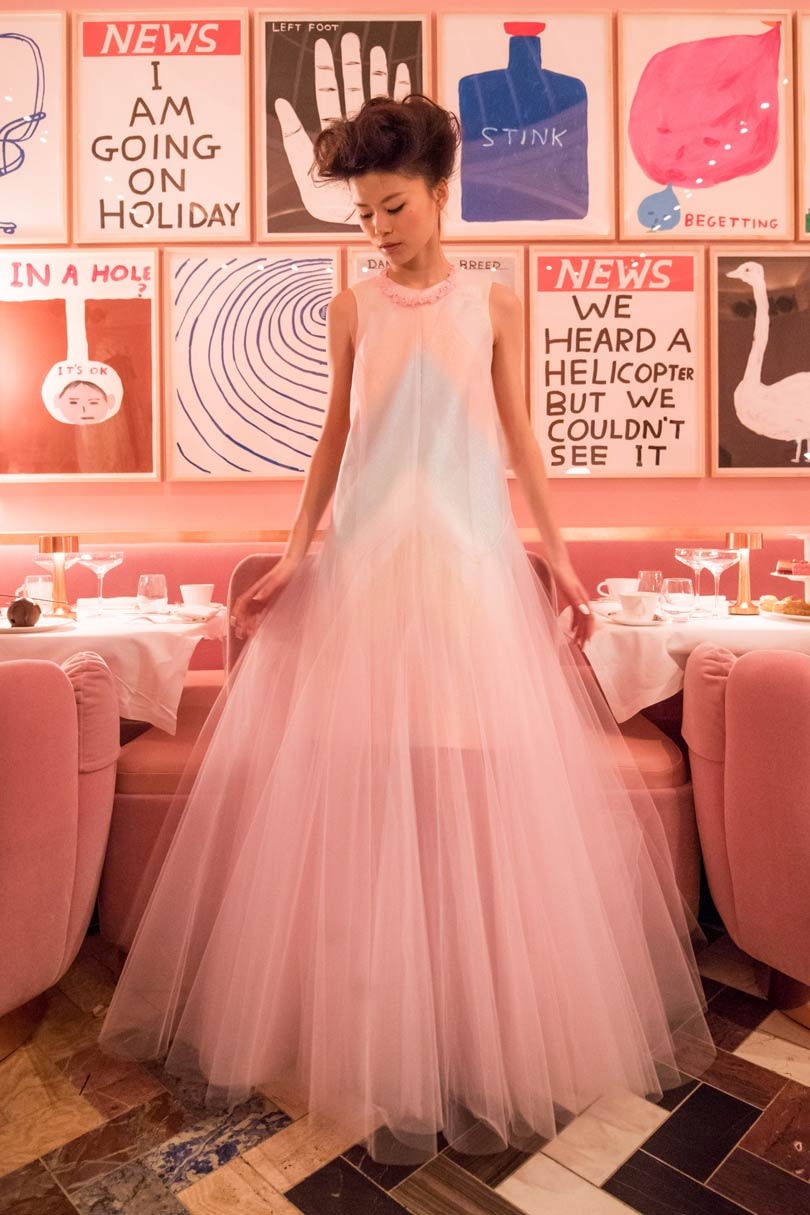 Images: courtesy of Ryan Lo
Markus Lupfer
Taking inspiration from the magic behind Grimm's fairy tales, the Markus Lupfer girl continues to break the rules for autumn/winter 2018, with texture and colour built up, piled on, as she "wraps herself in luxury and fantasy" the show notes reveal, paying homage to a girl "who adores the eclectic, but wears it with elegance".
Featuring deconstructed dresses and sharp tailoring, Marcus Lupfer is looking to provide his customers with an effortless fashion formula that's part luxurious fantasy, part pared-back reality, with that added sparkle that the designer is known for. The ready-to-wear continues to develop, with ruffled-edge lace blouses paired with faux fur, while his signature jumpers have been reimagined with fawns, foxes and owls brought to life in sequins hand threaded on.
Other highlights included heavier knits in Scottish lambswool that have been patched with faux fur in toffee brown on chestnut, sage on army green down the front or across the cuffs adding a utilitarian feel, which looked great clashing as well as matching.
Prints continued strongly this season as well, with his hand painted prints adding depth, especially the woodland print worn against lumberjack checks, and of course, it wouldn't be a Marcus Lupfer collection without floral embroidery that was seen over lace dresses and across devore skirts.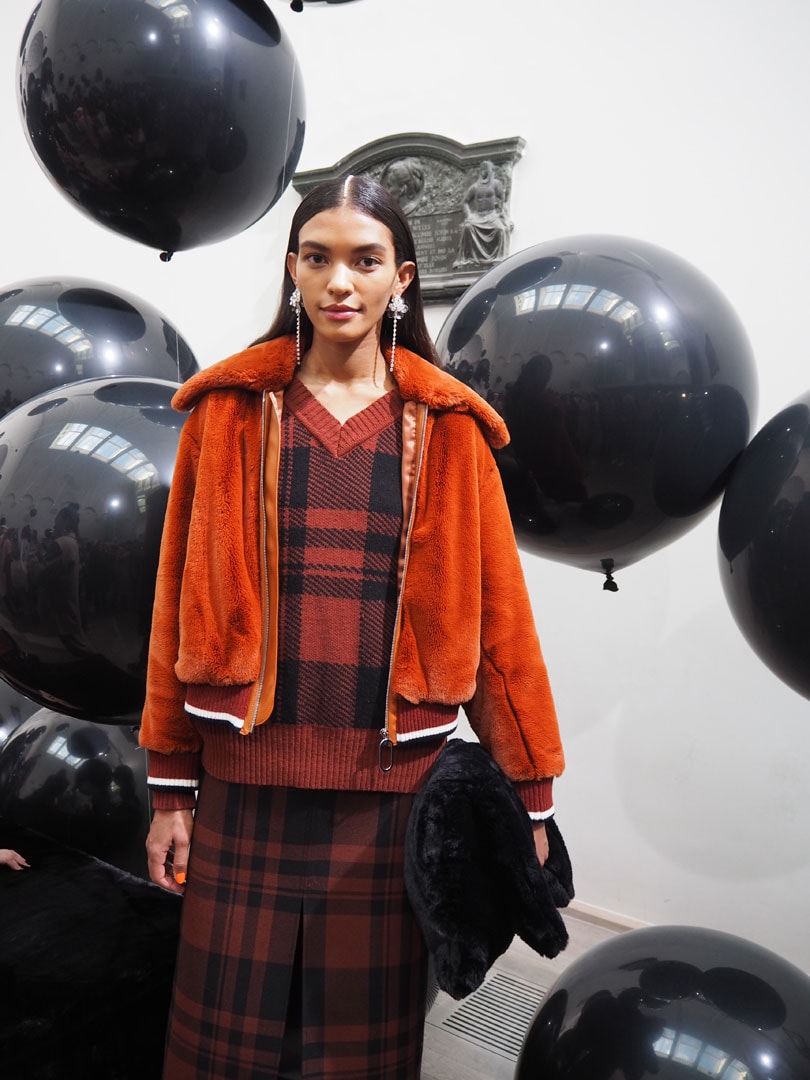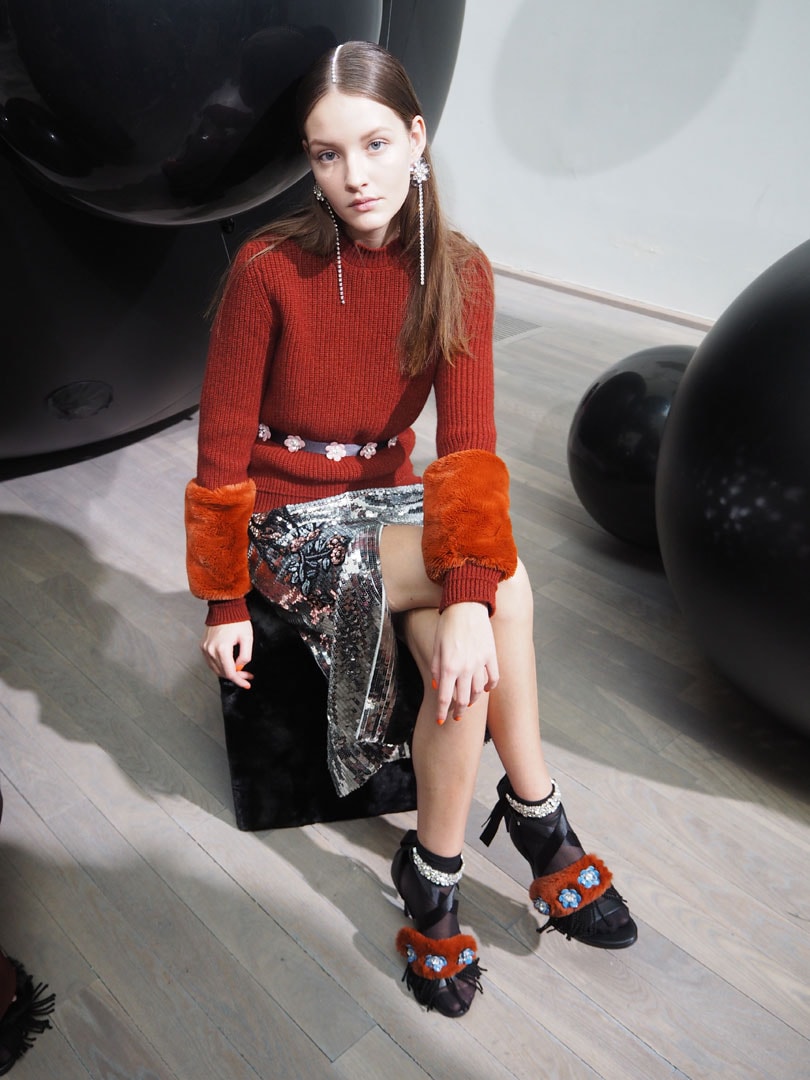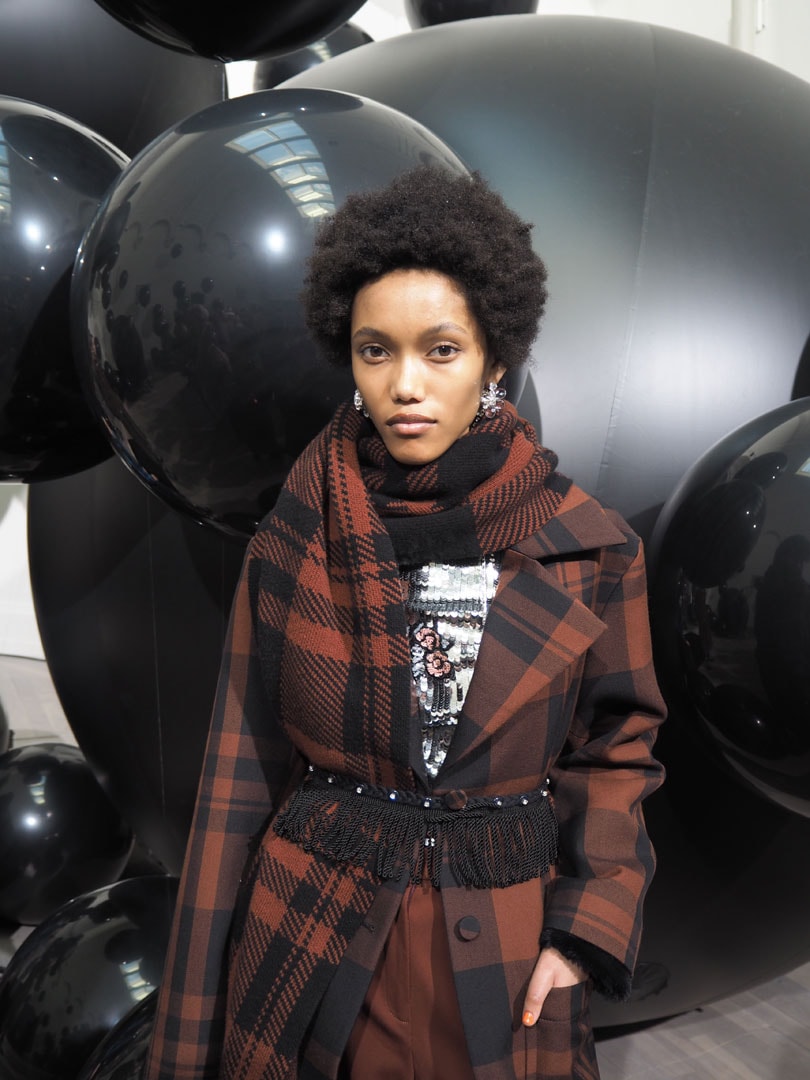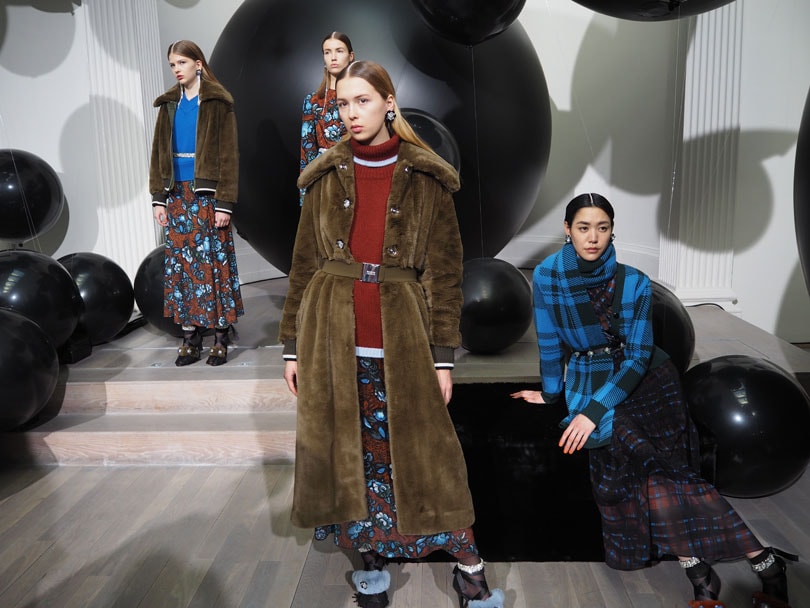 Images: by Danielle Wightman-Stone
Shrimps 'The Romance Collection'
A rising star from the NewGen initiative has to be designer Hannah Weiland's label Shrimps. For autumn/winter 2018, Weiland has been inspired by Parisian art patron, Gertrude Stein, looking at her muses, art collection and language. As Stein famously said: "A rose is a rose is a rose is a rose", for AW18, Weiland states: "A Shrimp is a Shrimp is a Shrimp is a Shrimp".
The colour palette is romantic and exotic with ruby reds and jewel shades like turquoise and brilliant yellows, and she even created her very own rose, which of course was made from coloured faux fur, like some of the statement coats.
Looking to artists, like Jean Cocteau and Otto Dix, Weiland has also developed her own abstract flora and fauna prints, while roses, hearts and bows have been stamped onto the brand's signature faux fur in bright colours.
Shrimps also showcased an expansion of its accessory line with a collaboration with accessories designer Lotte Selwood, a former accessories designer for Saint Laurent, on an exclusive capsule collection of shoes that includes furry slides with pearls and low-heeled mules.
This builds upon the success of Shimps' beaded Antonia bag, which has also increased in size from a small beaded box to a market-sized tote. Other bags included a faux fur lady-like style and a beaded Nineties-Inspired shoulder bag.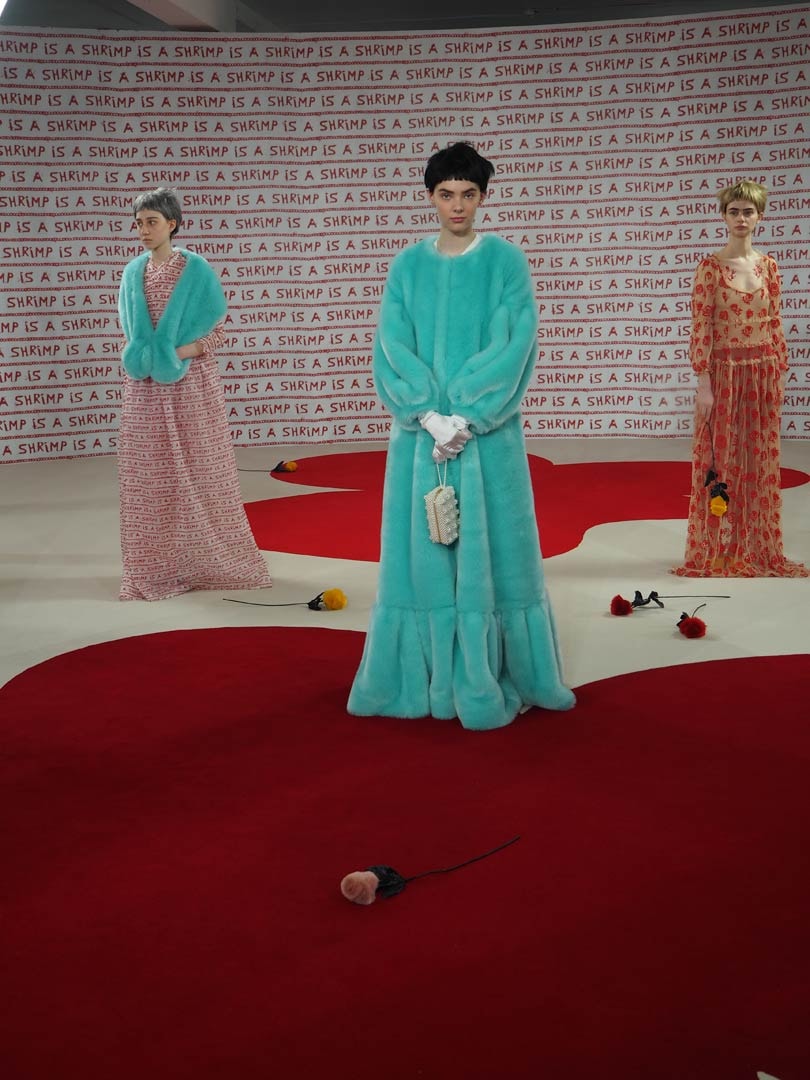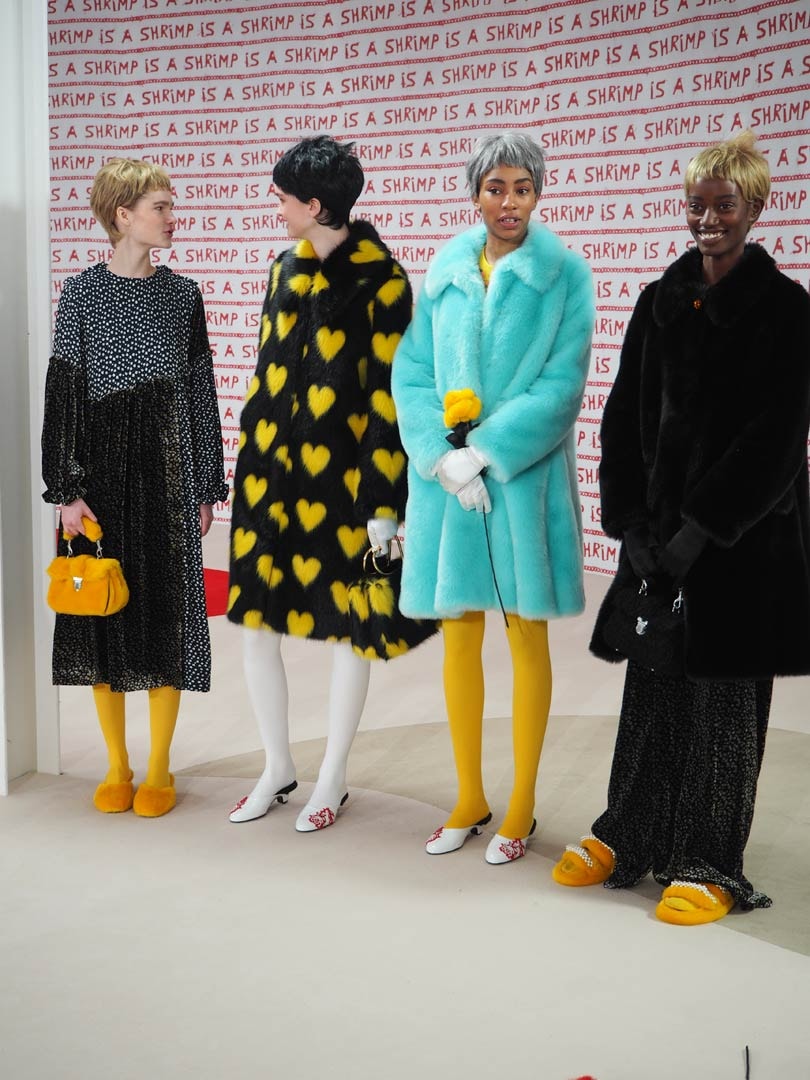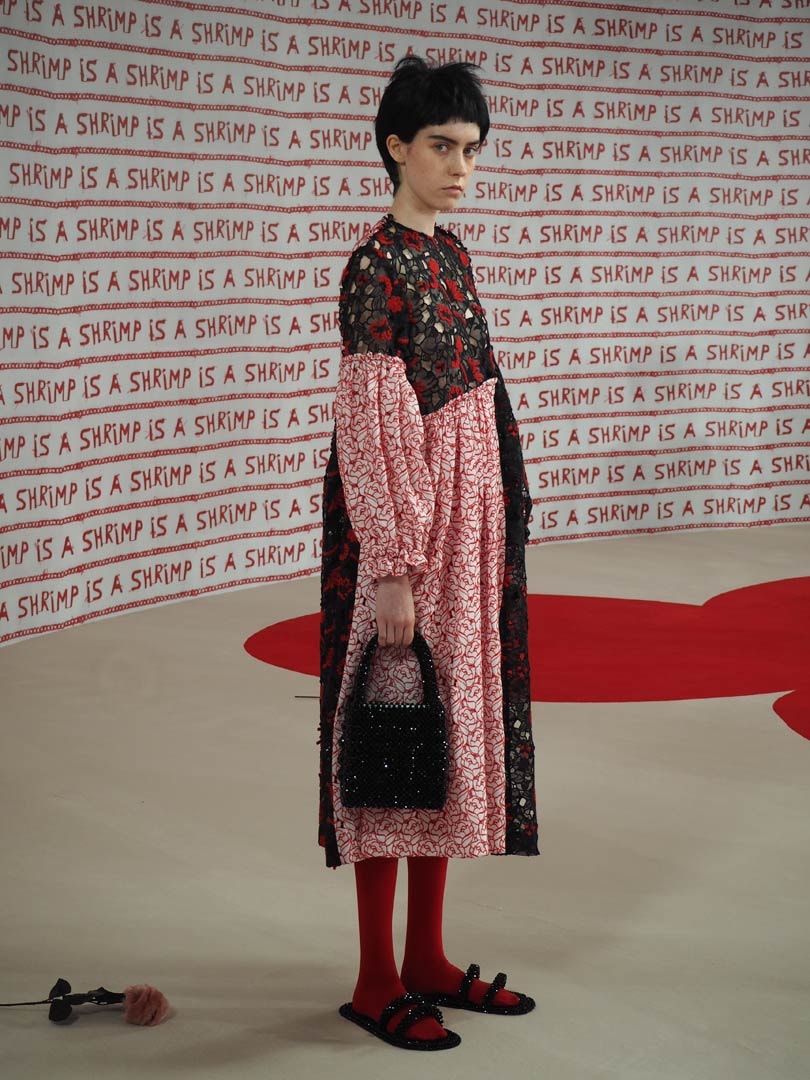 Images: by Danielle Wightman-Stone
Johnstons of Elgin
The Scottish heritage brand Johnstons of Elgin hosted its first presentation at London Fashion Week this season, under the creative direction of Alan Scott, who referenced the archives of the 220-year-old cashmere brand for its debut fashion week collection. He added that the collection "marks a new chapter for the brand as it brings its wealth of textile expertise into the luxury arena".
Featuring 15 womenswear and 5 menswear looks, Johnstons of Elgin was inspired by the brand's archive and its pioneering history in textiles, by placing cashmere as the focus of the ready-to-wear and accessories, as well as showcasing the brand's unique and innovative vertical weaving process from fibre, sourced from Afghanistan, Australia, Mongolia and Peru to garment.
The women's collection offered sculptural and ethereal themes, with linear silhouettes in matte double-face cashmere in black, natural and camel, alongside elegant tailoring, and super soft cashmere statement pieces with exaggerated textures, in neutral tones with flashes of bold colour. Highlights included a double-faced wool and cashmere peacoat paired with a yellow rollneck, grey cashmere joggers and a red tartan scarf, and an electric blue collarless coat.
The menswear, however, was more functional with a tougher vision that was more of a luxury sportswear vibe, including soft cashmere coats, waxed jackets, and a grey suit paired with a bright yellow rollneck.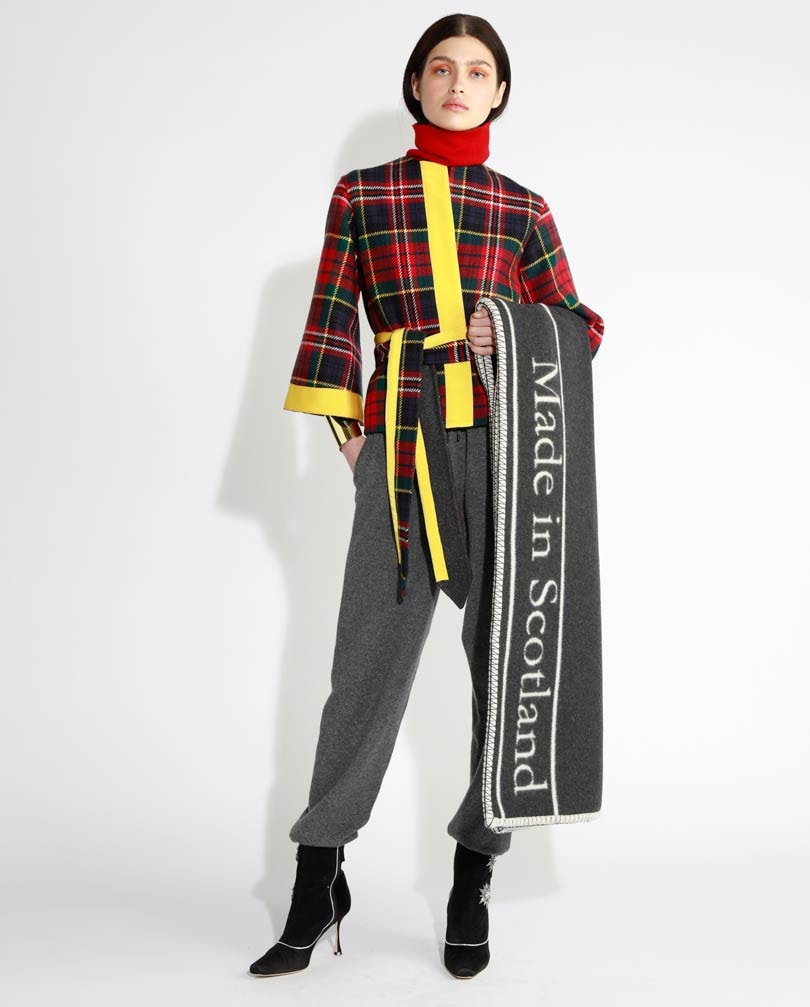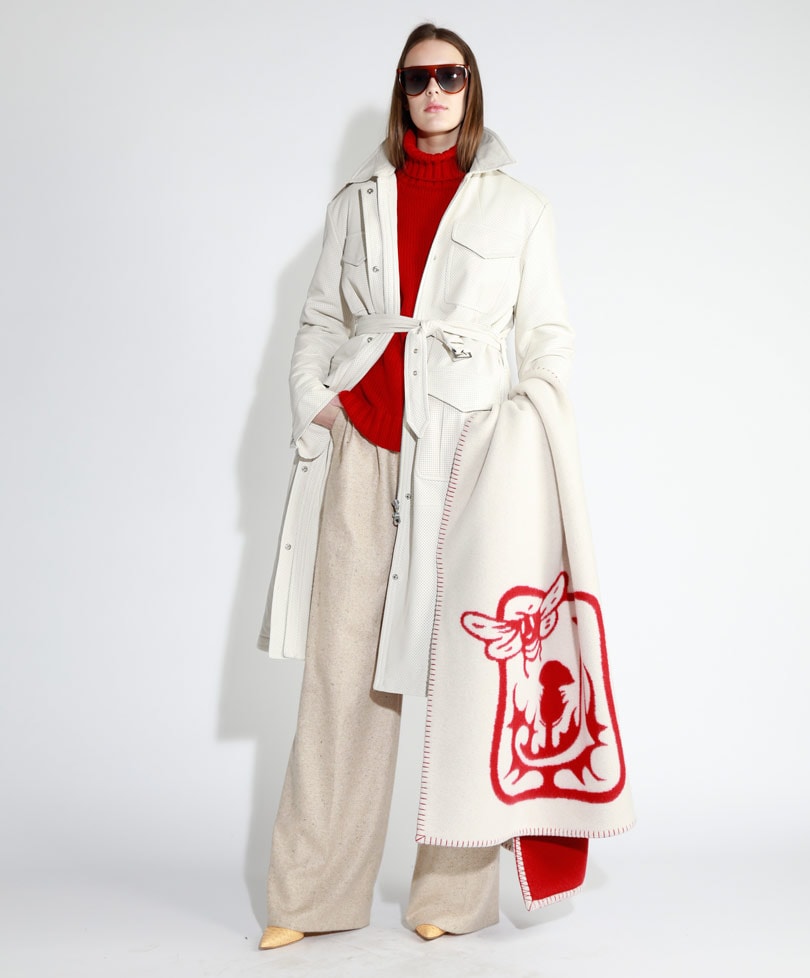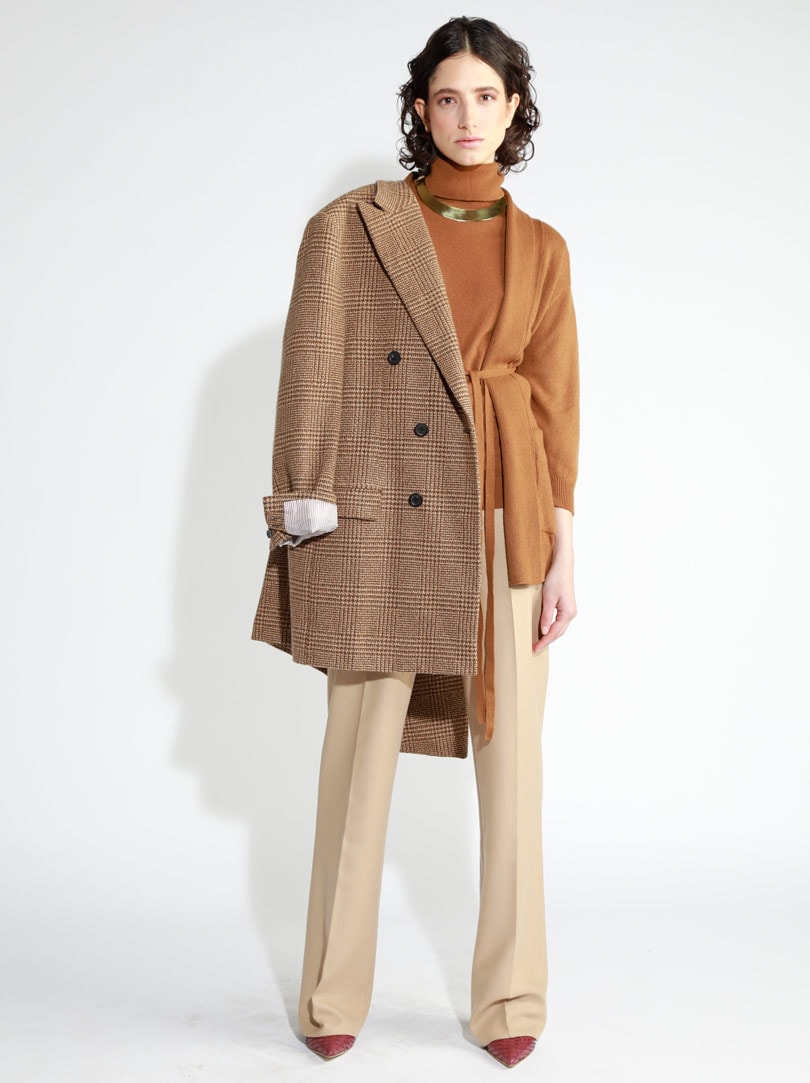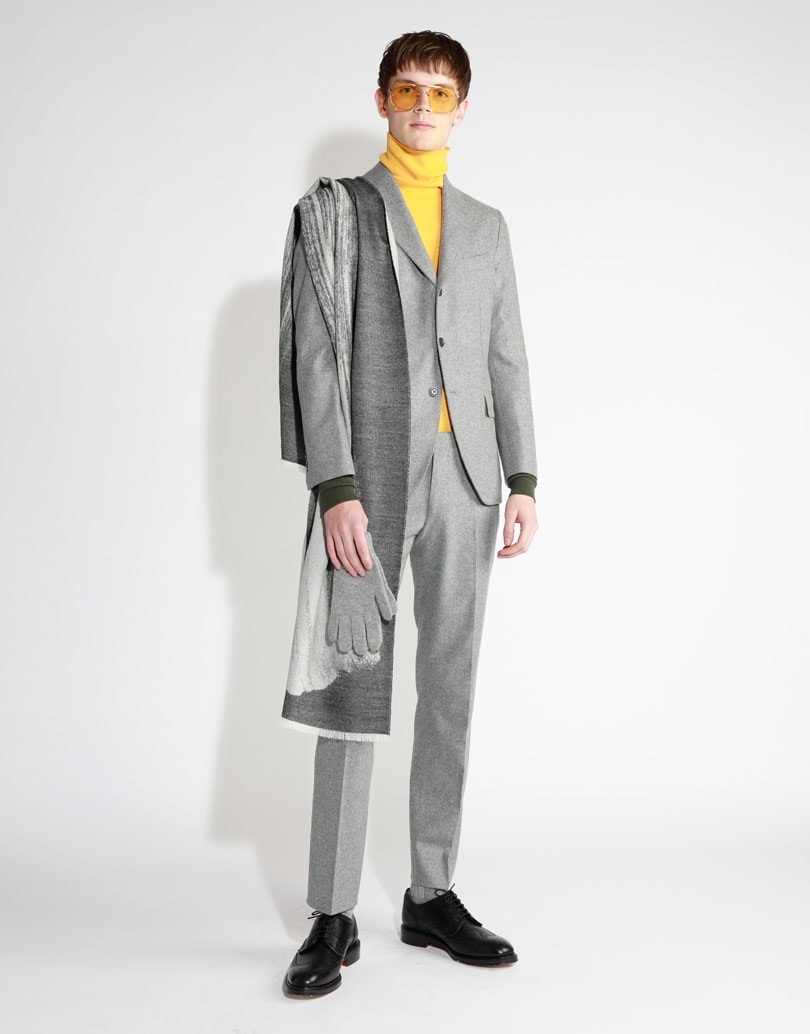 Images: courtesy of Johnstons of Elgin