AFP

|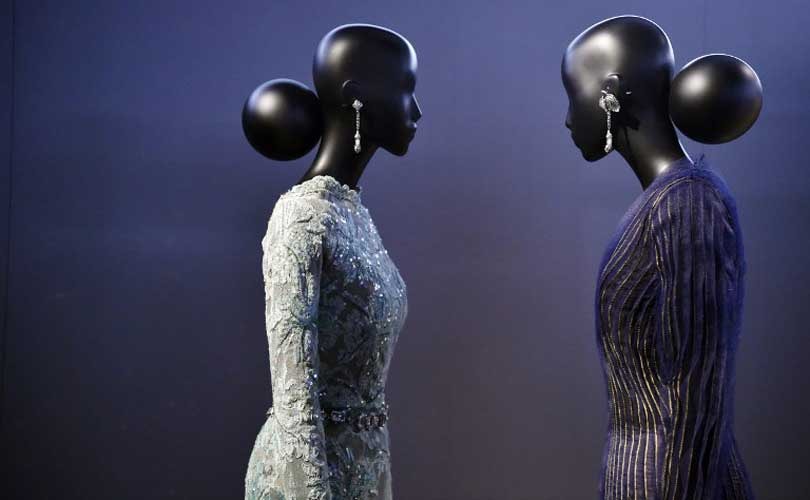 A huge show about the fabled French fashion house Christian Dior which opens Wednesday has had a galaxy of stars making the pilgrimage to Paris.
With Hollywood actresses Jennifer Lawrence, Kirsten Dunst and Kristen Stewart already in town for the label's haute couture show, Stewart's "Twilight" co-star Robert Pattinson queued with models Bella Hadid, Karlie Kloss and Cara Delevingne to get a sneak peak of the retrospective at the city's decorative arts museum.
While Dior -- celebrating its 70th anniversary -- has become synonymous with classy highly feminine glamour, fashion was not its founder's first love. Christian Dior came to clothes through art after setting up a Paris gallery to "champion the most avant garde of artists", said the exhibition's curator Olivier Gabet.
"It was he who gave Salvador Dali and Alberto Giacometti their first shows" in the French capital, he added. And it was his friendships with artists Jean Cocteau, Max Jacob and Pablo Picasso that helped sustain him through a difficult decade after his gallery closed in the Depression.
Dior, a talented artist, began designing theatre costumes and from there took his first steps into couture.
Superstitious
Hugely superstitious, he only made the final leap after a tarot reader told him he would head his own fashion house. Two years later in 1947 his "New Look" revolutionised fashion, throwing wartime austerity out the window, trailblazing a new femininity.
Tarot and astrological motifs would later become one of Dior's trademarks. Historian Florence Muller, who co-curated the show, said the "New Look" became "emblematic", with the show tracing how the six designers who came after Dior subtly adapted it -- and how rival houses still "reference" it to this day.
The spectacular exhibition -- which includes more than 300 haute couture gowns and dresses -- documents how Dior became the go-to brand for stars from Lauren Bacall to Marilyn Monroe, Elizabeth Taylor and Sophia Loren. It also reveals that Dior named his famous Bar suit after the bar of the Plaza Athenee hotel next to his headquarters on Avenue Montaigne between the Champs Elysee and the River Seine.
Ever the artist, Dior spent much of his time in the country drawing, leaving the nitty gritty to Marguerite Carre, who headed his studio. "I think of my work as ephemeral architecture dedicated to the beauty of the female body," he said.
It was, however, to prove far from ephemeral. When Dior died suddenly at the age of 52 from a heart attack in 1957 his mantle fell on his timid young assistant Yves Saint Laurent, who was only 21 at the time.
Yet in his very first collection Saint Laurent invented the "trapeze dress" which became a runaway success, and he was quickly dubbed the "little prince of fashion". However, the leather jackets of his "beatnik" show were just too much for some of the brand's conservative clientele and he was bundled out the door in 1960.
'Forgotten man'
He was replaced by Marc Bohan, who despite running the house for a record 29 years, became the "forgotten man" of Dior, according to Muller. "The extravagance of his successors Gianfranco Ferre and John Galliano overshadowed a lot of what he did," said Muller even though his "Slim Look" exemplified by models such as Twiggy was highly successful.
Ferre brought an exuberance back to the label in the 1980s with flowers, feathers and rich embroidery while Gibraltar-born Galliano -- then fashion's punk rebel -- brought a strong dose of British eccentricity and theatricality, she added.
"Even so Galliano had a strong connection linking him with Dior in his vision of strong femininity, with tight waists and ample hips," she told AFP. The Belgian Raf Simons stepped up to the mark in 2012 after Galliano was sacked following a drunken rant in a Paris cafe.
Muller said the show demonstrates that Simons' work was less minimalist than his reputation might suggest. "You can get the impression it's quite simple but close up you can see the complexity," she said citing organza cut by laser and a dress make entirely of tiny feathers.
The exhibition ends with the Italian Maria Grazia Chiuri, Dior's first female artistic director who took the reins last year. "This exhibition is not just about Dior. It is about women in every era which is fascinating for me," she said. "Christian Dior, Maker of Dreams" runs until January 7. (AFP)
FashionUnited

|
IN PICTURE
In the midst of Paris Couture week, the Musée Les Arts Décoratifs will open the doors to their largest retrospective dedicated to fashion, marking the 70th anniversary of the House of Dior.
'Christian Dior, Dream Couturier' is spread over 32,000 square feet and was designed by interior architect, Nathalie Crinière. Featuring 300 haute couture gowns, along with documents such as photographs, sketches, illustrations, letters and advertising - the exhibition follows the Haute Couture house from opening in 1947 to Maria Grazia Chiuri's artistic direction in 2017. The exhibition was inaugurated by the French fashion house at the end of Chiuri's autumn/winter 17/18 Paris show yesterday afternoon and will be opened for the public on Wednesday.
The exhibition explores how the six artistic directors that succeeded Christian Dior have continued to shape the couture house - with six galleries in succession dedicated to Yves Saint Laurent, Marc Bohan, Gianfranco Ferre, John Galliano, Raf Simons and today Maria Grazia Chiuri.
Oliver Gabet, Director at Les Arts Décoratifs curated the exhibition with Florence Müller, who worked on 'Espirit Dior' in Beijing, 2012. Gabet told WWD that "the idea was to show that the universe of the Christian Dior house is extremely sophisticated and cultivated, drawing inspiration from many different sources".
The extensive exhibition borrows many unseen artefacts from the Dior Héritage archive as well as from museums and galleries including The Costume Institute at the Metropolitan Museum of Art in New York, London's Victoria and Albert Museum and the Fondation Pierre Bergé-Yves Saint Laurent.
"One of the purposes of this exhibition is for people to really understand the level of detail that goes into these haute couture creations, because they go by too fast in a catwalk show, which very few people attend, and it doesn't come across in photographs," Müller noted.
The exhibition begins with a classic gown from 1947 - representing Dior's 'New Look' - the silhouette that created the post-war ideal of an hourglass figure. Continuing through the six successors designs, with stand out pieces including Galliano's full-length python dress with accompanying Egyptian death mask.
The retrospective comes to end with Maria Grazia Chiuri's defining pieces. Which she added to in her haute couture show on Monday in the garden of Paris's Hôtel des Invalides - paying homage to female explorers such as the aviator Amy Johnson with a one piece shearling flying suit.
Photos: Alain Jocard, AFP
Sara Ehlers

|
Calvin Klein's chief creative officer Raf Simons just released a passion project. Collaborating with musicians The XX, Simons also worked with filmmaker Alasdair McLellan on the creative concept for the video.
As Simons is known for his creativity, he has helped lead the Calvin Klein brand. His motivation for working with The XX came from his admiration of the band's work with past music videos such as "On Hold" and "Say Something Loving." In order to create the third piece of the trilogy, Simons worked to add atmospheric elements and also incorporating a cast of Calvin Klein collaborators.
With his work on sophisticated silhouettes, Simons heads towards the music industry for this collaboration. "For Simons, L.A. is a place of high art, everyday unreality, as well as the stage set for all of our favorite high school melodramas," according to the Calvin Klein website. The "I Dare You" music video Simons collaborated on was filmed in Los Angeles and is currently featured in the men's Spring 2017 Calvin Klein Underwaer advertising campaign. The video debuted today on June 29 and is available now on Youtube.
Danielle Wightman-Stone

|
The Zac Posen documentary, House of Z, which made its world premiere in April at Tribeca, has been acquired by Conde Nast Entertainment and will be distributed to rent on Vogue.com.
Directed by Sandy Chronopoulos, the fashion feature-length film chronicles the fashion career of Zac Posen, starting from his meteoric rise at the age of 21 to the glamour behind one of New York's most distinguished brands.
According to the Hollywood Reporter, Conde Nast Entertainment will distribute House of Z exclusively for rent on Vogue.com in September to coincide with New York Fashion Week.
"We see [Vogue.com] as the perfect fit for our audience while also giving us a chance to attract new viewers," Dawn Ostroff, president of Condé Nast Entertainment told the Hollywood Reporter. "House of Z is a wonderful film and being able to exclusively provide it to our audience is a great opportunity for Condé Nast and we are very pleased to be working with Zac, Sandy and the iDeal team."
The documentary showcases the ups and downs of his fashion label through archival material and interviews with Posen's past and present team, as well as critics, journalists, fashion insiders and celebrities, such as André Leon Talley, Paz de la Huerta, Naomi Campbell, Claire Danes, and Sean "Diddy" Combs.
Don-Alvin Adegeest

|
A new documentary has exposed the harsh reality and often cruel suffering of factory workers who make the garments of some of the world's best-known high street brands.
The film, called Machines, highlights the life of Jain, a factory worker in India. In the first 13 minutes of the film, there is no dialogue, with the camera captures the contrast between the giant machines, which guzzle up fabrics like robots, and then the workers who are no less mechanical in their working as they mix dyes, stoke furnaces and handle the fabrics.
Days are filled with dehumanising physical labour and hardship
Director Rahul Jain takes the viewers into the reality of the factory worker's world, capturing the exhaustive monotony of their tasks. The film examines the dehumanizing physical labor and hardship in the factory, exposes the pre-industrial working conditions and the huge divide between first world and developing countries. Though "Machines" only portrays one of these factories, it also represents the thousands of laborers as well.
When there is dialogue, we hear from the workers themselves – and at one point from their fat-cat boss, who matter-of-factly tells the camera that he shouldn't pay them so well as they're much more dedicated to the business when their bellies are empty. By "so well" he means three US dollars per 12-hour shift and most of the workers take just one hour's break between shifts, such are the financial pressures of providing for their families, states Dazed & Confused. The men discuss the need for unionisation and strike action, as well as the dead-end any attempt at this inevitably leads to – "the bosses just ask who the leader is, and then kills them," the viewer is told.
Delhi-born, U.S.-educated director Rahul Jain captured the footage in Gujarat, India's westernmost state. According to Variety, the results are surprising; while the visuals are hypnotic and frequently beautiful, the stories jar with our concepts of poverty in the modern age, as it is revealed that many of these workers are already in debt, having taken out travel loans to work 12-hour shifts and earn wages of just 7,000 rupees (approximately 100 Us dollars) per month.
Photo credit: Film still from Machines
AFP

|
They dress like celebrities and can increasingly be spotted on the world's catwalks and red carpets. Meet the "influencers", the most famous people you've never heard of.
For 70 years, the Cannes film festival has been a key event on any A-lister's calendar. But move over Nicole Kidman, there's a new breed of star in town: social media personalities invited purely on the grounds of their huge Instagram or YouTube followings.
Sharing the red carpet with Kidman and Will Smith this week have been beauty bloggers like 17-year-old Amanda Steele (2.8 million YouTube subscribers) and Swiss Instagrammer Kristina Bazan (2.4 million followers).
Maja Malnar, who makes a living from her blog and 264,000-strong Instagram following, admits she's struggled to explain her job as a "social media influencer" to her mother back in Slovenia.
Years ago she started posting snaps of her daily outfits on the photo app and blogging about her travels. These days she's part of a growing industry known as "influencer marketing", whereby brands seek to harness the power of powerful web-users by slipping their products into their posts. "It's a good business, I can't complain," Malnar told AFP.
The petite blonde, who is in her twenties but declined to give her age, is set to walk the red carpet Friday in a tie-up with MasterCard and the designer who provided her dress. She'll then have to post about it.
"We're entrepreneurs. We saw a gap in the market and we capitalised on it," says her friend Lorna Andrews, a British ex-air hostess who modestly calls herself a "mid-tier influencer" with 464,000 Instagram followers.
Cannes is no stranger to those famous for being famous -- socialites like Paris Hilton have been turning up for years -- and brands have long recognised the festival's power as a marketing opportunity.
Top-end labels and jewellers have for decades dressed the stars for free at Cannes, knowing they will be snapped there by the waiting paparazzi.
But the arrival of the "influencer" at the world's biggest film festival -- and at international fashion weeks -- is a new phenomenon.
Ordinary Janes and Joes
About 18 months ago Edouard Hausseguy, a 27-year-old Frenchman, realised the money-making potential of people whose photos, restaurant tips and beauty tutorials are followed by millions online, even though most would not recognise them on the street.
He set up his agency Hemblem to represent anyone with a following of 30,000 and up -- negotiating deals with brands, and then taking a cut.
"Those people are people like us, but they speak to millions of people with one picture," he told AFP in an interview on a yacht moored at Cannes, where he's hoping his influencers will benefit from the presence of top brands and the media.
For the festival, Hemblem has filled a villa with influencers who are splitting their time between glamorous events and furiously posting online, whether it's about designer labels or a charity for Syrian children.
Co-founder Thomas Elliott said brands were catching on to the power of a recommendation from Instagrammers to shift products from the shelves. "Jane next door or Joe next door is probably better for product placement, as people can identify with these people," he said.
It's possible to get paid for a single post -- "the fee depends on the size of the following", said Joe Gagliese, co-founder of Viral Nation, a rival agency based in Toronto.
"It could be $100,000 if you have over five million followers."
Compare and despair
With 13 million followers apiece, supermodels Bella Hadid and Emily Ratajkowski rank as the true Instagram queens of Cannes.
Their accounts offer red carpet glamour and a peek behind the scenes, like Hadid sipping champagne while preparing for a premiere. Partner brands are carefully name-checked: make-up by Dior, jewellery by Bulgari.
Further down the food-chain, posts by smaller fish in the "influencer" pond still tell of a life of cocktails and beautiful clothes -- but the reality may be a little less glamorous.
There are constant worries of where the next event or brand tie-up might come from, and some re-sell the clothes they are gifted to make ends meet. And behind the glitz there is a constant pressure to post that Andrews and Malnar say can be stressful.
Neither expects to do this job forever. Women aged 18-30 make up the bulk of their followings, and unless these shift there'll come a day when they won't match their young demographic.
Youngsters' heavy use of Instagram is a worry for mental health experts, who warn these glimpses into the glamorous lives of others encourage depression and anxiety by prompting a "compare and despair" attitude.
There's a constant stream of appreciative comments under posts by Hadid and Ratajkowski, but also wistful ones.
Under a video of Hadid wearing custom Roberto Cavalli, one user sighed: "Can I just be her for one day?" (APF).
Homepage photo: Swiss blogger Kristina Bazan poses as she arrives on May 22, 2017 for the screening of the film 'The Killing of a Sacred Deer' at the 70th edition of the Cannes Film Festival in Cannes, southern France. - Credit: Valery HACHE / AFP
AFP

|
French fashion house Chanel has triggered an uproar by selling a luxury monogrammed boomerang with a price tag of nearly 1,500 USD, with critics saying the accessory is an insult to Australian Aborigines.
Chanel is accused of turning the hunting weapon, an important part of Aboriginal heritage, into a status symbol by offering a black wood and resin boomerang for sale in its spring-summer collection.
"When I think about Aboriginal culture, I think @chanel," Aboriginal activist Nayuka Gorrie tweeted sarcastically. "Have decided to save for the next three years so I can connect with my culture via @CHANEL."
When I think about Aboriginal culture, I think @chanel https://t.co/ocZSljGkPW

— Nayuka Gorrie (@NayukaGorrie) May 15, 2017
He told the Guardian Australia that the item was "so wrong it is almost absurd"."Having a luxury brand swoop in, appropriate, sell our technologies and profit from our cultures for an absurd amount of money is ridiculous and hurtful," he said, pointing out that indigenous people were the most disadvantaged in Australia and had to fight to preserve their traditions.
The furore kicked off when American make-up artist Jeffree Star posted photos online of the boomerang on Tuesday, sparking ridicule.
Having so much fun with my new @Chanel boomerang ???????? pic.twitter.com/8w6jGPIuYU

— Jeffree Star (@JeffreeStar) May 15, 2017
"@JeffreeStar, rather than paying $2000AUD for a Chanel Boomerang you should look into investing in one made by an Aboriginal Australian," tweeted user LSP.
@JeffreeStar, rather than paying $2000AUD for a Chanel Boomerang you should look into investing in one one made by an Aboriginal Australian.

— LSP (@zzoeeseymour) May 15, 2017
Another said on Twitter: "@CHANEL your 'boomerang' is tacky and a gross appropriation of indigenous culture for your own profit." Chanel released a statement saying it was "extremely committed to respecting all cultures, and regrets that some may have felt offended".
Boomerangs have played an important role in Aboriginal culture for thousands of years as objects of work and leisure. They have also become popular mass-produced souvenirs. (AFP)
FashionUnited

|
For anyone who might argue that fashion is trivial or frothy, its weight in literature cannot be underestimated. I have just attended the Franco-Irish Literary Festival where journalists from Vogue and Elle discussed with novelists and screenwriters the importance of clothing in storytelling. Clothes enhance characterization, place us in strangers' shoes, allow us to inhabit alien landscapes. Speaking to its power Mark Twain said, "Clothes make the man. Naked people have little or no influence on society." Let's count down the top seven most influential moments when fiction and fashion have collided.
7. Giacomo Leopardi
In Giacomo Leopardi's poem entitled A Dialogue Between Fashion and Death, he explores the transience of fashion and parallels it with our own mortality: "Fashion: Do you not recognize me? Death: You must know that I have bad sight, and am without spectacles." Fashion: I am Fashion, your sister…Do you not remember we are both born of Decay? We both equally profit by the incessant change and destruction of things here below, although you do so in one way, and I in another."
Fashion is portrayed as a species of grim reaper aiding and abetting our demise, and although written in 1824, the sentiment is eerily applicable to both today's fast fashion environment in which catastrophes like the Rana Plaza occur, and to our luxury industry in which designers like Alexander McQueen, whose work is celebrated for its dark and beautiful dance with death, succumb to suicide at age 40.
Image:Orlando First Edition, The Hogarth Press 1928 source: www.smith.edu/libraries, and Burberry September 2016
6. Virginia Woolf
"Clothes have more important offices than merely to keep us warm; they change our view of the world and the world's view of us" wrote Virginia Woolf in Orlando, the 1928 story of a nobleman who passes through time, flits effortlessly between genders, dressed in furs and laces, never aging. The 1992 film version called upon fashion's favorite androgyne, Tilda Swinton, to fill the title role and that dapper gent Quentin Crisp to play Queen Elizabeth I. Woolf's novel was a contemporary success despite the unusual subject matter for a female writer but its appeal endures setting the stage for today's gender non-conformism. From Bloomsbury to Burberry, Christopher Bailey referenced Orlando in his September 2016 womenswear show.
Image: Source Wikimedia Library of Congress, Photographer, Napoleon Sarony, 1882
5. Oscar Wilde
Oscar Wilde, the razor-witted dandy-aesthete, a perennial favorite of fashion designers, was the central influence in Alexander McQueen's Fall 2017 menswear collection. Wilde's words "Fashion is a form of ugliness so intolerable that we have to alter it every six months" foreshadow today's social media-hungry consumer who craves newness like never before. As editor of fashion magazine, The Woman's World, he predicted in 1887 that the dress of both sexes would be assimilated with women embracing masculine style. His wide-brimmed hats, long locks and sumptuous velvets drew as much attention as his novels and plays but it was his dalliances in the demimonde of male desire, unmentionable at the time, that landed him in Reading gaol. Still, he never forfeited style: "If one is to behave badly, one should behave badly in a becoming dress." Words to live by.
4. Margaret Mitchell
In Margaret Mitchell's 1936 novel Gone With The Wind, Scarlett O'Hara's lifestyle in the Confederate South is under threat by the imminent freedom of her plantation's slaves. But our sympathies lie with this poor little rich girl when she is forced to plumb her meagre resources and conjure up a dress out of…curtains. How else will she snag her hero, and the money he brings with him? Who hasn't backed away from their closet on a Saturday night staring glumly about and wished such inspiration were at hand? When she turns to her long-suffering servant and says, "Scoot up to the attic and get my box of dress patterns, Mammy…I'm going to have a new dress," we might bristle at her sense of entitlement, but in these times of fast fashion landfills, we can't fault her creative repurposing, also known as upcycling.
3. Bret Easton Ellis
This passage from Bret Easton Ellis's bestseller, American Psycho, which revolves around a discussion of the band U2 between the narrator, your average spiffily dressed serial killer, and a date invites us to ponder the passionate relationship of the 1980's yuppie with Italian fashion:
"The Edge is wearing Armani," she shouts, pointing at the bassist. "That's not Armani," I shout back. "It's Emporio." "No," she shouts. "Armani." "The grays are too muted and so are the taupes and navies. Definite winged lapels, subtle plaids, polka dots and stripes are Armani. Not Emporio." I shout, extremely irritated that she doesn't know this, can't differentiate, both my hands covering both ears. "There's a difference."
Well, she's clearly for the chop. Imagine not comprehending the gap between Armani's diffusion line and his prima linea.
Image: Audrey Hepburn in Breakfast at Tiffany's. Trailer screenshot
2. Truman Capote
Truman Capote's 1958 novella Breakfast at Tiffany's launched the beloved Holly Golightly on the fashion world. Although the industry might believe she was the product of the atelier of Hubert de Givenchy, the designer tasked with outfitting actress Audrey Hepburn for the movie version, his work was already more or less done as we can see by Capote's lines:
"It was a warm evening, nearly summer, and she wore a slim cool black dress, black sandals, a pearl choker. For all her chic thinness, she had an almost breakfast-cereal air of health, a soap and lemon cleanness, a rough pink darkening in the cheeks." Golightly's urbane, nocturnal allure has been a go-to reference for designers ever since and cemented our attachment to "the little back dress."
Image: Miss Havisham: Wikimedia By Harry Furniss from the library edition of Great Expectations, created 31 December 1909.
1. Charles Dickens
The ultimate "marriage" of fashion and fiction brings us back to where we started: Fashion = Decay = Death. I refer to the grand dame of Victorian classics, the ne plus ultra of spooky spinsterhood; bitter, skeletal, and locked away in her room next to her rotting wedding cake, Charles Dickens's Miss Havisham from Great Expectations. The passages describing her going up in flames represent possibly the most visually exciting imagery to penetrate many an impressionable young girl's mind, certainly more powerful than any modern example of Hollywood special effects, but it's the words used to describe Pip's first encounter with her which have inspired designers for decades. It's easy to see why:
"She was dressed in rich materials — satins, and lace, and silks — all of white. Her shoes were white. And she had a long white veil dependent from her hair, and she had bridal flowers in her hair, but her hair was white. Some bright jewels sparkled on her neck and on her hands, and some other jewels lay sparkling on the table. Dresses, less splendid than the dress she wore, and half-packed trunks were scattered about. She had not quite finished dressing, for she had but one shoe on — the other was on the table near her hand — her veil was half arranged, her watch and chain were not put on, and some lace for her bosom lay with those trinkets and with her handkerchief, and gloves, and some flowers, and a prayer-book, all confusedly heaped about the looking-glass.
It was not in the first moments that I saw all these things, though I saw more of them in the first moments than might be supposed. But, I saw that everything within my view which ought to be white, had been white long ago, and had lost its luster, and was faded and yellow. I saw that the bride within the bridal dress had withered like the dress, and like the flowers, and had no brightness left but the brightness of her sunken eyes. I saw that the dress had been put upon the rounded figure of a young woman, and that the figure upon which it now hung loose, had shrunk to skin and bone.
Header image from Wikimedia of Oscar Wilde: Unknown photographer, Held at British Library, 1875-1905 and Alexander McQueen Menswear Fall 2017
By contributing guest editor Jackie Mallon, who is on the teaching faculty of several NYC fashion programmes and is the author of Silk for the Feed Dogs, a novel set in the international fashion industry.
Vivian Hendriksz

|
Fans of the late Spanish couturier Cristobal Balenciaga (1895-1972) and his astonishing designs have reason to rejoice, as a new retrospective entitled 'Balenciaga, l'oeuvre au noir' (Balenciaga is the New Black) opens its doors to the public today in Paris, France. Located in the Musée Bourdelle, the new exhibition focuses on the black garments created by Balenciaga throughout his career in Paris, from 1937 to 1968. Hundreds of designs from the 100 year old fashion house Balenciaga archives will be displayed, ranging from draped crepe dresses to perfectly tailored suits. FashionUnited shares a few images from the exhibition below.
Balenciaga: L'Oeuvre au Noir is open from March 8 to July 16, 2017 at the Musée Bourdelle, Paris. However it is not the only Balenciaga exhibition to open this year, as the Victoria & Albert in London is set to open another exhibit on Balenciaga later this year.
Photos: Balenciaga, l'oeuvre au noir. ©Pierre Antoine
Danielle Wightman-Stone

|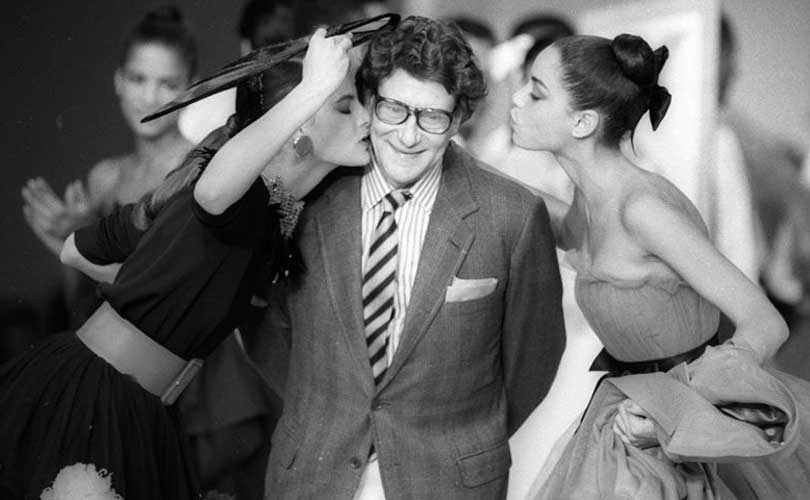 Fondation Pierre Bergé Yves Saint Laurent has announced that two museums dedicated to the late French designer will open in Paris and Morocco in autumn this year.
The foundation, which is dedicated to the conversation of the designer's 40 years of creativity, has a collection that comprises of more than 5,000 haute couture garments and 15,000 accessories, as well as thousands of sketches, photographs and objects that will be utilised across the two museums.
The Parisian museum will be hosted in the foundations home, 5 avenue Marceau, where Yves Saint Laurent designed and created his work for almost 30 years, from 1974 to 2002. The dedicated space will allow the public to explore the designer's heritage through what it describes as "constantly updated displays" of the foundation's collection.
Stage designer Nathalie Crinière and interior designer Jacques Grange, who both collaborated with the foundation on past projects, will rethink the exhibition space, an area that will be doubled in size and refurbished in the style of the designer's original couture house.
"By walking through the former haute couture salons and Yves Saint Laurent's studio, visitors will experience the essence of the creation process within the haute couture house," explains the foundation.
Yves Saint Laurent museums to open in Paris and Morocco this October
The larger of the two museums will be in Marrakesh, located on Rue Yves Saint Laurent near Jardin Majorelle, a garden the designer and Pierre Bergé saved from development in 1980 and that has now become, with its museum dedicated to Berber culture a major cultural site in Marrakech with almost 700,000 visitors every year.
The new space spans over 43,000 square foot and will house a permanent display of Yves Saint Laurent's work staged by Christophe Martin, a space for temporary exhibitions, an auditorium, a research library and a café and restaurant.
It is hoped that the two museums will "not only intend to attract fashion and art lovers, but also aim to appeal to a large audience interested in discovering Yves Saint Laurent's work, the oeuvre of a major artist of the twentieth century," the foundation added.
Pierre Bergé, president of Fondation Pierre Bergé-Yves Saint Laurent, said: "When Yves Saint Laurent discovered Marrakech in 1966, he was so moved by the place that he decided to buy a house and regularly go back there. It feels perfectly natural, fifty years later, to build a museum dedicated to his oeuvre, which was so inspired by this country. As for Paris, who needs to specify that it is where Yves Saint Laurent created all his work and built his career?"
Both museums are set to open in October.
Image: via Fondation Pierre Bergé Yves Saint Laurent Facebook