Danielle Wightman-Stone

|
American fashion label Marc Jacobs has launched its only authorised online flagship store in China on Vip.com, the luxury channel dedicated to international luxury and premium brands.
The move marks Marc Jacobs first official e-commerce presence in China and will see it launching its autumn/winter 2017 collection to Vip.com's 300 million members. In addition, the Marc Jacobs flagship will also show shoppers how to put together an ensemble that reflects the popular New York style.
In 2008, Vip.com launched its first foray into the luxury brands e-commerce field with its market-endorsed platform, VIPLUX channel, which offers high-end shopping experiences.
Since launching it has entered into strategic collaborations with more than 200 leading international fashion luxury brands, including Armani, Salvatore Ferragamo, Versace, Roberto Cavalli, Sergio Rossi, Trussardi and Diesel. These brands have all opened flagship stores on VIPLUX, backed by a 100 percent guarantee in the authenticity of the products sold.
Vip.com's co-founder, Arthur Hong, said: "The cooperation between VIPLUX and Marc Jacobs is a testament to VIPLUX's expertise in understanding how to "become one" with the spirit of the specific brand, and to match that with market growth.
"Developing a solid level of expertise in luxury products is a winning formula for VIPLUX."
Image: courtesy of Marc Jacobs
Simone Preuss

|
Swedish fashion group H&M proved it is not superstituous by opening the first store of its new lifestyle brand Arket at Weinstraße 6 in Munich on Friday, 13th October 2017. The first 100 visitors received a gift.
The new German flagship store extends over four floors and a total sales area of 1,000 square meters. It offers women's, men's and children's wear, as well as household items and articles from other brands, such as Nike, Veja and Adidas, which fit the Arket concept. Unlike the H&M brand, the Arket range does not change every few weeks, but can also go beyond one season. The new store in Munich is open daily from 10 am to 8 pm and closed on Sundays.
As in the other Arket stores, the interior is minimalistic: The brand believes in shelves and clothes racks in neutral gray and white tones rather than mannequins or colourful displays. Products are neatly stacked and sorted by colour, as is the search in the new webshop, which also offers searches by pattern or material. Somehow, one is reminded of a fashion archive rather than a store.
"Arket is a modern day market that focuses on: simple, timeless and functional designs; aiming to democratise quality via widely accessible, well-made products designed to be worn and adored for a long time. Their offering includes essential products for men, women, children and the home," commented H&M about its new brand at the beginning of August.
Those who may need to recover from this shock may do so at the in-house café; a combination of fashion and food that is new. Here, customers can refresh and recharge themselves inbetween shopping. But those expecting fast food are in for another shock: The café is based on the new Nordic cuisine and promises high-quality ingredients and a healthy lifestyle. Thus, the menu includes goat's cheese and avocado sandwiches, flatbreads, salads, but also yoghurt desserts, cookies, coffee and tea.
H&M is not only distancing itself from the fast-paced culture with its new brand when it comes to food but also in fashion as the Swedish clothing company is moving away from the fast fashion concept with Arket. This is already apparent from the outside: Instead of the widely visible red lettering, Arket is written rather modestly in quite small, black, uppercase letters. But the new location on Weinstraße 6 near the Frauenkirche is within walking distance of the main, five-storey H&M store towards Odeonsplatz or Cos in the direction of Marienplatz, which stretches over three floors.
With the addition of its new Arket concept, H&M covers all bases when it comes to price: with H&M as a cost-effective fast fashion brand at the bottom and Cos as a luxury line for establishing one's classic, basic wardrobe at the top, and now Arket as a "modern marketplace" and supplier of the "ideal everyday uniform" in the mid price range with "high-quality and sustainable fashion".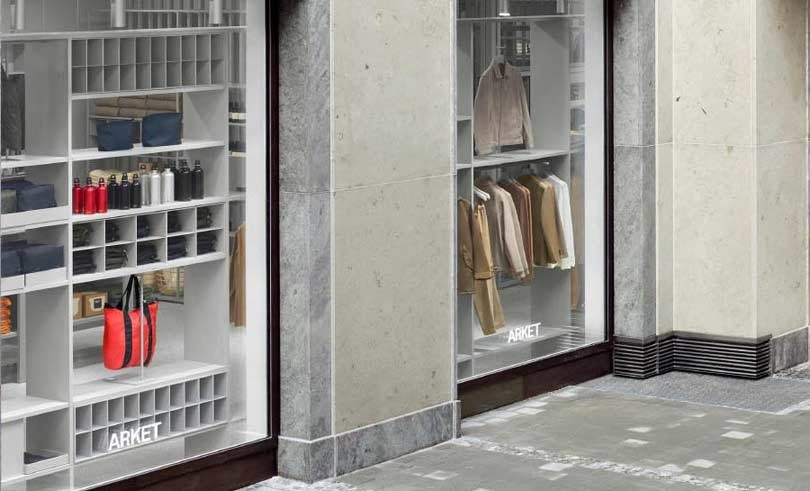 The worldwide first Arket flagshipstore opened on 25th August 2017 on London's Regent Street; further openings followed in September in Copenhagen's Kopmagergade 33, in Brussels on the Avenue de la Toison D'Or 15 and another store in Long Acre, London. A first store in the company's home market Sweden is yet to open on Biblioteksgatan in Stockholm. Since August 25, the Arket website including a webshop is also active, initially supplying 18 European markets.
Photos: Arket website & Arket Facebook page
Sara Ehlers

|
Zimmermann has just added another store location to its count. Opening in the Meatpacking District in New York, the designer brand has unveiled a new 2,000 square foot store.
The store's aesthetic reflects a light, ethereal feel with mostly white decor and a soft palette for accents. The store also has glass windows, metal and glass fixtures, and an overall modern feel. The store will serve as the ready-to-wear label's fourth store in the city. The brand also has stores in SoHo, East Hampton, and the Americana Manhasset. The store includes Zimmermann's latest resort and swim collections as well ranging to approximately 1,600 dollars in price, according to WWD. "We have always loved New York, and its energy and have spent a lot of time in the city over many years," designer and founder Nicky Zimmermann told the publication.
The Australian label received a minority investment from equity firm General Atlantic early last year. Since then, it seems that the iconic brand has moved forward with its growth as well as retail investments. The fresh New York store only further establishes the company's following on the East Coast, as well as helps to grow the label's overall presence in the U.S.
Vivian Hendriksz

|
London - Chinese online giant, JD.com, has launched a new, luxury e-commerce platform 'Toplife' which aims to rival Alibaba's Luxury Pavilion.
JD.com new platform offers Chinese consumers access to a luxury-only channel, which is set to only offer full-price items from high-end global brands. Toplife offers premium international brands an exclusive platform to connect with affluent customers by offering them local online flagship stores which they can customize. The new platform is said to offer luxury brands a high-end system which seamlessly incorporates online stores, premium customer service, and delivery as well as marketing and branding expertise in China.
JD.com goes high-end with launch of Toplife
Premium brands which work with JD.com's new platform will be able to control every aspect of their online flagship store's appearance while tapping into a wide range of resources from JD.com. Leading premium brands which have already joined Toplife include La Perla, Emporio Armani, Rimowa (LVMH) and Trussardi. Additional brands are said to join over the next coming weeks, with a number of them launching their first online stores in China via Toplife.
"Our deep understanding of high-end consumers has enabled us to launch a luxury e-commerce ecosystem that provides a truly premium shopping experience, and helps partners tell their brand story to local consumers," said Richard Liu, Chairman, and CEO of JD.com. "Working with Toplife, luxury brands worldwide are now able to directly provide customers throughout China with a true luxury shopping experience previously only associated with high-end offline stores. Toplife aims to mirror the offline luxury shopping experience in a premium e-commerce experience."
Located in JD.com leading Asian fulfillment centre, Toplife facilities include dust-free sealed spaces, strict temperatures, and humidity controls as well as advanced security systems. As part of the overall luxury shopping experience offered by Toplife, users will have access to JD.com's self-operated nationwide logistics network, such as JD Luxury Express.
The launch of Toplife sees JD.com going head to head with Alibaba's recently launched Luxury Pavilion. The e-commerce platform has unveiled this August on Alibaba's TMall shopping platform and features luxury brands such as Burberry, Hugo Boss, and La Mer. The launch of Toplife also sees JD.com continuing to position itself as the leading portal for high-end brands around the world keen on entering China's e-commerce market.
Photo: JD Luxury Express, courtesy of JD.com
Danielle Wightman-Stone

|
Spanish fashion retailer Mango has opened its first bricks-and-mortar store in India with Myntra, which was announced as the brand's strategic partner in the region for its online business earlier this year.
The opening in Delhi at Select Citywalk Mall in the Saket district, is the first of 25 Mango store openings planned in India over the next five years. It will be followed up by a second store opening in Mumbai, at Phoenix Mall, next month, with a further three more openings expected before the end of 2017.
Mango executive vice president, Daniel López said: "This is the beginning of an expansion plan in India that will cover the next 5 years. We have an excellent relationship with Myntra and their expertise has allowed us to reach virtually every corner of India and increase our customer base exponentially as a result. Following an omni-channel strategy and having a presence in the country with physical stores will allow us to generate value for consumers by improving their shopping experience."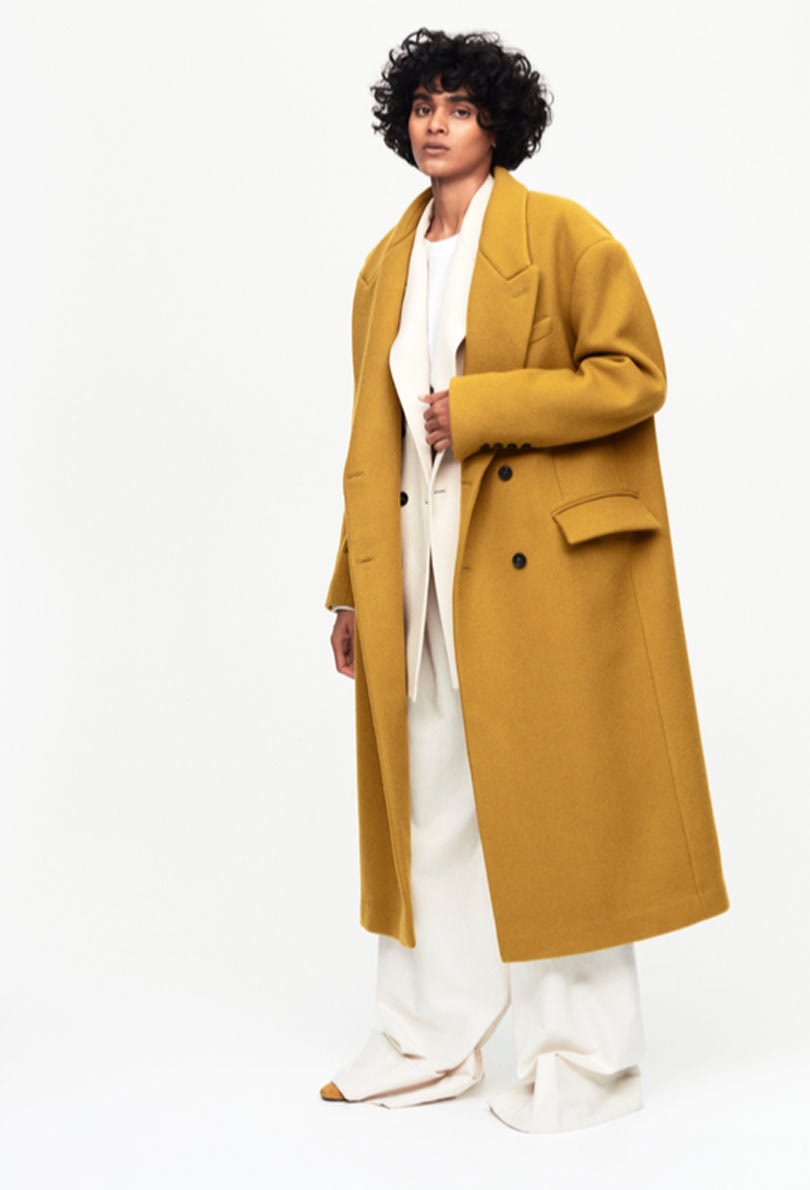 The new store has been equipped with advanced technology to provide a seamless shopping experience for customers in India. All stores in the country will also feature integrated inventory and the concept of Endless Aisle, enabling customers to browse the Mango collection on a tablet, check out product details and availability, and have goods from other stores delivered to their doorstep. Customers will also be able to skip queues at billing counters, using the Assisted Checkout feature on tablets.
Ananth Narayanan, chief executive of Myntra and Jabong, added: "Helping launch the first Mango store in Delhi is a huge step in the direction of building a robust omni-channel presence for the brand. Mango has been growing at a 100 percent YoY rate on the platform and continues to enjoy great fashion appeal amongst shoppers in India. The new technology-packed store is set to redefine the way consumers in India experience brands in the future."
Images: courtsey of Mango
DPA

|
Walt Disney Co.'s (DIS) Disney Consumer Products announced Tuesday the launch of shopDisney, a new e-commerce destination offering the best assortment of Disney, Pixar, Star Wars and Marvel products.
The company also revealed a new prototype Disney store design, which is being tested in select locations around the world bringing the magic of Disney to retail through innovative technology, storytelling and cast member interaction.
ShopDisney.com features co-branded products and elevated collaborations from brands such as Coach, Le Creuset, Spyder, Steiff, rag & bone and more. Along with this, authentic products from Disney Parks and Disney Store will also be featured. New and exclusive capsule collections from fashion-forward brands will regularly be introduced on the site's shop-in-shop "The IT List", launching with denim from SIWY featuring Mickey and Minnie Mouse, and Disney Princess and Villain nail wraps from NCLA. Disney stores around the world will also be incorporating more product for guests of all ages, beyond their traditionally child-centric assortment, the company said.
The new Disney store prototypes are now open in Century City, Calif. and Northridge, Calif. in the US as well as in Nagoya, Japan and Shanghai, China. Two more prototypes will open in 2017 in Miami, Fla. on September 28 and Munich, Germany later this year.(DPA)
Photo credit: Disney Style
Simone Preuss

|
After fashion studios in London and Amsterdam, online giant Amazon decided on India as the third location for its state-of-the-art Blink fashion studio. It will provide high-quality images and videos to fashion sellers associated with the online retailer and is an extension of Amazon's imaging and cataloguing services that helps retailers with product photography at an economical price.
The new 44,000 square foot studio is located in financial and IT hub Gurgaon, just southwest of New Delhi. The opening coincides with the Amazon Great Indian Festival Sale, which is scheduled to be held from September 21-24. The fashion studio is also expected to increase the sellers' reach to a wider audience during the festive season, which begins with the nine-day Navratri celebrations on 21st September, culminates in Dussera on 30th September and Diwali, the festival of lights, on 19th October, interspersed with the wedding season and ending in Christmas on 25th December and New Year's eve celebrations on 31st December.
"At Amazon, we are always thinking about how we will raise the bar, how we will redefine the way the customer discovers, engages with and shops for fashion online. All of our efforts we've made for this studio in terms of technology, scale and talent are designed to deliver high-quality imagery that inspires and educates our customers," said Arun Sirdeshmukh, head, Amazon Fashion India, in a statement.
Part of the studio are 16 photography bays, a ramp, a presentation area and workspaces, which will allow the fashion brand partners to create and edit images and videos and develop creative content with assistance from Amazon. Brands can rent the studio and present their latest styles and innovative ideas, launch new collections and market their creations through fashion shows and other events.
"We have photographers, models, stylists, video editors and other resources. We are constantly looking at new ways of collaboration," added Sirdeshmukh. "With this studio, we will continue to strengthen our relationships across the entire industry – with brands, designers and creative talent. This is part of our plan to innovate in how fashion is displayed on the site and be the best possible place for fashion brands to present themselves online."
The new studio was inaugurated with a launch party on 13th September, which saw leading designers Varun Bahl, Tarun Tahiliani, Suneet Varma, Nikhil Mehra and JJ Valaya in attendance, as well as supermodels Sonalika Sahay, Shashi Bangira and Madhulika Sharma.
Since the beginning of the year, Amazon Fashion has added close to 50 top fashion brands to its offerings, including fashion brands that debuted in India like Under Armour, Steve Madden Jewelry and Juicy Couture Watches. Its growing selection includes Marks & Spencer, New Balance, Forever 21, Forever New, French Connection, Calvin Klein, Mothercare, Emporio Armani, Versus by Versace and more.
Photo: Amazon Facebook
Sara Ehlers

|
Los Angeles - Resortwear designer Marie France Van Damme just announced her first U.S. boutique opening. The Hong Kong-based designer will be unveiling her flagship in the country later on this month set in Beverly Hills.
The store will mark Van Damme's ninth boutique total. The new boutique will be located at the Peninsula hotel boasting 464 square feet, according to WWD. The location was chosen by Van Damme due to the city's status as a popular shopping hub. As the brand is a favorite among celebrities such as Catherine Zeta-Jones, Olivia Palermo and more, targeting the Peninsula hotel is a strategic move on Van Damme's part. "Foot traffic is an important factor for my retail locations, and I felt that the constant stream of guests in and out of the Peninsula would provide the right visibility for the brand," she told WWD.
The store is set to open September 25 at the Beverly Hills location. Aside from her nine retail stores, Van Damme's label is also available at various boutiques globally. The line retails at Neiman Marcus, Harrods, Bergdorf Goodman, and approximately 100 other retailers currently. The new store will open with the brand's resortwear and vacation-inspired styles.
Simone Preuss

|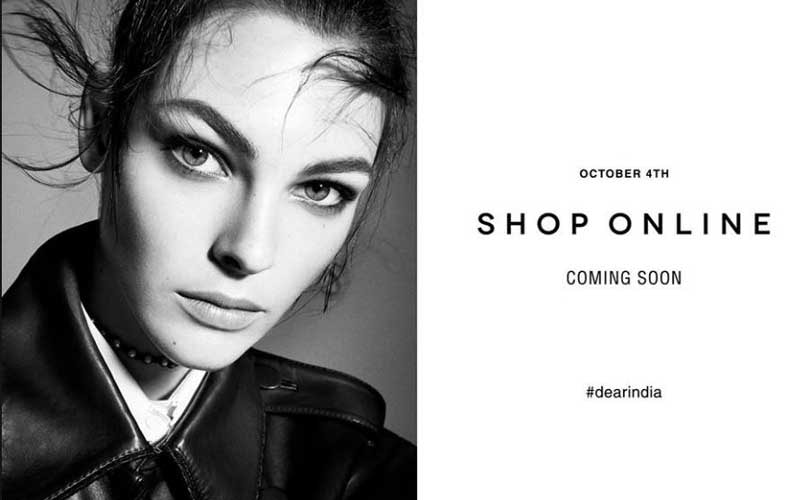 Spanish fast fashion brand Zara announced the opening of its own online shop in India on its Facebook page a few days ago. Finally, one should say, as the popular brand has been active in the country since 2010 and is doing good business. Though the brand is available online through third party providers like Amazon.in, the Spanish brand had so far not managed to open its own webshop.
This is about to change. "Dear India, our online shop is opening on October 4th" said the short but sweet note as the reaction of Zara's Indian fans showed - the post was liked by more than 6,000 people, shared already more than 500 times and elicited more than 2,000 comments. "Thank God! Better late than never. Was waiting all the while," said Facebook user Ivan Basumatary. "Finally!!!! Can't believe it took you so long to go online, now I don't need to travel half a day to go to your store!!," commented Chennai-based Ria Mukherjee, referring to the horrendous traffic conditions in most Indian metros that turn a trip to the store into a half-day outing.
Though Zara has been operating its own website at zara.com/in, so far, interested shoppers could only browse the collection and check prices as well as available sizes and colours but were not able to buy from the site itself, which has been a gripe with many Zara fans in India.
The online expansion may come just in time too as after Zara's instant retail success in 2010, seven years later, things are starting to slow down: sales as well as the expansion of brick-and-mortar stores due to a shortage of new shopping malls and thus high-quality retail spaces. Currently, there are 18 Zara stores in India.
"Plans are to open a few more Zara stores in India over the next three to four years in the major cities—the primary challenge to faster expansion is the availability of high-quality retail spaces which can be expected to generate reasonable sales throughput," said Trent Ltd, Zara's Indian joint venture partner, which is part of the Tata Group, in its annual report.
Though with 17 percent, there was still double-digit growth for Zara in the year that ended March 31, 2016 and revenues of around 131.7 million US dollars, it was still a decline by 7 percent compared to the previous year when growth of 24 percent was reported. Opening its own online store should give the Inditex daughter a boost at just the right time.
Photo: Zara Facebook
Simone Preuss

|
Chinese online giant Alibaba is planning its own brick-and-mortar shopping mall, which is currently being built in Hangzhou in eastern Chinas, also the location of Alibaba's headquarters. The five-story mall is slated to open in April 2018, offering products from brands on Alibaba's Taobao platform and elsewhere according to Beijing-based media group Caixin. Its name, however, is not very imaginative - the new mall is simply called "More Mall".
All the more imaginative though is Alibaba's approach in entering the traditional, i.e. brick-and-mortar, retail market. With the help of retail technologies like virtual fitting rooms, high-tech makeup testing mirrors and barcode scanners, the Chinese company wants to interlink its offline and online businesses.
"Alibaba believes the future of New Retail will be a harmonious integration of online and offline," confirmed Daniel Zhang, CEO of the Alibaba Group, in a statement in July.
According to Forbes, the company invested as much as 8 billion US dollars in brick-and-mortar retail in the last two years, with its aquisition of tech-based grocery chain Hema from department store chain InTime making up the lion's share. Then there is Tao Cafe, Alibaba's unstaffed chain of convenience stores, which will be featured along with a Hema flagship store at the new "More Mall".
With its new business venture, Alibaba counters the Chinese e-commerce boom, which is slowly coming back down to earth with a growth of 'only' 20 percent instead of the 40 percent seen previously. Reason enough for the internet giant to cement its growth with solid brick-and-mortar projects. After all, 80 percent of all retail transactions are still taking place offline in China.
In addition, Alibaba invests in technologies like a variety of algorithms and machine learning techniques, which help in decoding and understanding the shopping behaviour of its customers. This data will be used for evaluating Alibaba's online and offline business, thus helping the company gain a critical advantage.
Alibaba is known for its vertical expansion; only in March of this year, Alibaba founder and chairman Jack Ma announced the company's first logistics and e-commerce hub outside of China in Malaysia, the so-called "electronic World Trade Platform" (eWTP). Bevor that, Alibaba invested in Kakao Pay, subsidiary of South Korean messaging giant Kakao, to expand its global reach.
Other projects that the Chinese online giant invested in were its new Australian headquarters , an 8-hour fashion show, the Youku Tudou - "China's YouTube".
Photo: Alibaba