What does fashion feel like, smell like and sound like? With "Beyond Seeing", a research and exhibition project, the Goethe-Institute Paris explores innovative ways of fashion design that brings together the students of four renowned fashion schools from Germany, France, Sweden and Belgium and blind and visually impaired participants. The resulting works are stunning creations in between fashion and art, which will be presented for the first time at the ESMOD Graduate Show in Berlin on 14th September.
"The project is intended to make fashion discernible beyond the visual stimuli through interaction of sensory perceptions. Different target groups who never met before - students of design, blind and visually impaired participants as well as experts of different artistic disciplines - will be brought together for the first time in order to develop innovative design concepts," states the project's press release.
Given that sight provides 80 percent of all human perception, the research project explores the question of how blind and visually impaired people perceive fashion under those circumstances, being excluded from a whole universe of mass media images of fashion. 'How do they deal with the fact that they cannot see what is worn on the streets or how other people will react to the clothes they are wearing?', 'How do they experience colours, fabrics and surfaces?', 'What do they perceive that we fail notice or no longer do?', 'What does the term beauty mean for them?' and 'How can fashion be experienced with other senses than the visual one?' are some of the other questions "Beyond Seeing" explores.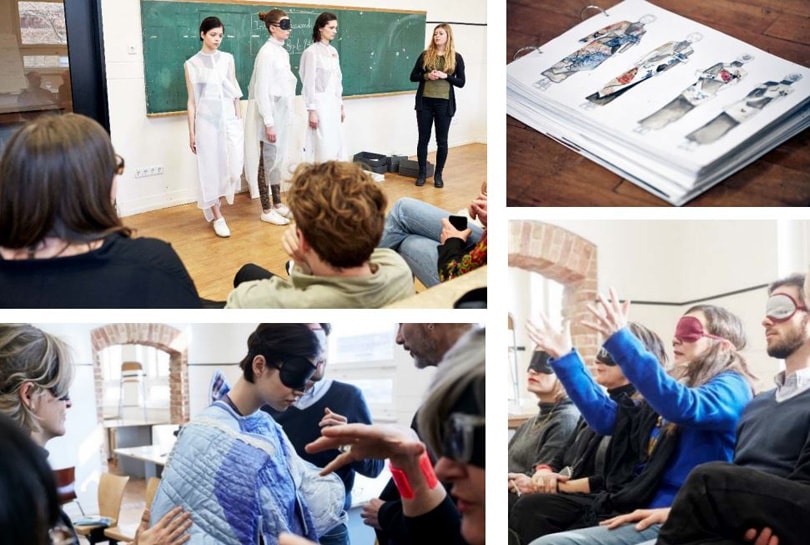 The four participating fashion schools are ESMOD in Berlin, IFM – Institut Francais de la Mode in Paris, La Cambre in Brussels and the Swedish School of Textiles in Boras. Altogether, 50 sighted and non-sighted people came together to participate in the project, which was kicked off with an incentive conference in October 2016 in Paris. Experts from various disciplines – seeing or not seeing – introduced the participants to the overall project in talks and lectures. The project was initiated by Silvia Kadolsky, founder and CEO of ESMOD Berlin, and Katharina Scriba, program curator at Goethe-Institut Paris, while Francine Pairon is the educational and artistic direction.
In February and March 2017, research workshops took place in all participating countries to develop in a participatory and dialogical process creative approaches of how fashion can be experienced beyond the sense of vision. A creation workshop in Berlin marked the third phase, in which the design and fashion students developed innovative concepts together with the seeing and not-seeing participants.

The fourth stage of the project focuses on the participants presenting their creations in a transdisciplinary and interactive exhibition with the aim of creating a multiple sensory experience. The visitors – seeing or not seeing – will touch, hear, smell and taste as well as experience and interpret fashion beyond the visual aspect.

In addition, a large program of events is planned. In January 2018, "Beyond Seeing" will be presented for the first time in a transdisciplinary and interactive exhibition at the WIP at the Parc de la Villette in Paris. After the opening event in Paris, the exhibition will be shown in Borås, Berlin and Brüssel in 2018.

Photos: courtesy of Beyond Seeing