Danielle Wightman-Stone

|
Emerging talent has long been regarded as the backbone of London Fashion Week, out of all the fashion week's London seems the most ready to celebrate and champion new talent, and the autumn/winter 2018 showcase was no exception, with five incredible new designers shining through on a very busy fashion week schedule. FashionUnited has long been a supporter of emerging talent, and these are the five hot designers we think will be one day be household names.
Xu Zhi
One of the hottest tickets at this London Fashion Week was for Central St Martins graduate Xuzhi Chen and his label Xu Zhi. The designer, who graduate with a BA degree in womenswear, has already received recognition within the industry since launch his own label in 2014, including being nominated for the LVMH Prize, International Woolmark Prize, and H&M Design Award.
The Chinese-born designer splits his time between London and Shanghai and for autumn/winter 2018 Chen looked to Jane Morris, wife of the textile designer William Morris and the lover of Dante Gabriel Rossetti, who is one of the most recognised faces in art history for her famous pout, as well as the relationship between artist, muse and now, designer, which he states in the show notes as so important in the era of #TimesUp.
The collection is filled with painting references, with the ankle length skirts and coats featuring a waxy finish, which mimics the sheen of oil paintings, while Chen's yarn-braiding technique has been developed to make the fabric appear to have a brush stroke effect, and the deconstruction effects to the tailoring adds a textural element when paired with wide-leg trousers and pleated skirts.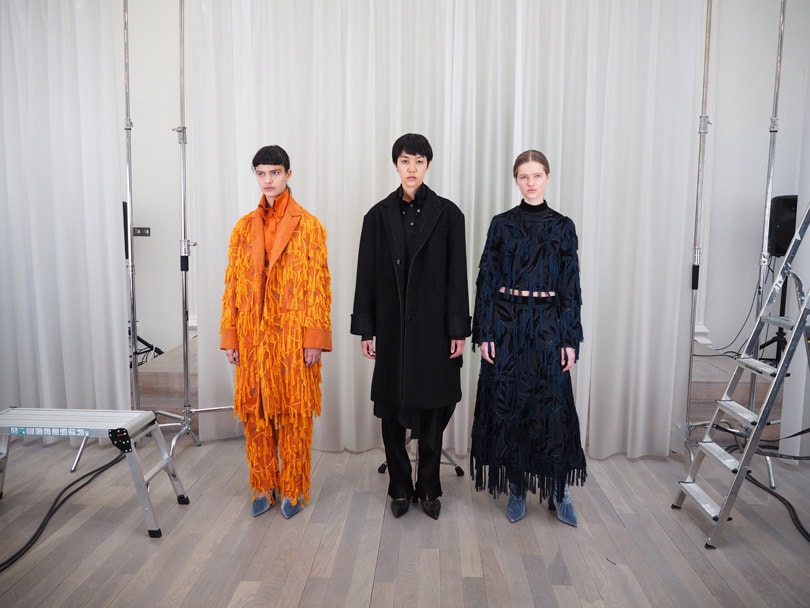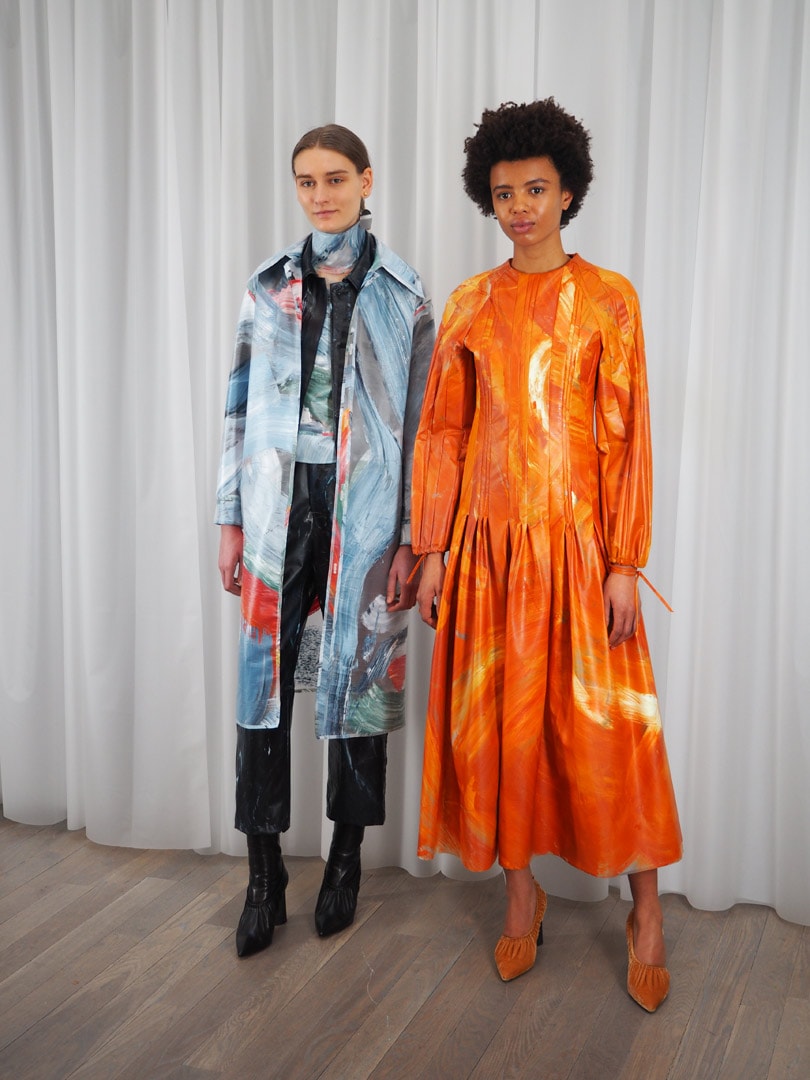 Images: by Danielle Wightman-Stone
Claire Tagg
Using London Fashion Week to launch her eponymous label, recent graduate Claire Tagg brought an energy and glamour to proceedings at Fashion Scout's Freemasons Hall for her debut collection inspired by her travels as an air hostess, combining glamour and destructed textures to create a dramatic yet opulent range.
A graduate of University of Creative Arts, Rochester, Tagg was awarded the New Designers Hainsworth Statement Award, as well as being named the runner-up in the prestigious womenswear award at Graduate Fashion Week, and her debut collection showed Tagg's signature layered aesthetic using digital printing to create rich textures of ripped paper alongside a cherry blossom print and elaborate embellishments, which were all placed by hand.
Inspired by formal airline uniforms, the AW18 collection features structured jackets and blazer style dresses that are juxtaposed with oversized full skirts and ballgowns constructed in luxurious Duchess Satin that really creates a sophisticated and elegant debut collection. Accessories also play a strong part in the brand with colourful beaded jewellery alongside fabric belts with plane seat belt fastenings.
Prices for her debut range starts from 500 pounds for separates to 1,600 for hand embellished ballgowns.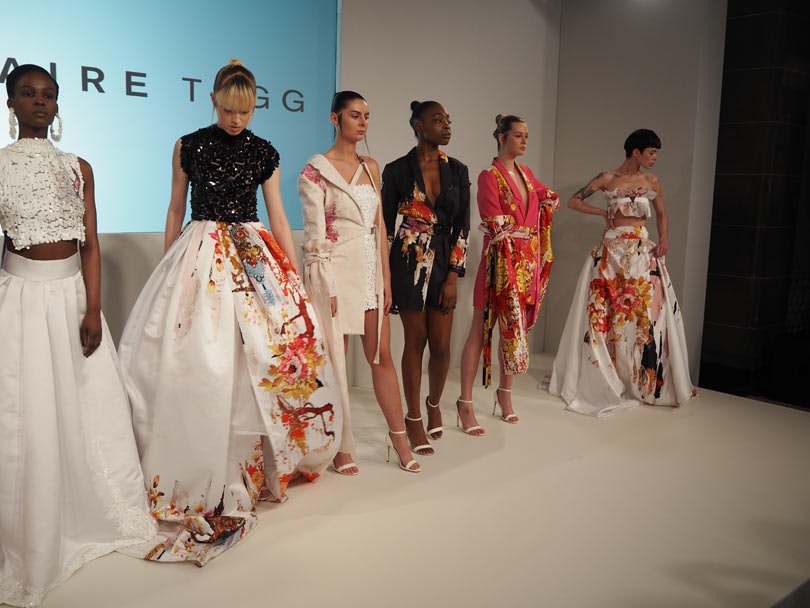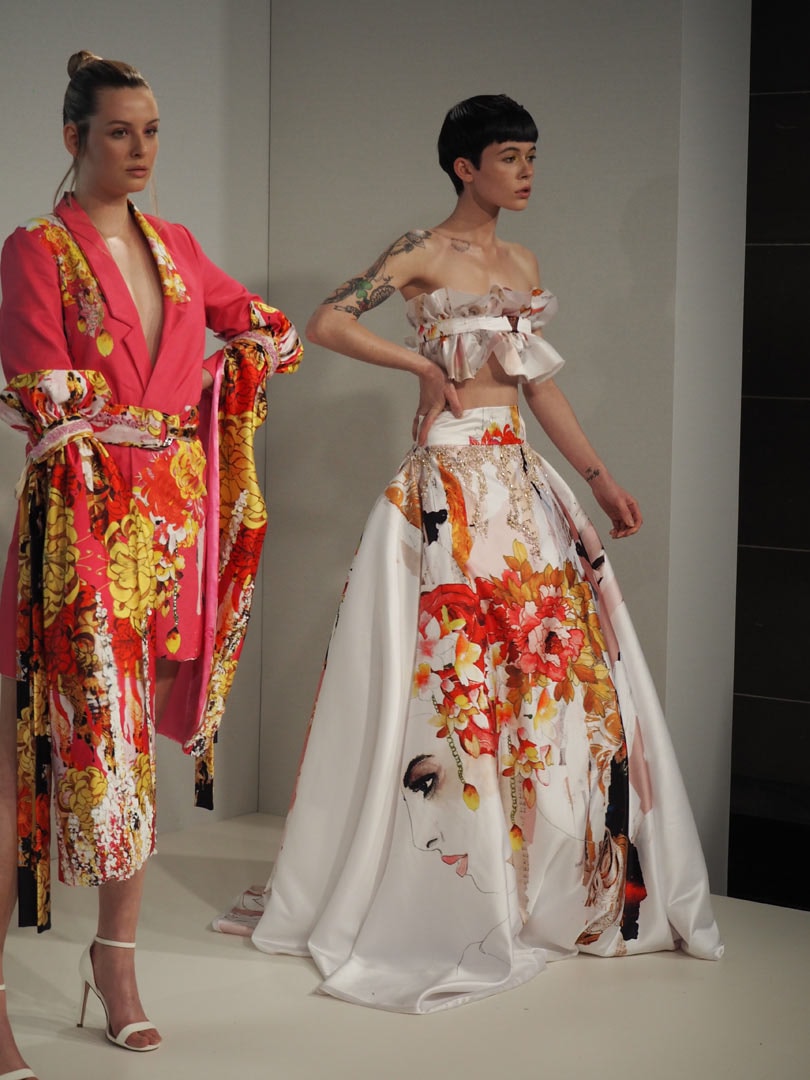 Images: by Danielle Wightman-Stone
Kristel Kuslapuu
Named as one of Fashion Scout's autumn/winter 2018's Ones to Watch, Estonian knitwear designer Kristel Kuslapuu decided to host a presentation over the traditional catwalk showcase to highlight her fun and playful collection inspired by dark secrets, phobias, social anxieties and traumas.
The pieces themselves, talk about serious and inconvenient subjects through highest levels of self-irony, as most of the bold, colourful designs are hand knitted as a protest against fast fashion. Kuslapuu has also added a twist by portraying serious topics with cute and fuzzy materials, such as yarns from alpaca, camel, goat and sheep.
Flirting with sculptural forms, bold colours, unique patterns, the collection shares provocative messages and symbols, transcending traditional gender conformity.
On winning a Ones To Watch award, Kuslapuu said: "For me winning was a reassurance that I am at the right place doing the right thing. The excitement of fulfilling one of your dreams is indescribable.
"I really do feel like I have found something that I am meant to do. Whilst years are passing I feel more and more obliged to give back to mother earth and having this opportunity to share my art with the world is as given from above. I feel very grateful."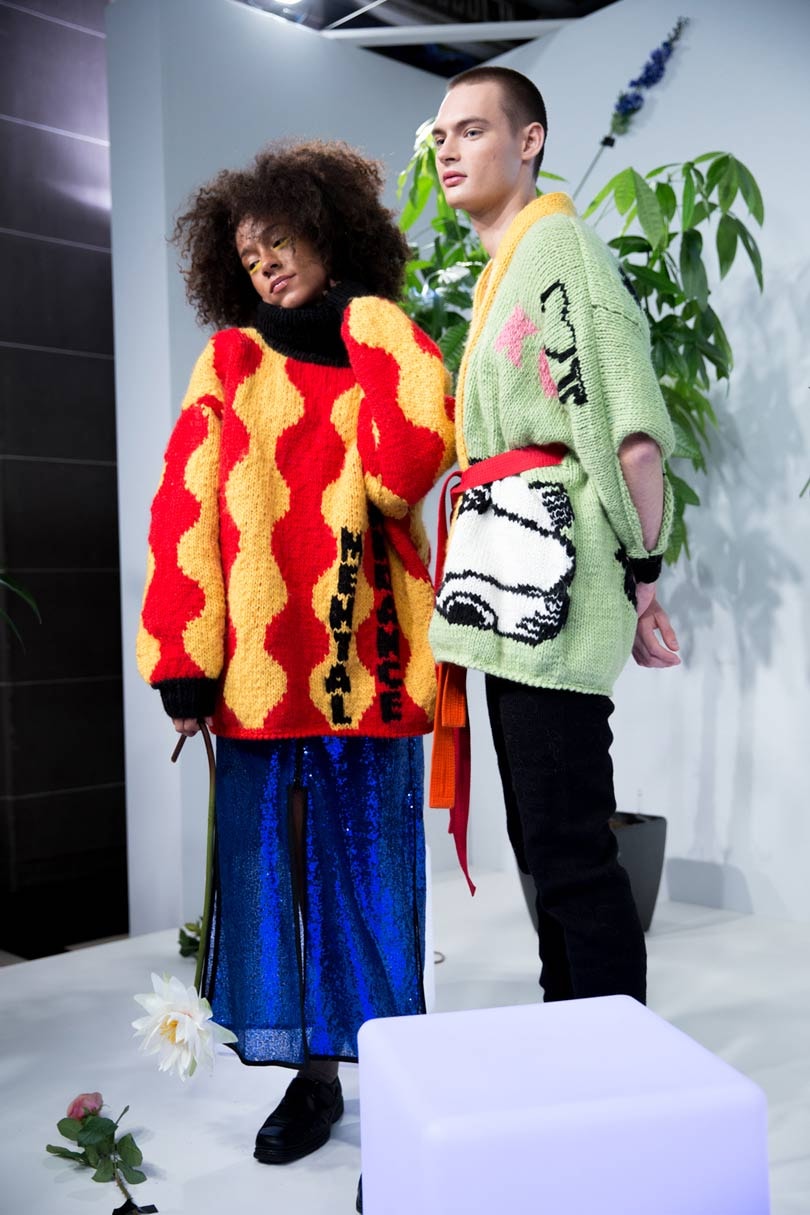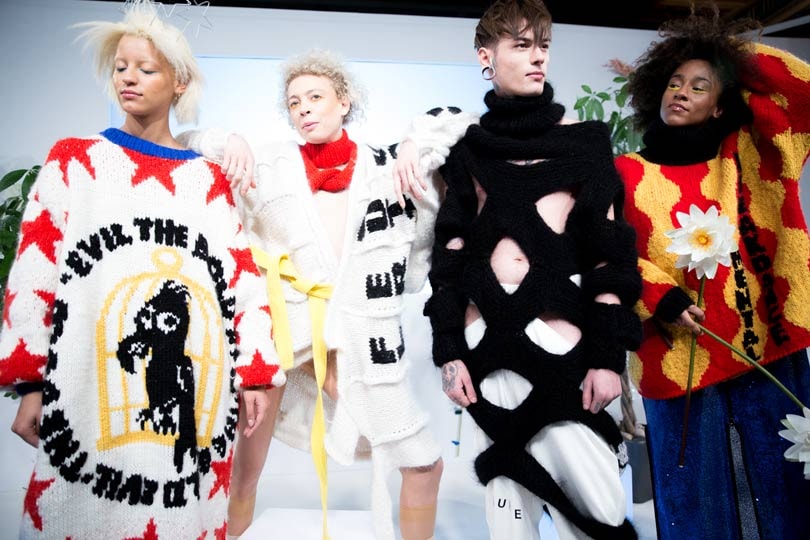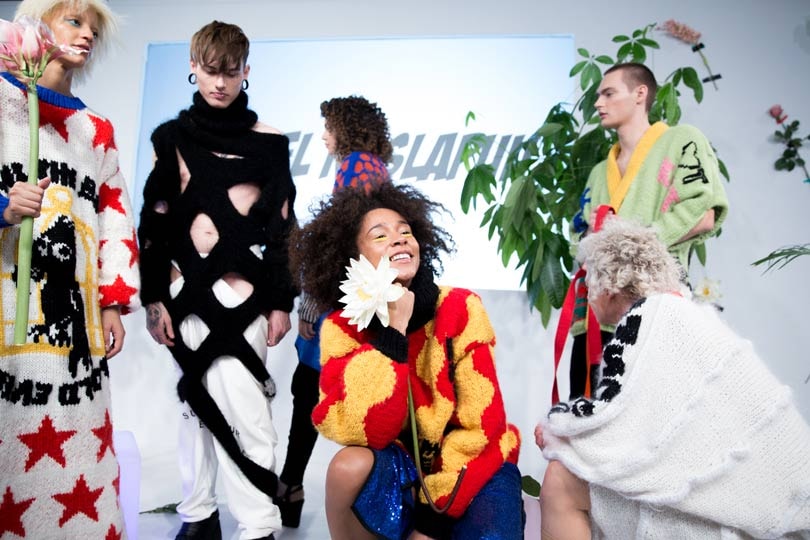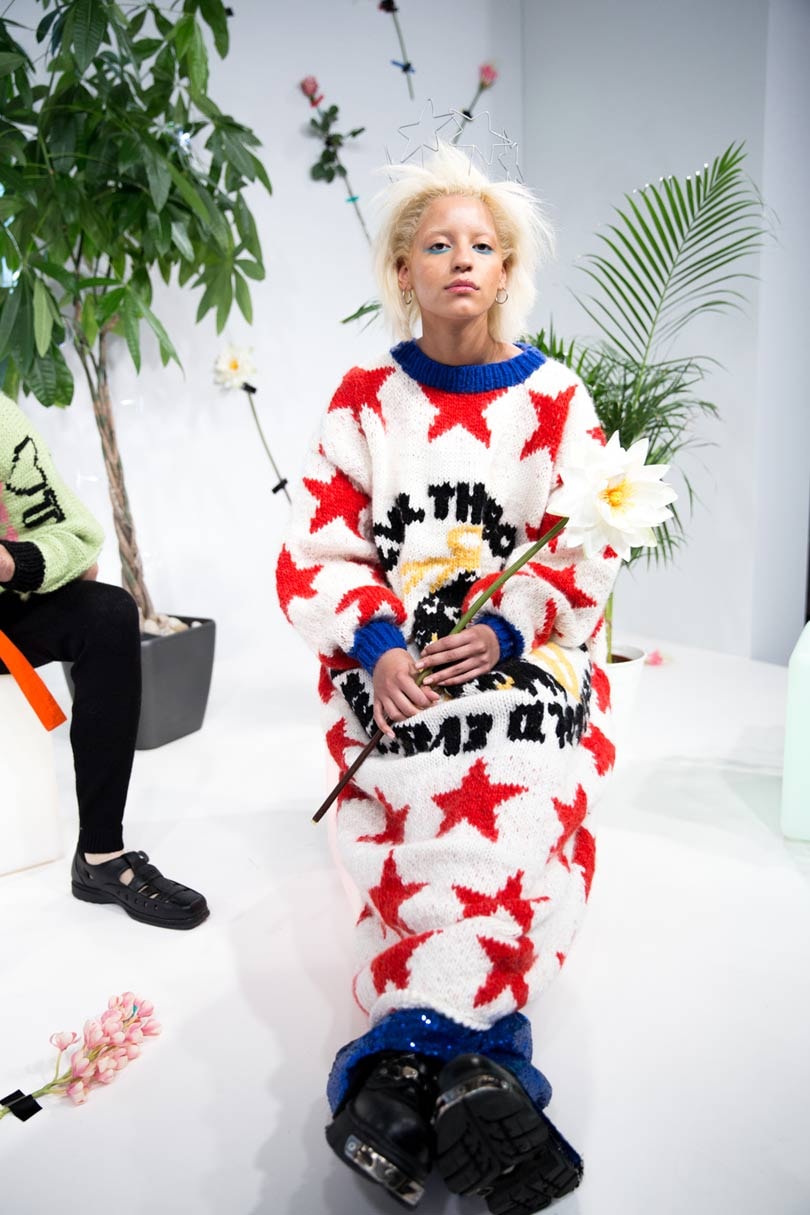 Images: courtesy of Fashion Scout
Amy Thomson
Emerging designer Amy Thomson poses the question what does a princess, baker and a hairdresser look like from a child's perspective with her playful autumn/winter 2018 collection 'Chasin' Dreams'.
With the models standing amongst floating clouds, the eight oversized pink outfits really brought the idea of focusing on your dreams and each showcasing the profession as seen by a child, with a little help from Thomson's larger-than-life hand-rendered drawings that produced charming prints, motifs and illustrations to form the narrative of the collection, ensuring that no two garments are the same.
Thomson also collaborated with headwear designer Katie Hamlett from Sassy Freak that included a range of tiaras featuring iconic childhood toys including Barbie heads, My Little Pony and brightly coloured trolls. Other accessories included printed scarves, motif tights and embellished handbags.
Commenting on the collection, Thomson said: "Telling a narrative and connecting with an audience is very important to myself as a designer. Chasin' Dreams is based on real muses, real stories and my own and there is no story truer than the one you are living."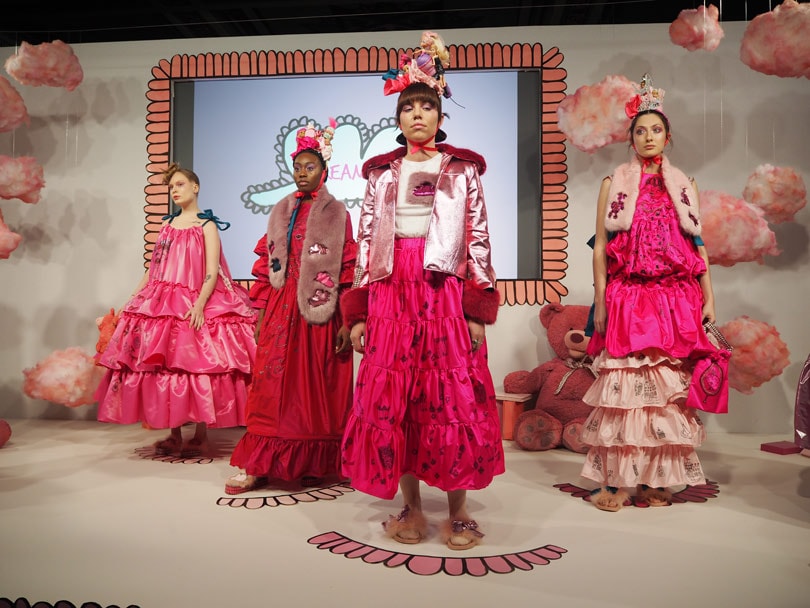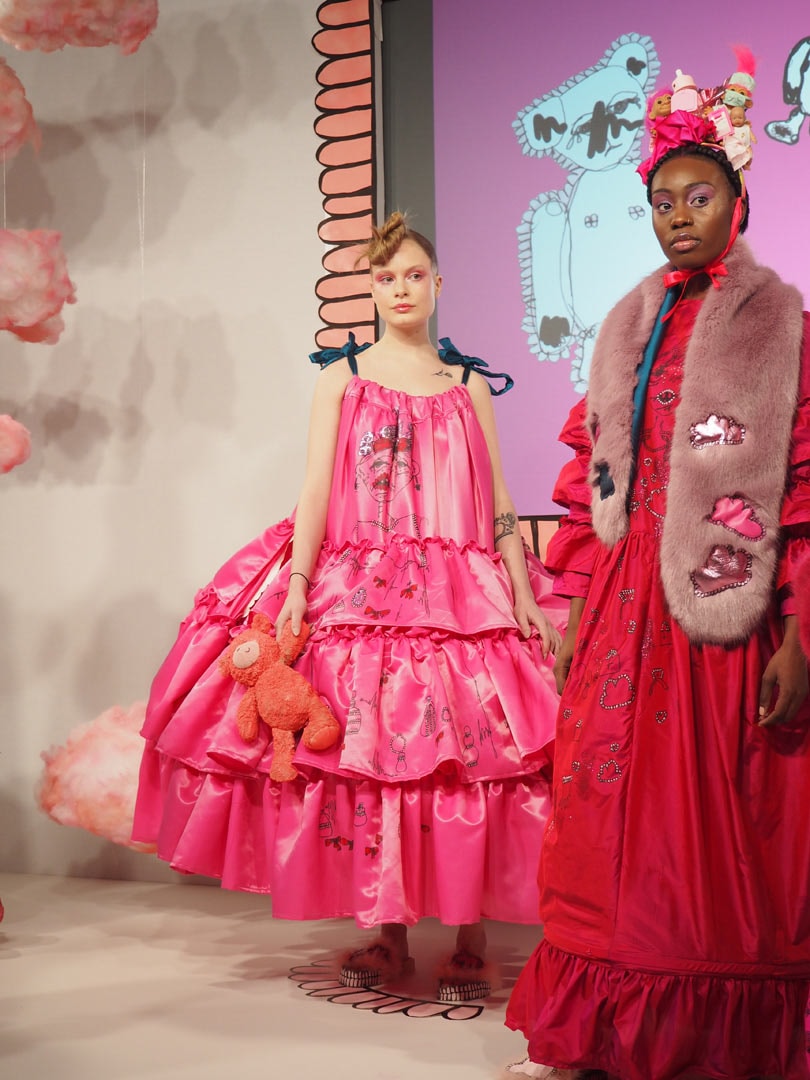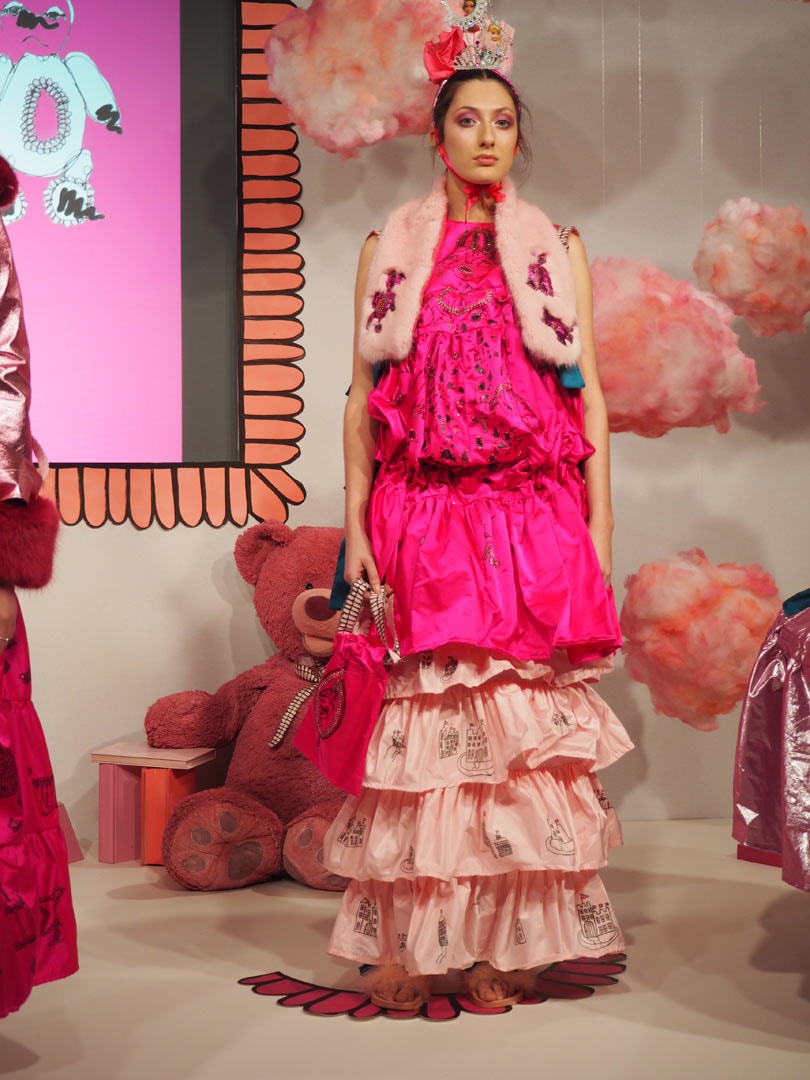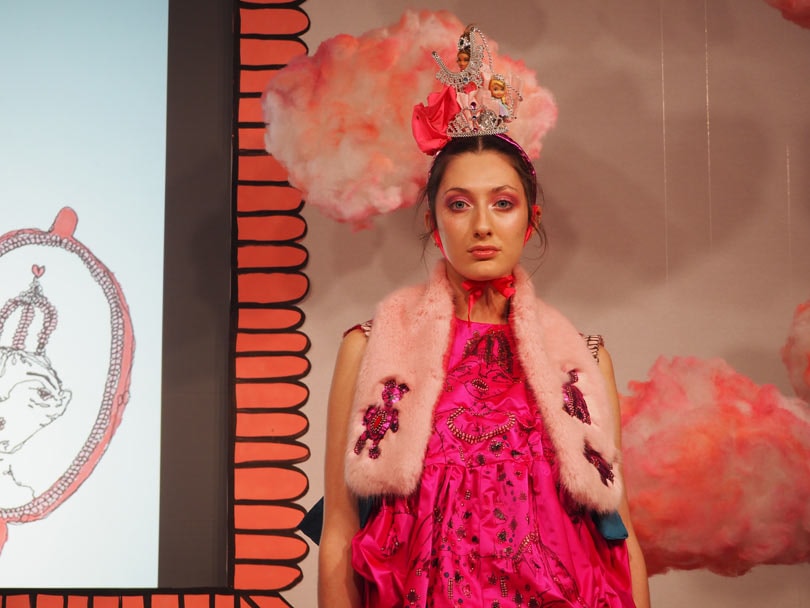 Images: by Danielle Wightman-Stone
Cassey Gan
A graduate from London College of Fashion, Malaysian-born Cassey Gan impressed with her autumn/winter 2018 collection inspired by Maria Svarbova's 'Swimming Pool' series of photographs, filled with a print heavy collection of wearable separates with oversized detailing, cutouts, and flaps with interesting shapes inspired by objects in Maria's work.
"When I first saw Maria Svarbova's work, I thought they were paintings. But in actual fact they were photos of real people and real sets. Although the colours in her photos are cheerful and bright, the overall mood is rather somber, lonely and somewhat silently eerie," explains Cassey Gan on the inspiration behind her autumn/winter 2018 collection. "The subjects she photographed are robotic featuring repetitive poses. I am very much intrigued by the tension between the real and the fake; with is so strongly portrayed in her work."
The 'Picture Perfect' collection sees pieces layered over one another, while showcasing print and colour clashes, as Gan aims to challenge beauty standards and explored the idea that we create fictional versions of ourselves due to the pressures of social media. As well as the prints taking centrestage, the accessories are a highlight with tote bags featuring the print clashes teamed with round handles and coordinated stripe straps.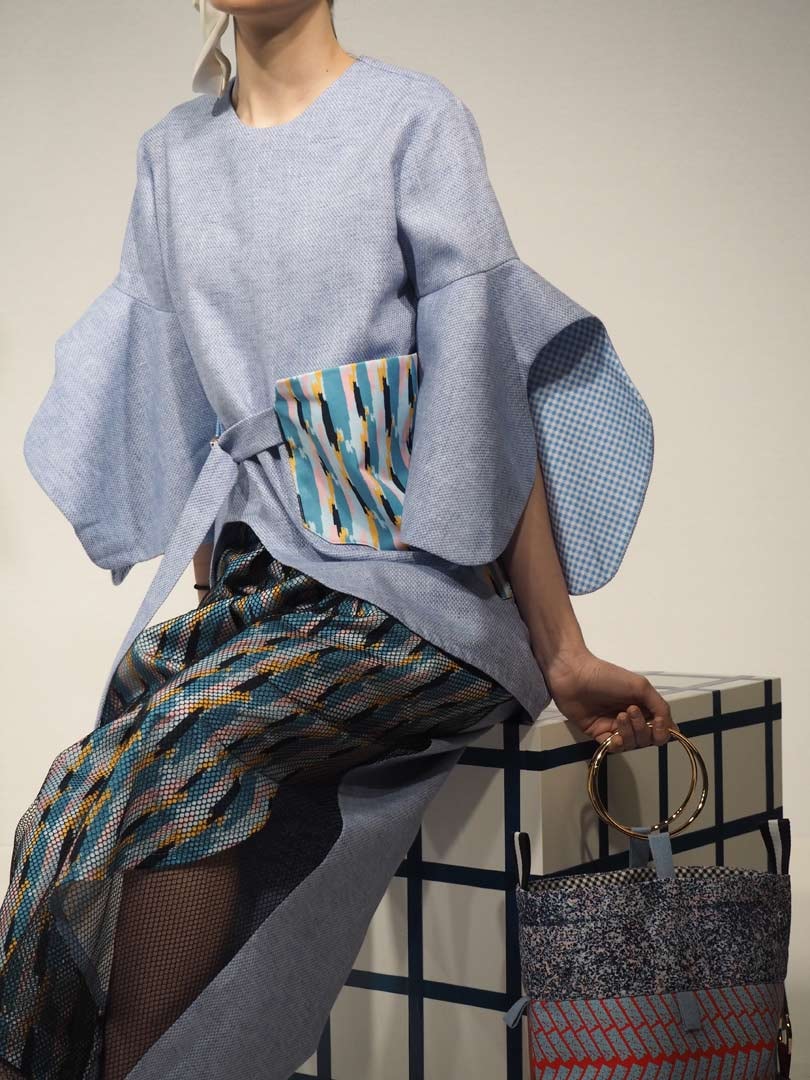 Images: by Danielle Wightman-Stone