The air traffic control strike in Florence threw a spanner in the works for many fashion folks who were leaving to go home on the last day of Pitti, but luckily I was getting a train to Milan for fashion week without any major delays.
After three consecutive days at the Florentine menswear tradeshow it was time to head to Italy's fashion capital where I am on the show circuit as part of the buying team for department store de Bijenkorf in Amsterdam, operated by the Selfridges Group. Milan Fashion Week is one of the rare weeks where we can see the shows without clashing with our buying appointment calendar.
At 9:30 sharp our driver collects us at our hotel near Central Station to take us to the Diesel Black Gold show. The temperature is expected to reach 35 degrees today and many venues are old buildings without air conditioning. In the car we have airconditioning to help us cope with the heat and plenty of snacks to keep us happy between the shows.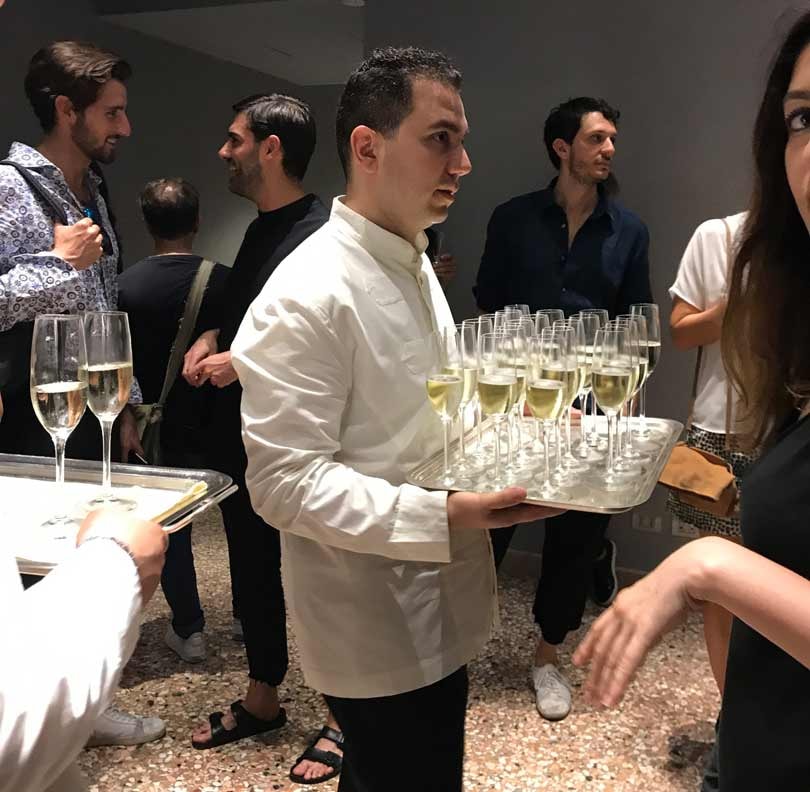 The enormous warehouse space at Diesel is thankfully air conditioned and we are seated near the catwalk's model exit. Girls in maxi dresses and butch sandals walk alongside boys in leather jackets and shorts layered with leggings. All very sporty and cool, but I am wondering why the regular Diesel customer would pay 30 percent more for its Gold collection, which looks similar.
Celebrity spotting at Emporio Armani
We get into a scrum as we arrive at Emporio Armani's via Bergognone headquarters as a well-known Korean actor is greeted by a throng of fans and paparazzi. Inside, the concrete entry leads to a dark room with a short catwalk that lights up like a 90s club. So far so good. When a series of looks with belted jackets appear, we are reminded of Armani's penchant for Japanese and Eastern traditions, which often blend seamlessly into his collections, but today felt incohesive. The catwalk presentation was interrupted by a short film announcing Armani's new venture into smart watches, and Canadian singing sensation Shawn Mendes, the face of the campaign, took a short walk on the runway to rapturous applause.
Next up was Marni, where seats are snaked in a vast industrial space that reminded of sitting on the tube. The collection look jumbled at first, with wide leg trousers, clonky footwear and cut and sewn shirting layered and patched offering a new proposition in proportion and texture. If you deconstruct the looks there were plenty of commercial items, but wearing top to toe Marni would be tricky for most.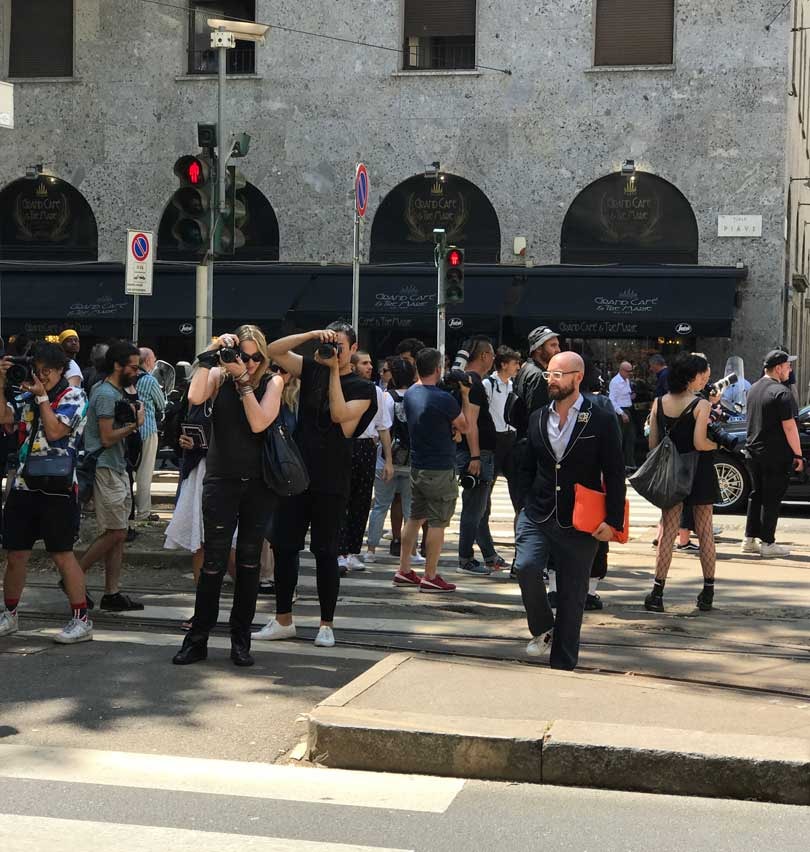 So far the delays have only accumulated to 30 minutes
It is 4pm and the shows are only about 30 minutes delayed, not bad for Milan fashion week. Neil Barrett's show is on the edge of China town in his new headquarters near the infamous DSquared building. Barrett shows both men's and womenswear offering a sharply cut wardrobe for the spirited urbanite in his signature black, white and beige tones. The only hint of colour was a pop of red, striped on the sleeves of utility jackets.
Thermal water spray helps cope with the heat
Back in our chauffeured car we spritz our faces with thermal water and head across town to Corso Venetia for the 5pm Les Hommes show. The oppressive heat dampened the impressive venue, where even the champagne offered on arrival failed to cool us down. Melting in our chairs we waited 30 minutes for the show to start. Models with mouth piercings came out in laced leather jackets and trousers, jacquard sportswear and plenty of statement items. At the last exit I scrambled for the door, hoping I wouldn't melt on the way.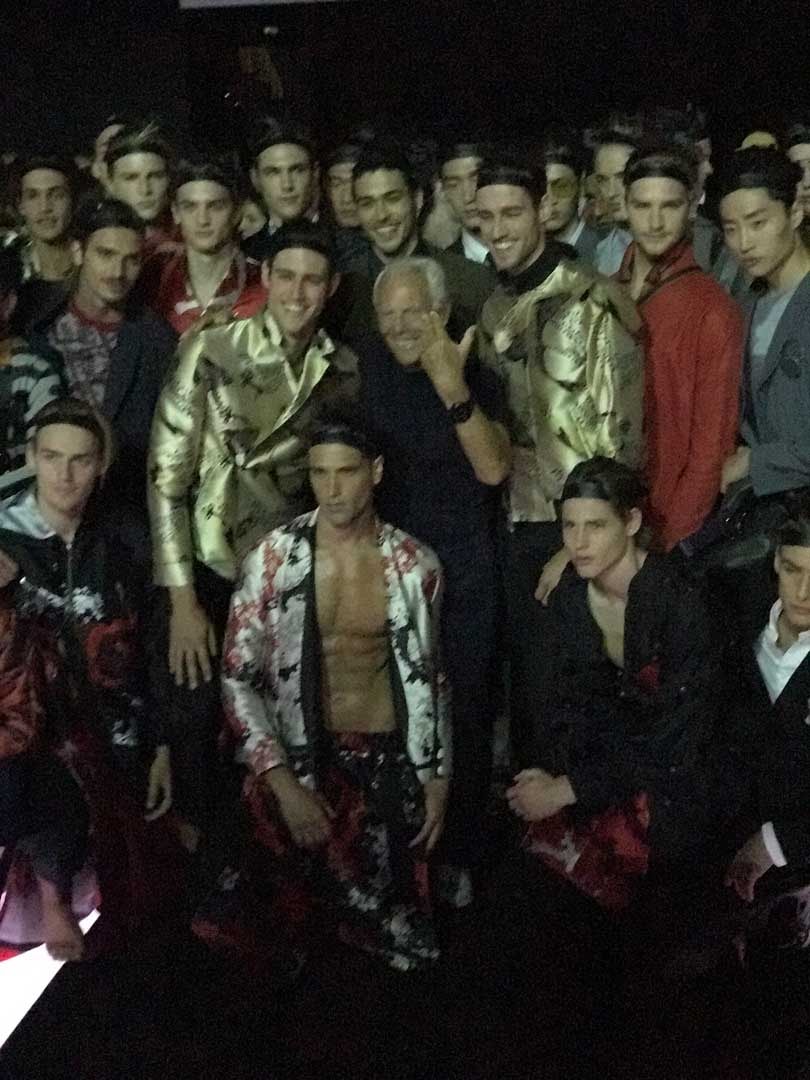 Versace's via Gesu headquarters was next on the list. It's a tricky time for the house of Versace, with many wondering who will take the creative helm if Riccardo Tisci isn't to be appointed. The show was typically Versace, with molto sexy dresses and buffed boys in statement clothes, with plenty of leather and Medusa iconography to satisfy its customers.
Back in the car we head to the Fiera, a tradeshow space on the outskirts of Milan. Here we go to Marcelo Burlon and end with Philipp Plein, who is showing at the same venue. We are tired and hope there will be some water as none of us has had a drink in over four hours. A skate park awaits us outside Burlon's show, while inside a waterfall and a mat fit for a boxing ring makes for a round catwalk. Tattood models, many with their faces inked, wore Burlon's unique sportswear, from MA1 zipped jackets to hoodies to bowling shirts and gothic beachwear, as the press notes stated.
As we exit Burlon's show, we see an entire new breed of showgoers at Philipp Plein. One lady of a certain age with thigh high laced boots and very short shorts is seated next to me. Her husband is wearing a red t-shirt with diamanté sleeves and matching loafers in red crocodile leather. Both appear to be dressed in Plein. After a long hour wait with announcements over the speakers that were so crass they can't be printed here, a musical version of Grease appears on the set. All slicked back hair, leather jackets and high waisted denim. Could this be the new Plein? When the singers exit, we are treated to a car show, with lots of flames, high speed driving and a ramp for stunts. So far so banal. Finally there is a hint of a fashion show to come, when Jeremy Meeks, famous from his prison mug shot, takes a lone walk across the set. One by models come out, wearing Plein's signature high octane clothes that are set to make the brand a billion euro company soon. After the show I bump into Carine Roitfeld, who was sitting front row in the adjacent seat. She consults to Plein, although I struggled to see her influence of good taste.
At 10:30pm we make it back to our car and head to dinner. Day 1 of 3 completed.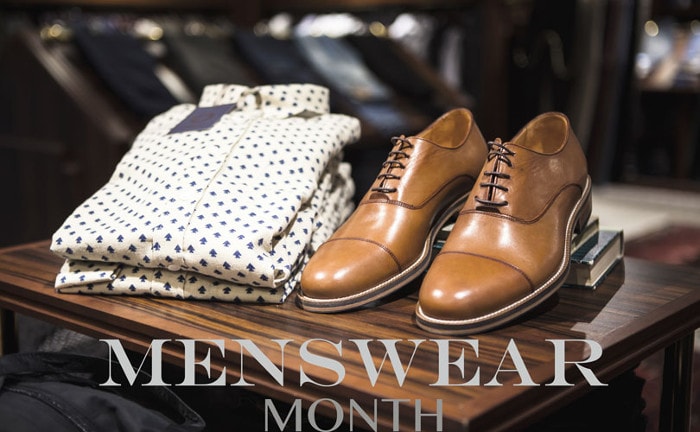 During the month of June FashionUnited will focus on the menswear catwalk season. For all reads, click
here
.
Photo credit: Milan Fashion Week, Don-Alvin Adegeest