Exotic jaunts, beautiful clothes, glamour and a big pay check. Modelling captures the imagination. Young girls dream of living a life in the spotlights as a model or actress, but rarely have an inkling of what it actually entails. The modelling industry is tough. It is a world in which competition is fierce, and rejection and sexual intimidation are still rife, as British model Cara Delevingne recently revealed. What do you need to know as a budding model? How do you build a network and a solid portfolio?And what are the pros and cons for a fashion company of booking a so-called 'fresh face'?
Be critical about whom you go into business with
I discovered how fascinating the concept of modelling is to many people when I first started working as a model ten years ago - one year before Holland's Next Top Model aired on tv and the hype began. I instantly fell in love with the business and thought it was a great job to have on the side, but knew it wasn't the kind of work I wanted to commit to full time. I think the reason I still enjoy it after all these years is partly thanks to the fact that I have never been fully dependent on it, rendering a rejection merely a disappointment and not a source of frustration. I did, however, notice that when I told someone that 'I attend the art academy, work as a fashion journalist and, oh yeah, do the occasional modelling job', the person I was speaking to would only remember the modelling part the next time we spoke.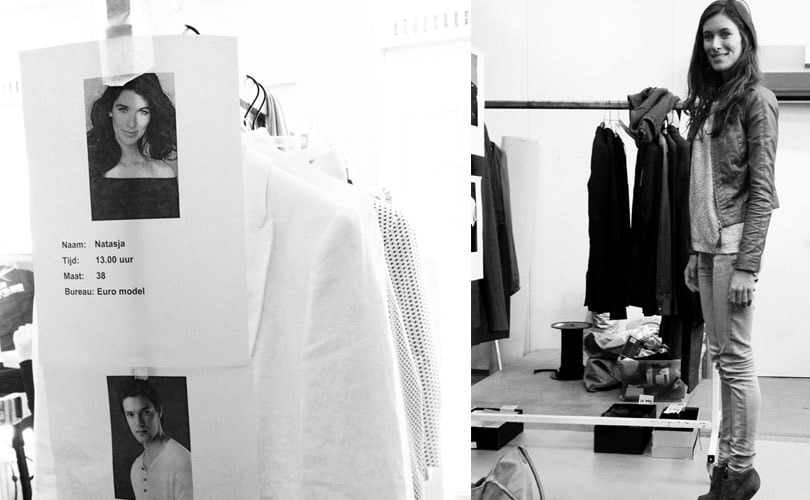 Unfortunately, dodgy modelling agencies and photographers are numerous, simply because there are so many naive young girls and boys who dream of becoming a model. They take advantage of the inexperienced with false promises, unreliable contracts, or worse. During the past few years, the consumer programme Radar has devoted many hours of airtime to these misleading practices.
Regardless, modelling agencies have been popping up like mushrooms in recent years and it is important to be critical about whom you go into business with. Models are frequently advised not to pay a modelling agency a sign-up fee. It is important to know - on the condition that you get enough modelling assignments - that it's a reciprocal business: the model generates income from assignments and the modelling agency keeps a percentage (20 to 25 percent is the norm) per job in mediation fees.
Some agencies also charge for the printing of set cards (a model's business card in A5-format, with her name and measurements and a compilation of her best pictures) and management of the website. These costs are usually deducted from completed assignments.
The pros and cons of a fresh face
There are advantages to being a 'new face'. After all, the modelling industry is always looking for the next big thing and many modelling agencies therefore have a separate category on their websites devoted to presenting its newly scouted talent. As a fresh face you therefore get noticed more readily by potential clients. It can also be advantageous for fashion labels to book a new model. First of all, because the model is still young and malleable. Furthermore, you pay a lower rate because she lacks experience and still has to build her portfolio. There are, of course, some disadvantages. Perhaps it's not the best idea to book a fresh-faced sixteen year old for a lingerie shoot where she is required to gaze seductively into the camera - although this often happens. The risk in this is that the girl might feel awkward - not least because she still has to get used to posing for a camera - and therefore loses credibility. One should also question whether a fledgling model is up to the task of a shoot in which numerous poses are required sporting forty different outfits. It is therefore logical that inexperienced models are not considered for all assignments.
Building a solid portfolio
A test shoot is definitely worth the investment in order to garner experience and build a network. It could be that a potential client has had his eye on you for some time, but that a good portfolio update might be just what it takes for him to book you. Furthermore, you get to meet an entire team during a test shoot, consisting of a professional photographer, a stylist and make-up artist, each of whom also works for magazines and fashion labels. If they favour you, they might just show your portfolio to one of their clients. You will often be photographed wearing various styles during a test shoot - think fashion, lingerie, lifestyle and business - to showcase your versatility. Experience shows that commercial companies appreciate a model having beautiful fashion photographs in her portfolio. This is not the case in the reverse. That is why commercial photographs are usually not included in the portfolio of a fashion model. Despite the fact that commercial assignments are the biggest source of income. A showreel (an introductory video of yourself) is a great supplement to a portfolio and shows fashion labels how easily you move. Polaroids, or snapshots - usually not photoshopped and with little make-up - are made for the purpose of presenting yourself to the client as naturally as possible, thereby increasing the chance of a direct booking.
Investments and empathy
You only have one chance to make a good first impression on a casting or go-see (first meeting with a client). There is no better investment than a good night's sleep, the right diet and a personal trainer or gym subscription to stay in shape. Make sure you're able to apply your own basic make-up (you can find all kinds of tutorials on YouTube). Your personal choice of outfit can also be a dealmaker or breaker. Do not wear beat up shoes (if necessary, invest in a pair of heels you save especially for jobs and castings) and do not wear a pair of jeans with the competition's logo featured prominently when going to a denim brand's go-see. That could be awkward. If you're seeing an idiosyncratic brand, you might do well to wear a more colourful outfit. When in doubt, though, stick to safe choices. Choose non-brand clothes and ditch the loud prints. A pair of skinny jeans with a plain T-shirt or tanktop is always a safe bet.
Size 8 more commercial than size 6
It is a common misconception that models always have to be super thin. It simply isn't realistic. My experience is that the sample clothing at a shoot is often too big for the size 6 models. The permanent clothes peg used to hold in the pant waist at the back has led to several humorous situations, when I would turn around and it would suddenly appear in the photograph. And although I am a size 6, modelling agencies prefer to list me as a size 8 on my set card, because this is commercially more appealing. Many size 8 clothes fit a size 6 model perfectly well, so that simply increases your employability. French and Italian sizes obviously differ from British sizes, which is something that models who work in Paris and Milan for extended periods should take into account. The presumption that many models starve themselves is not often true, either. I know models who proudly announce that they eat more than their boyfriends. Not to keep up appearances, but because it's the truth. They are naturally thin and, in addition, live a healthy lifestyle with plenty of sports - the latter being something they rarely confess to. Of course there are girls who have to go to extreme lengths to achieve the much-desired 90-60-90 measurements (chest, waist and hips ratio), but it's impossible to keep up for an extended period of time and can be very unhealthy. If this is the case with you, you might want to question whether modelling is for you.
Besides, there are some great examples of beautiful plus-size models who used to be unhappily skinny and are now inundated with work. So, before you dive in, think carefully about whether modelling suits your lifestyle, your build and your ambitions.
Natasja Admiraal is a freelance fashion journalist, who has worked for FashionUnited since 2008, and also writes about related subjects such as jewellery and design. You might also find Natasja gracing the cover of a magazine: she has been working as a model for the past ten years.
Photo 1: During a fashion shoot for Parool Mode with RVDA.
Photo 2: Photo shoot in Malaga
Next time: Part II - Modelling agency or simply the pretty girl next door?