With a direct booking, a model is booked based solely on the photographs in her portfolio. Normally, however, a photo shoot is preceded by a go-see or casting. Fashion brands make a short list of models they would like to meet in person. No two castings are the same: sometimes they can be incredibly uncomfortable and feel more like a meat auction than a simple 'interview', other times there is an instantaneous click.
There was one casting on a deserted industrial lot in thirty degree weather- with me holding a piece of chocolate that I had to look at provocatively and unwaveringly while it melted in my hand – that never led to a job. The best casting I ever experienced, for a national commercial, never even involved an interview, just a conversation with the director. He talked about the script, the division of roles, the location and the team. I listened attentively and, at one point he made me laugh, then proceeded to confuse me, and all the while the camera – which was trained on my face – kept rolling. After ten minutes, the casting was over and he had enough material for a good impression of me. A few days later I received a phone call telling me that I had been chosen to be one of the extras in the Lipton Ice Tea commercial. Most models hate castings, but this is can be a great way to cast talent.
Beautiful or representative not always enough
Magazines and fashion brands usually work with models that are slightly younger than their target demographic. This can sometimes lead to criticism, but it is simply the way things work. Were you to adapt the models to the demographic, chances are that the average age would move up as well. For some jobs it simply isn't enough for a model to be beautiful or representative of the brand. Fashion labels are naturally often so focused on finding the right type that they sometimes miss the important details. Such was the case when the model on a look book-shoot told the stylist, who had borrowed a beautiful pair of earrings from a PR-agency, that she didn't have pierced ears. My own first assignment was a bit of challenge: we were doing a shoot for Jägermeister in an indoor skating rink. No one had thought to ask me if I could skate. Luckily, we had enjoyed a few good winters in my childhood and I had taken lessons one season, so after a few practice rounds I was fairly capable of keeping my balance, posing for the camera while sipping at an ice-cold glass of the liqueur. At 10 in the morning. My male colleague had less experience on skates and stood next to me on wobbly legs. The client solved the problem by giving him a wooden chair, which he could hold onto, and by having us skate together hand-in-hand, which looked particularly cozy. It is, however, important for modeling agencies to know whether their models can dance, ski, play tennis and any other skills that might come into play.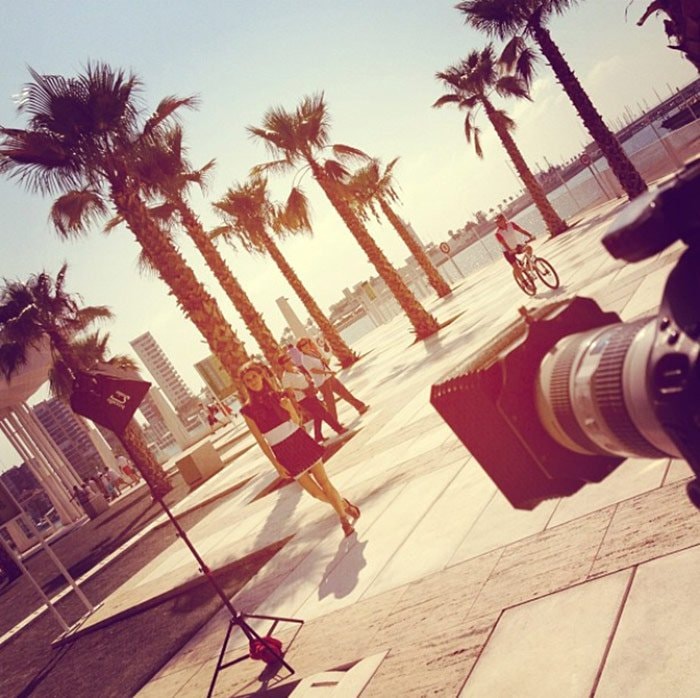 The models as extra pair of eyes
A good breakfast is essential before a photo shoot. Not the stereotypical handful of grapes or cracker, but a solid breakfast of sandwiches or a bowl of full-fat yoghurt with fruit and muesli. There is nothing worse than arriving on set with low energy and a growling stomach, with a long day ahead during which you constantly have to perform. A model's input is not always required during a photo shoot. Sometimes, everything from the location of your poses to what you have in your hands or how you look has already been stipulated in advance. The challenge is to perfectly recreate what the client has in mind. Sometimes, that rigid mindset is necessary. In all other cases, my experiences have taught me that you get the best results when you ask for the model's input. For example, if the model isn't comfortable with a certain pose, that usually shines through in the photo. I can't count the times I have relaxed back into a more comfortable position in between shots and had the photographer call out: "Hold that pose, that looks great?" It also pays to let the model take a look at the screen to find the right pose. People are naturally critical when they see a picture of themselves. Where the stylist will focus mostly on the clothes, the model will cast a critical eye on herself. Who knows, she might notice something worth changing.
Photo shoots on location are an inspiring alternative to studio shoots. You get to visit exceptional places in the city or in the outdoors. The only downside is the cold: getting changed outside in a freezing Northern wind or doing a shoot in a fantastic but unheated industrial shipping warehouse don't make for the most pleasant experiences. The changes in temperature – outfit on, outfit off – are particularly rough. You usually forget the discomfort quite quickly, and the picture rarely reflects the conditions. The emphasis is on 'usually', because proper preparation is particularly important for a location shoot. This I found out when on a shoot with fickle weather on Sardinia. As soon as a cloud moved in front of the sun, preventing us from continuing the sort, the stylist would appear with a big blanket to wrap me in so that I wouldn't get cold. Her attentiveness did not just benefit me. Sometimes you see models in magazines covered in goose bumps. Not a pretty sight, unless the photographer is making an artistic statement. So, if you are a model or fashion brand, always bring a robe or woolen blanket with you when attending a lingerie- or outdoor shoot to prevent this. Of course, it's impossible to prepare yourself for every possible situation and sometimes you have to improvise. For example, in a pinch, a hairdryer might be used as a wind machine.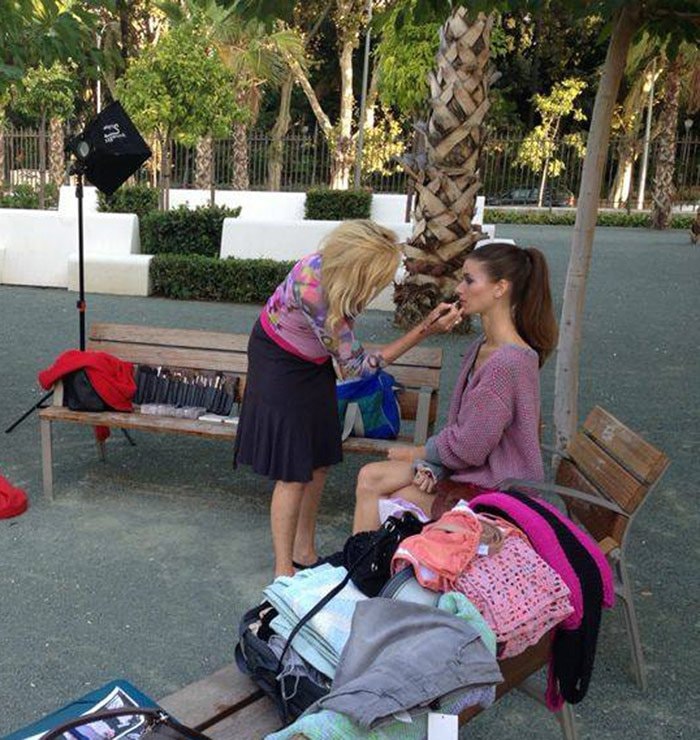 Fun and responsibility
To avoid the cold, many photo shoots take place abroad. This is what makes modeling so diverse: you get to visit the most beautiful locations. Because, let's face it, when summer fashion needs to be photographed in February, there is no other recourse than to visit a sunny destination. Not exactly a hardship. However, as a model (or photographer, stylist, make-up artist), it is important never to forget that you are doing a job. I was once flown to Curacao for a German catalogue. The day I arrived was my client's (the graphic designer who was representing the company on the trip) birthday. A party bus picked up the entire team at the hotel that night as a surprise. We crossed the island in that old schoolbus, windows wide open, music pumping, decorated with graffiti, a cooler filled with cans of beer on board. That was my first impression of Willemstad. It was typical of the mentality of many fashion companies, particularly the German teams I had worked with: work hard, play hard. I was very much aware, however, that I would have to arrive on set the next morning ready for action. My alarm clock was set for 5 am, ready for hair and make-up. At times like these, you have the responsibility to limit your alcohol intake and get to bed on time.
Your responsibilities also extend to day-time activities, although a jaunt like this can feel like a mini-holiday. During a booking of a few days, a day off might be part of the itinerary. On a tropical island the lure of a day on the beach is obviously great, but sunburn is disastrous for a model: red skin is hard to mask with make-up. Photo shopping is time-consuming and therefore expensive. So, always bring sunscreen and a big hat to a booking abroad. Also beware of shoulder straps – you might have to wear a strapless dress for the photo shoot – and jewelry can also leave undesirable marks. That is the reason why I went years without wearing a watch. These days, I alternate wrists. When it comes to a professional attitude, remember: it's all in the details.
Natasja Admiraal is a freelance fashion journalist, who has worked for FashionUnited since 2008, and also writes about related subjects such as jewellery and design. You might also find Natasja gracing the cover of a magazine: she has been working as a model for the past ten years.
Next time: Part IV – The do's and don'ts during a fashion show