Weeks, if not months, of preparation precede a fashion show. Designers put in long hours of work until the very last moment, even the day itself sees details being perfected. Because all though you can cheat a little on a fashion shoot (a safety pin here or there isn't visible to the camera), but the clothes in a fashion show leave no room for error. Everything has to fit perfectly. The performance time for models is much shorter, although the days are often longer. Some models loath the long waits, others enjoy it and use the time to read, study for an exam or chat with the other models. The wait is always rewarded with the kick you get at the moment you finally get to walk the catwalk, the admiring looks from the audience followed by the beautiful photo's as proof. This is what you wait for all day.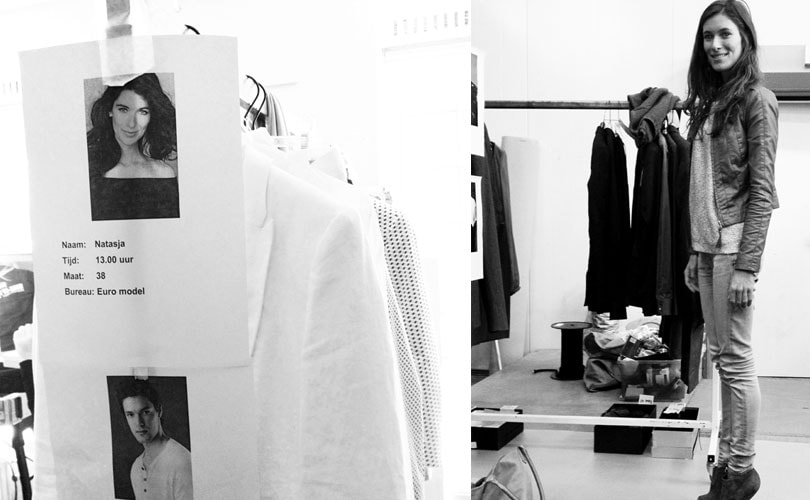 Backstage bracelets and a good vibe
Models, make-up artists, hair stylists, designers, photographers, dressers - there are quite a few people involved in the average fashion show. Things are almost always hectic behind the scenes. That is why fashion brands prefer to only have those people backstage who actually contribute to the production. Not only does such a small space fill up quickly and become stuffy (hairdryers do contribute), but there are always enough amateur photographers requesting press passes for the sole purpose of photographing half-naked models. That is why fashion weeks work with backstage bracelets, which are checked at the entrance to prevent just anyone from entering the changing areas.
For models, a fashion show is a day of extremes: arrive early in the morning, wait, a fitting, another wait, a run-through of the choreography, and yet another wait. And then suddenly: panic, the-show-is-starting-and-we-need-five-more-models-in-make-up! There's always a shortage of time at the last minute. For the designers, staying calm and preventing stress is an art form. Some are better at it than others. More than once, I have experienced an outbreak of panic at the burst of a button or the disappearance of a shoe. My experience with Dutch designer Hans Ubbink was, however, entirely different. Right before showtime, he would come 'hang out' with his models and ask us quirky, silly questions like: "What brand toothpaste do you use? Prodent? Oh, I prefer Colgate." Whether accidentally or by design, he created a relaxed atmosphere in doing so, benefitting not only the models but himself. Because a moment of silliness, right before the show starts, can often determine the vibe on the catwalk.
The biggest stumbling block during a show is often, quite literally, the footwear. Bungling on too big, too small or impossible shoes has ruined countless shows. The Dutch designer Dennis Diem is famous for his towering footwear and floating heels. After yet another model had fallen during one of his shows, he decided to have fun with this. During one show, he unexpectedly included a trio of dancers, who fell spectacularly halfway during the show. Just when the audience stepped up to help, the models got back on their feet with some very flexible dance moves. It took a while before the audience grasped that the stumbling had been a part of the show.
Preventing falls
Apart from these types of artistic performances, uncomfortable footwear is part of the business. As a professional model, you should absolutely not immediately start complaining if the shoes are a bit tight. But, of course, there are limits. Last year I participated in three shows a day during the Libelle Summer Week. The pumps that went with one of my outfits had a sharp edge at the heel, which cut nastily into my skin. Things already started to go wrong during rehearsals: after fifteen minutes I felt a horrendous pain in my heel. And I have quite a bit of experience with shoes, considering I'm a size 38 (average for most, quite small for a model) which means shoe brands often pick me to model their sample size 37 footwear. At this time I knew that if I didn't say something now, I wouldn't be able to walk in any heels later. Let alone dance in them, because during this part of the show, my fellow models and I were required to do a high-speed rendition of the Sicilian Tarantella. I was in luck: those particular shoes did not belong to a brand taking part in the show, so I was allowed to exchange them for another pair. The good news is that flats are a major trend these days, increasingly replacing high heels. This significantly reduces the number of falls (and scowling models on the catwalk).
The total picture counts, not just the individual
There's a simple reason that catwalk models should meet a minimum length requirement. Designers are able to do so much more with a tall person: they can add volume to garments at will, without turning the model into the Michelin man. Too tall, however, isn't good either, which is why there is also a maximum height. Why this matters becomes instantly clear when more than one model is booked at a time. This sometimes happens during photo shoots and almost all fashion shows. About ten to as many as sixty models (think big international shows) will participate in a fashion show. During the finale, the models traditionally file down the catwalk one at a time or simultaneously, like a well-dressed army. It would ruin the effect if one model were to tower over the rest. Charisma and catwalk experience are important criteria for models, but it's also crucial to look at the bigger picture. Sometimes, for example, the models are cast based on their long hair, in other shows it's the diversity of looks the designer is after. The picture is therefore what counts when it comes to booking models for a fashion show.
Natasja Admiraal is a freelance fashion journalist, who has worked for FashionUnited since 2008, and also writes about related subjects such as jewellery and design. You might also find Natasja gracing the cover of a magazine: she has been working as a model for the past ten years.
Photo 1: During a Hans Ubbink fashion show
Photo 2: Practicing on floating heels
Photo 3: Changing area backstage
Next time: Part V (final entry) - What about buy-outs and rights?