One of the most mystical, dark and romantic collection presentations from London Fashion Week Autumn/Winter 2018 had to be that from Alistair James London. Upon entering the space at The Mall, visitors were transported to a magical forest, where they were met with a full moon rising over a group of witches. Modern witches that is, donned in rich flowing gowns, immaculately tailor suits and Victorian-inspired dresses, who posed gracefully by ponds with flowers or stood their ground. "It's about British witchcraft heritage. We were visiting my mum and talking to my nana and she was telling us how I am related to the witches on my side from the Pendle witchcraft trial," explains David James Wise, half of the design duo behind Alistair James, at the label's Designer Showroom at 180 Strand following the presentation. "She always had a sort of witchy-vibe, like my mum and my sisters, which influenced the idea in our designs."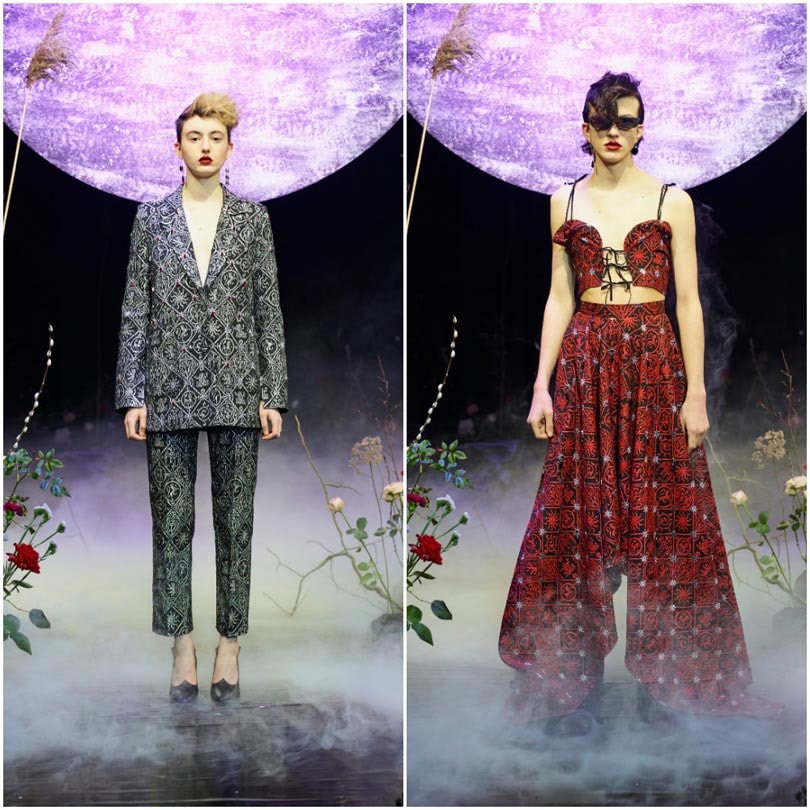 Together with his business (and life) partner Nicholas Alistair Walsh, who he met while working at Alexander McQueen, they set up Alistair James, launching their first collection for Autumn/Winter 2016. Since then the duo has been busy, refining their designs and brand aesthetic. The AW18 collection, which pays homage to all the women in the designers lives - past, present, and future is a re-imagining of classic Victoriana and a continuation of the brand's dedication to honing their craftsmanship and their love affair with British heritage. "It's also about that close sisterly type of world, where everyone is family, which led to us calling it 'Sisters Of The Moon,'" adds Nicholas. "It's about womanhood and women being unified together which is why we also cast a diverse number of models, including men, to strengthen that idea of unity and bringing people together."
"Crystal and jewel tones have played a big role in the archival mysticism of this collection"
The duo, who previously sought inspiration for their collections from the likes of Wendy from Peter Pan and Briar Rose from Sleeping Beauty, referenced a number of sources for the collection, including their favorite muses. "The muse is always Stevie Nicks and Kate Bush kind of vibe," says David. This is evident in the collection shown, which incorporates a sultry, feminine and almost pagan-like touch in its choice of silhouettes that is paired with a sense of refinement and luxury. "In terms of the use of fabrics, we have many with silvers, deep reds, and amethyst which tied into the collection, all these rich colours. Since the collection was built around this idea of family, we also included crests, some taken from medieval Churches and floor tiles, and some contain mystical motifs with unicorns and frogs," points out David. "They are woven with a silver thread so they really sparkle under the light as well."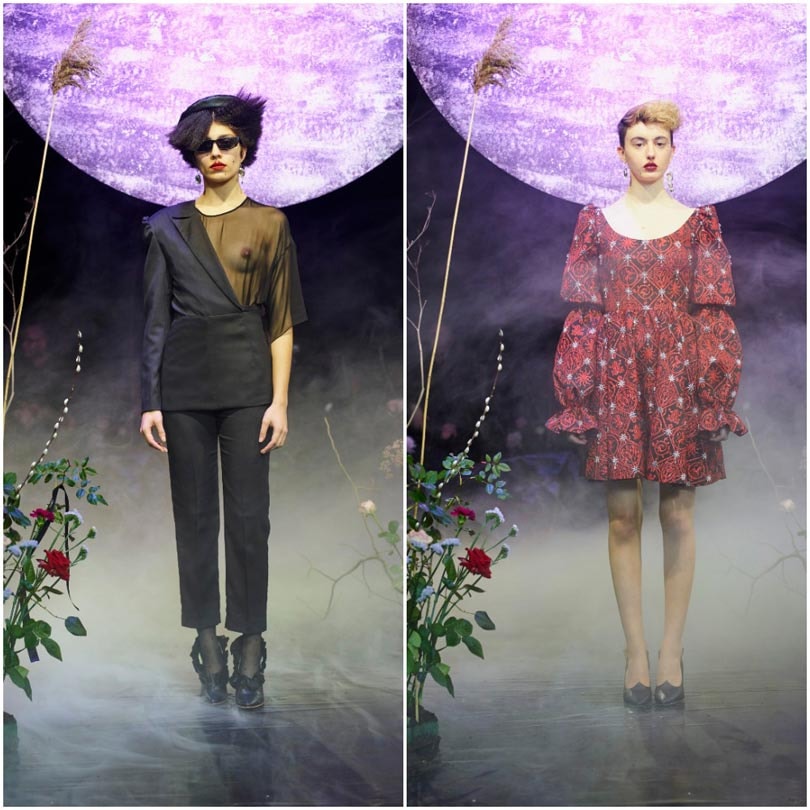 Seams and textiles were also encrusted with set crystals from Swarovski, marking the designers second constructive season working with the company, while embroideries were influenced by ancestral roots and rich finery which amplified the coven heritage feeling in the collection. "We also have our play on cotton, that is just Alistair James for us now, we will always be rooted in shirting," continues David, while highlighting shirts and blouses with high necklines. The AW 18 collection also marks a return to the duos dressmaking roots, which stems back from when they first met at Alexander McQueen. A number of the dresses in the collection feature elegant ruffles, mutton sleeves, and handkerchief hemlines - both a first for Alistair James, which brings new diversity to the brand's silhouette, while the duo's continued use of dramatic, floor-sweeping gowns remains a signature of the brand. "The silhouettes almost always come from Victoriana. We were looking at Victorian pattern making and so this giant flared, mutton sleeve dress is inspired by that," says Nicholas, while highlighting a sweeping black gown with crystal encrusted shoulders.
All the fabrics used in the AW 18 collection look and feel luxurious, like their quilted jacquards and silk georgette and even their classic cotton. Most of the fabrics Alistair James used are made in England, as the brand champion local craftsmanship while supply chain as local as possible. Why? "Well there is a family connection when it comes to championing British craft as Nick's dad has fabric mill in Yorkshire, so that was always a key part of Alistair James. Also being able to buy something that you can touch and feel straight away is important for us, as we are a new brand and can't afford to fly everywhere all the time to check on the production of fabrics and samples." Neither David nor Nicholas are fans of producing collections in far away countries, as it makes it more difficult to communicate and connect with suppliers. In addition, it also makes it harder for them to guarantee they end up with the end result they want. "It's terrifying thinking of something being sent to you after all the sampling is done and it's still not right," says Nicholas.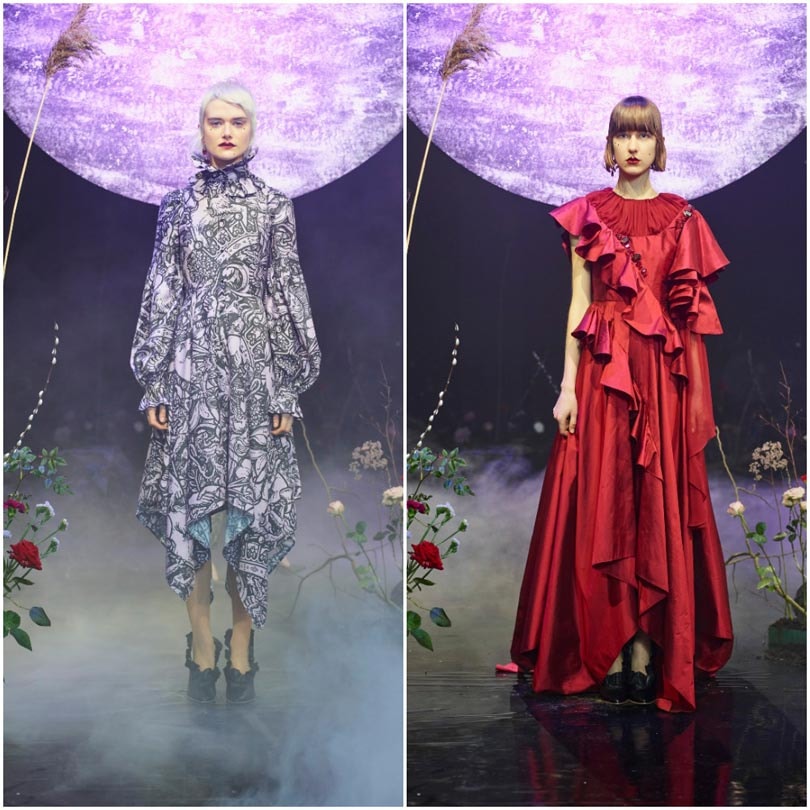 The Alistair James woman: Mystical, romantic and esoteric
The AW18 collection underlines the ongoing development of the designers overall aesthetic, which has taken a dramatic, dark yet feminine turn. Who is the Alistair James woman, I wonder. "She's always very mystical, very esoteric," explains David on the Alistair James women. "But functionality wise we want her to be able to wear something to multiple events, something which can go from day to evening, so we try to make sure our designs offer that - well apart from the evening dresses." "But with some sunglasses and flat shoes who knows, adds Nicholas with a laugh. "We wanted to capture that aspect in middle range but with full-on glamour, something that you can just throw on and look amazing and be done." The brand's silhouettes have also evolved over the seasons, as the pair feel more and more comfortable experimenting with new looks in their collection. "We feel more comfortable to do things like half blazers and giant gowns with trains and ruffles. I feel like we have found more of our aesthetics now, which is romance, so now we can explore and revel in that," says Nicholas.
Discovering and playing with the brand's look and feel has been the fun part for them, but now David and Nicholas are setting their sights on strengthening the brand from a business perspective to ensure their future growth. "We are keen to grow slowly, to learn to walk before we run," says David, adding "I have to be honest, this was the season of the business plan for us." Both David and Nicholas are keen to take Alistair James to a place of growth but want to make sure they do not grow too fast and harm the future and longevity of their business. "We don't want to stifle ourselves by being a 'yes man' and saying yes to so many things and completely swamp ourselves until there's nothing left and we can't do it anymore - you see that happen so many times with new brands," says Nicholas. "It's a business at the end of the day, it's about managing your cash flow - you have production, sampling and developing fabrics all at the same time, so you have to manage it all."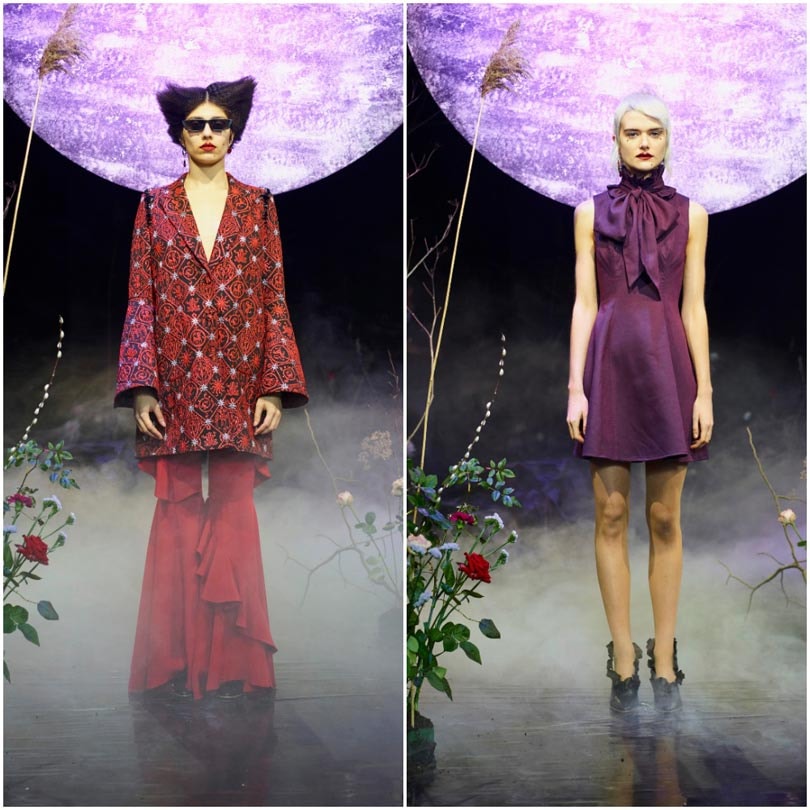 Being named as one of the winners of the 2018 Boden Future British award, in partnership with the British Fashion Council, has also provided them with a bit of a learning curve. Not only will Alistair James receive financial support to grow their business, they also will receive mentoring as well as support to grow their e-commerce. "It just feels fantastic because we have the support now, it's like they are cheering you on," says David. Alistair James was showing their AW18 collection at the designer showrooms, under Boden Future British section, which has also strengthened their feeling of being part of a wider industry. "It feels very unifying this season as well showing at the designer showrooms. You don't feel like all these tiny little brands all competing against each other, you feel like you are all in it together which is really nice. With Anya Hindmarch doing her love hearts all over the city, things like that make you feel connected. The giant wall when you come into the Strand, with all the names of the designers showing is also great."
Alistair James - one of London Fashion Week designer brands to watch
For Nicholas, seeing the name Alistair James next established designers such as Gareth Pugh has an even deeper meaning, as he used to work for the brand. "Coming from working with Gareth Pugh, to setting up your own label and then seeing Alistair James next to Gareth Pugh - it just makes you feel like you are doing something right that we are moving in the right direction." So what is next for the young label? "We are trying to ensure we remain on schedule for next season until the presentation and fully develop that concept while growing sales - getting more stockists as well is key for us," concludes Nicholas. At the moment Alistair James is stocked at Shop at the Bluebird, Farfetch, and Liberty, but following their stellar presentation, the label has peaked some more interest. "We have had a few eyes on us during London Fashion Week and a few meetings lined up, one with a major online retailer." While both decline to share more, it is clear that Alistair James is indeed a brand to watch.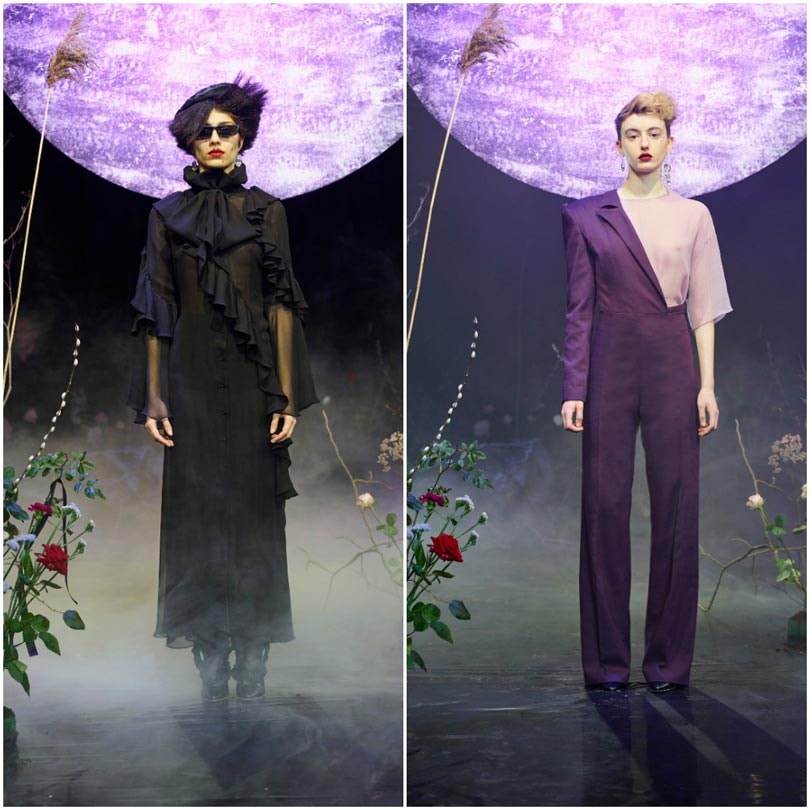 Photos: Courtesy of Alistair James