Fashion weeks around the world have seen their share of protests over the years. Environmental and animal rights groups ranging from PETA to Greenpeace have used the events as a platform for their numerous causes. But London Fashion Week 66th edition was met with a whole another level of activism, as the bi-annual fashion event saw anti-leather, anti-fur protests, protests against the use of toxic chemicals and even silent protests against the ongoing labour rights issues.
Protestors crash LFW to raise awareness for animal cruelty within the fashion industry
The opening of London Fashion Week, which took place Friday morning at 180 Strand, was crashed by a group of activists from animal rights organization PETA. Three model wearing pleather dresses, bearing skull makeup, held tombstone-shaped signs which read 'Leather is Dead,' protesting designers ongoing use of leather. "We are here today because so many designers still use real leather, even though there are so many alternatives available where you wouldn't be able to tell the difference and people don't realise that animals suffer a lot, whether it's a pig or whether it's any other animal that dies for leather," said one of the models Daryna Milgevska to Belfast Telegraph.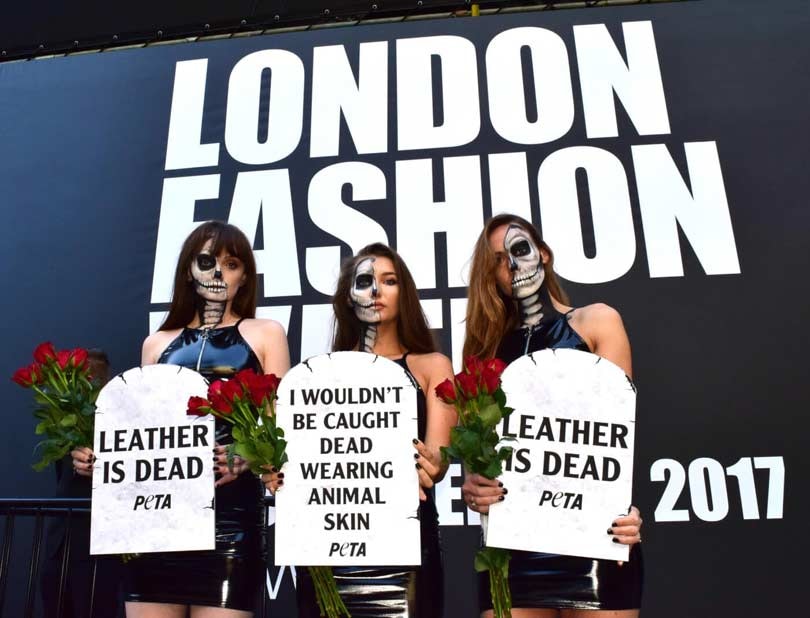 Although PETA also denounces the use of other animal skins, such as fur, the group chose to focus on protesting against the use of leather this London Fashion Week. "For every leather jacket or bag, a sensitive animal endures a miserable life and a terrifying death," argues Director Elisa Allen. "PETA is calling on designers, buyers, and shoppers to join the vegan fashion revolution and kick animal skins to the curb." While some designers such as Stella McCartney are vegan, others still argue that vegan alternatives such as pineapple leather, mushroom or grape are still not as versatile as leather. But the trio of models taking a stance against leather were modest in comparison to the anti-fur activists which took London Fashion Week by storm during the weekend.
Anti-fur protestors descend upon London Fashion Week once more
From Friday to Sunday London Fashion Week visitors were met with hundreds of anti-fur protestors. Some of the animal rights activists were covered in fake blood, others were in costume and others were bearing signs, as they demonstrated against fashions designers use of animal fur outside of 180 Strand. The anti-fur protests continued on from last season, when Ed Winters, co-director at Surge called upon the British Fashion Council to ban all fur from London Fashion Week. This season saw Surge relaunch the anti-fur campaign, which includes a video with celebrity Lucy Watson calling on the BFC to ban fur and a petition on Change.org which has just under 225,000 signatures to date.
Prior to the start of London Fashion Week, buyers and editors were reportedly advised by the BFC not to wear any fur, real or fake in order to avoid intimidation from the protestors. Protestors were situated outside of 180 Strand, as well as the BFI Imax at Southbank, Central Saint Martins, and the Old Sessions House in Clerkenwell where Gareth Pugh, Versus Versace, and Burberry hosted their shows on Saturday. Police and security were on hand during the protests to escort visitors in and out the venue as activists crowded the entrances. Protestors chanted 'shame, shame' and reportedly spat on the fashion week attendees while playing videos of tortured animals on fur farms to raise awareness for the plight of the billions of animals slaughtered for their skins each year.
While some agreed with the protestors sentiments as the debate concerning fur's place within the fashion industry continues, others questioned the effectiveness of their tactics. London Fashion Week 66th edition saw the majority of designers present collections for spring/summers, which usually do not contain fur and neither Gareth Pugh nor Burberry used real fur in their collections. Following the anti-fur protests, the BFC stressed that "it does not dictate what designers can or cannot design and has no control over their creative process" but it does "encourage designers to ensure that if they choose to work with fur, they work with reputable organisations that supply ethically sourced fur."
Labour Behind the Label protests 'killer heels' at LFW
But fur and leather were not the only things on activists minds during London Fashion Week, as a group of protestors from campaigning group Labour Behind the Labour also used the event to raise awareness for 'killer heels.' Protestors dressed in boiler suits, masks and gloves - protective gears that most tannery workers in Bangladesh and India are usually denied - gathered outside of 180 Strand on Monday afternoon to raise awareness for the industry's use of deadly chemicals in the tanning and production of leather shoes.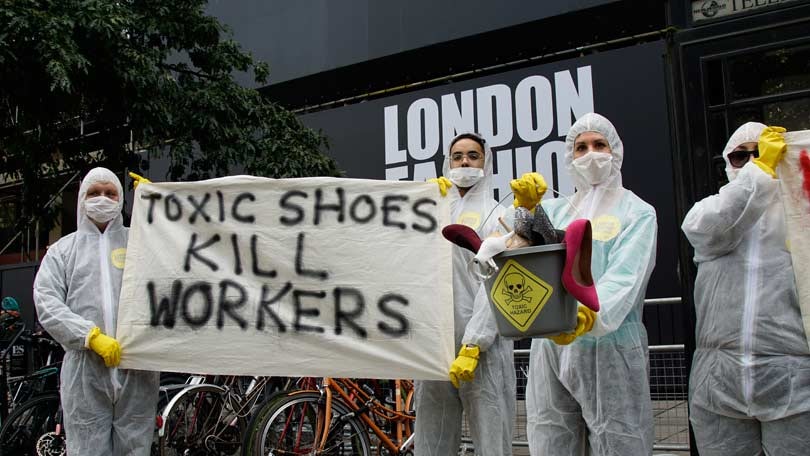 The campaign group stresses that Chromium tanning, which accounts for 85 percent of all shoe leather tanning, can lead to the misuse of Chromium III which can lead to Chromium IV being produced, a severely toxic and carcinogenic substance which can cause lung cancer, asthma and eczema in workers. With the majority of leather tanning taking place in countries such as India, Bangladesh and Pakistan, countries which do not always abid to the health and safety regulations, workers can end up with life-threatening illnesses.
The protestors, who carried buckets filled with leather shoes, urge the British fashion market, which is one of the largest consumers of shoes, to become more transparent and share more information on their supply chain to ensure workers rights are protected. "We need to put an end to killer heels. Workers in tanneries risk their lives daily to make leather for our shoes, using toxic chemicals without any protection or safety regulations in place, and suffer from cancer, skin and respiratory conditions as a result," said Nicola Round, Campaign director at Labour Behind the Label.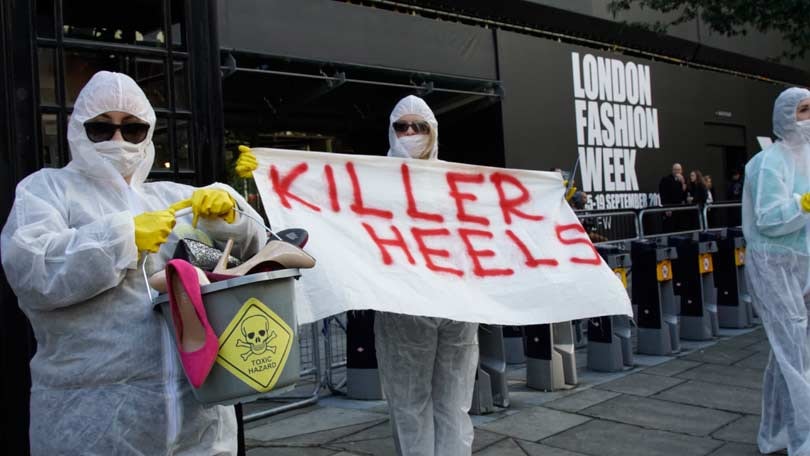 London Fashion Week has long offered a platform to those in the industry seeking to make a change, and this edition of fashion week was no different. However the intensity of some of the protestors raises the question of how effective some of these tactics may really be in the long run, as the BFC still refuses to ban all fur from London Fashion Week.
Photo credit 1& 2: Courtesy of PETA
Photo credit 3&4: Anthony Wilks / Labour Behind the Label