John Galliano made a regal comeback to the Paris men's catwalk Friday with his first men's show for Margiela since he took over the brand three years ago. With minions in white coats ushering fashionistas to their places, he chose the Turenne gallery in the Invalides, the enormous military hospital that Louis XIV built for the veterans of his campaigns, for his return. The location could not have been more apt for the British-born designer who has been in the wars since he was fired by Dior in 2012, after drunkenly insulting patrons of a Paris bar with a volley of anti-Semitic slurs.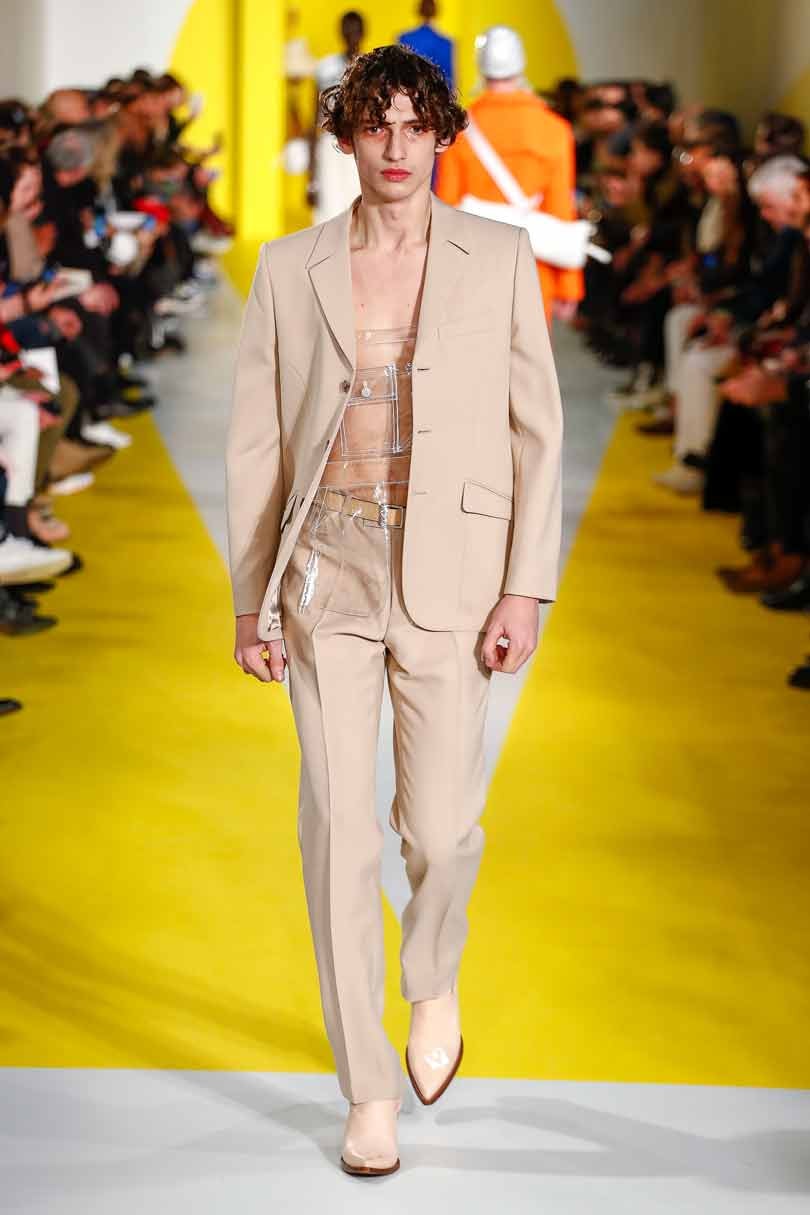 Photo: John Galliano for Maison Margiela AW18 © Catwalkpictures.com
A fresco of the Sun King -- a dead ringer for Galliano in his pomp at Dior -- laying down the law looked down on the catwalk. And that is exactly what Galliano did with his collection, which mixed streaks of wild creativity with the label's austere elegance. The creator claimed to be feeling much "freer" these days after an extended and very public penance. Given the bandages motif and recurring skull caps, he is still walking the road to repentance. But you cannot keep genius of Galliano's dimensions down for long, and his 30-odd looks fizzed with ideas, including a series of sandals inspired by orthopaedic fracture boots. Man bags that doubled as comfort pillows spoke too of a certain suffering. But that was more than blown away by the elan with which he dissected and recut the trench coat -- one of his fetish garments -- into new, surprising and more often than not, wearable forms.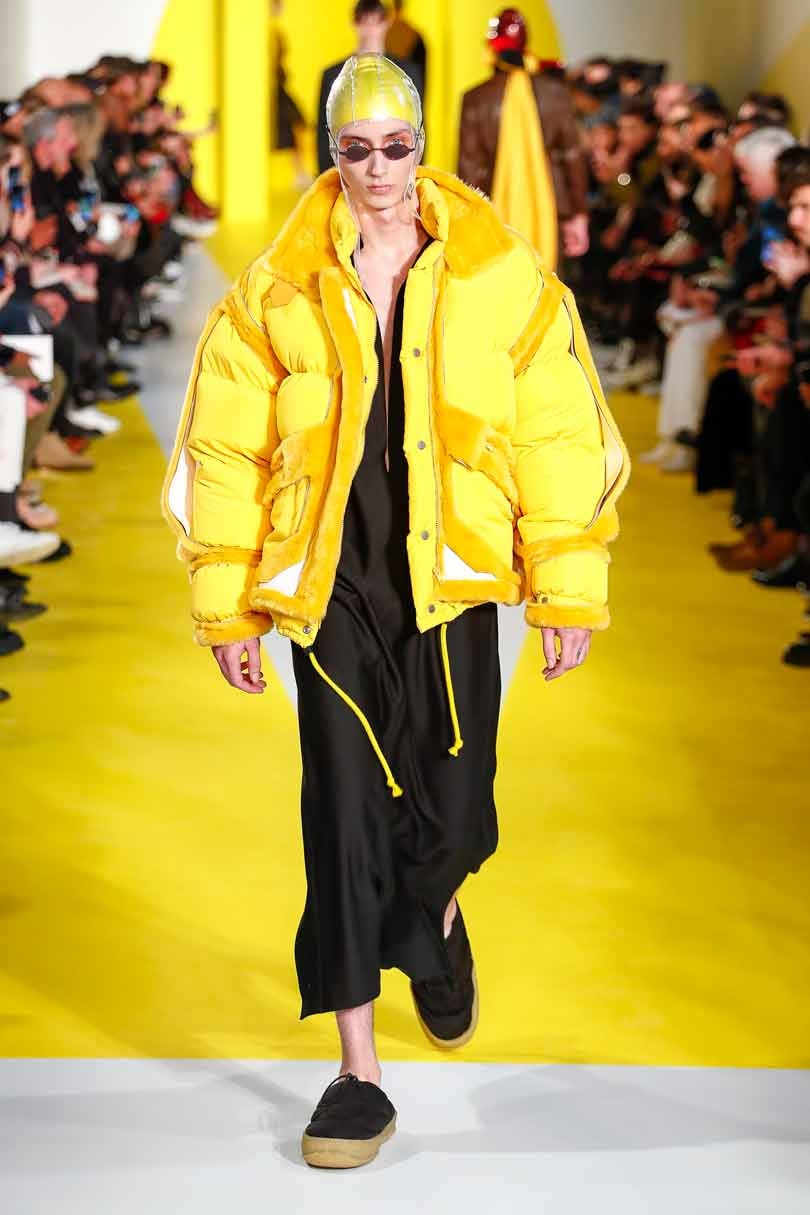 Photo: John Galliano for Maison Margiela AW18 © Catwalkpictures.com
Van Noten's tartan trews
The dull old duffel coat also got a wow-factor reboot. And what with all his transparent pilot hats and parachute bags, he seemed to be channelling the spirit of German artist and Luftwaffe rear-gunner Joseph Beuys, whose career was kickstarted by surviving a calamitous crash and burn. Galliano cut his flights of fancy with a series of exquisitely cut double-breasted suits and jackets in the Margiela tradition -- most memorably in shiny mothball-blue -- matching them with cowboy boots.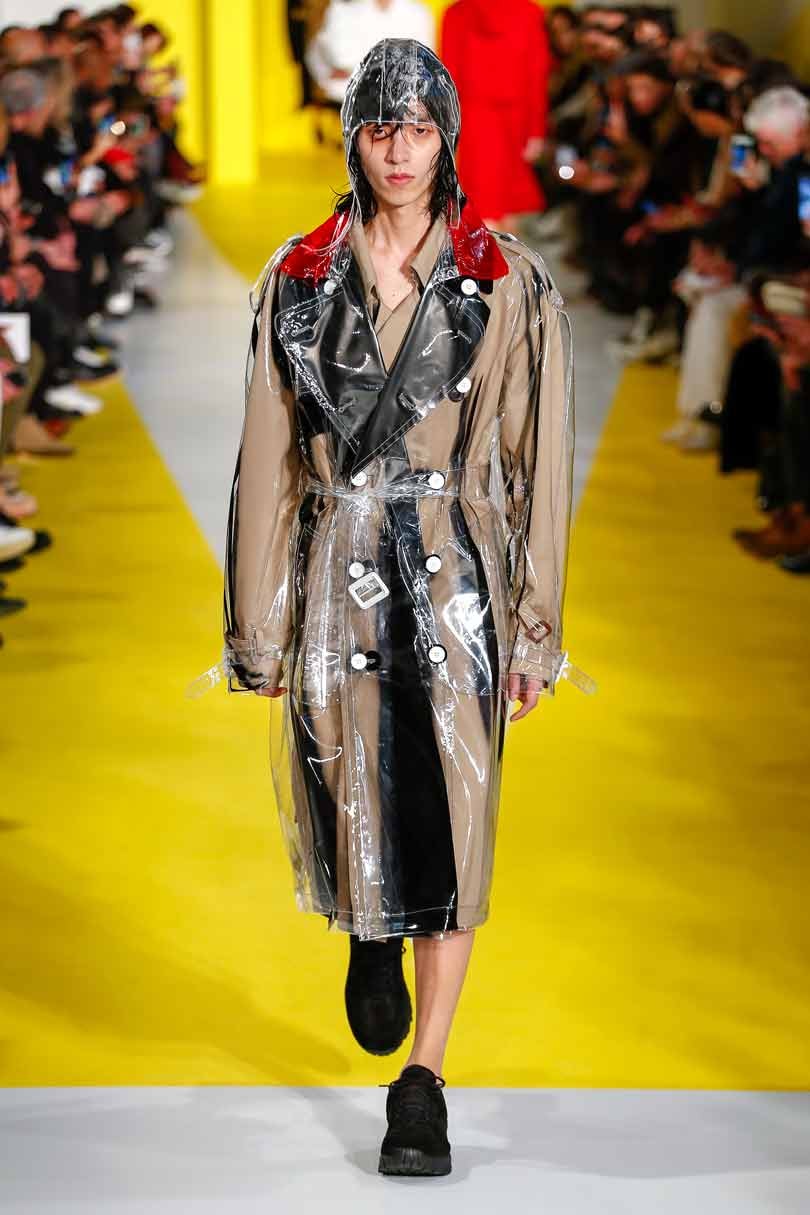 Photo: John Galliano for Maison Margiela AW18 © Catwalkpictures.com
There was even a pair of cowboy boot slippers. The back of one natty grey Mackintosh was decorated with what he called "a synergistic glyph, a new symbol imbued with a positive message for the house." Galliano did not come out for the traditional bow -- observing the practice of the house's secretive founder Martin Margiela, fashion's man of mystery -- nor would he give any post-show interviews. Instead he let the clothes speak for him.
Dries Van Noten, the soft-spoken Belgian King of Prints, has a seat in the same elevated circle of the modern fashion pantheon as the flamboyant extrovert Galliano, even if he is not as well known.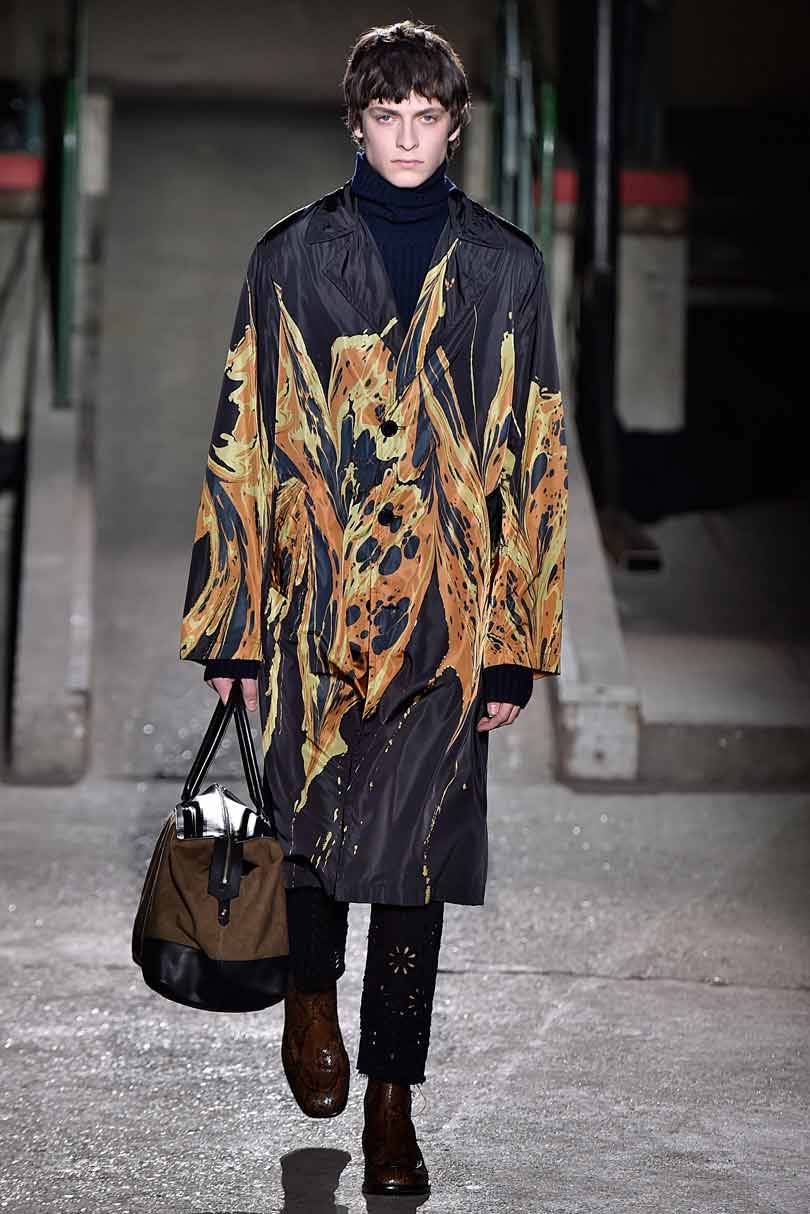 Photo: Dries Van Noten AW18 © Catwalkpictures.com
The Belgian master's big idea for next winter is a marbling technique normally used for paper which he used with typically sparing elegance throughout his collection, but which he let run riot in a sub collection of shin-length parka coats. Van Noten, who comes from a line of Antwerp tailors, went strong on tartan and Prince of Wales check for trousers and suits, and more strikingly still in Stewart tartan coats which he combined with fur and crocheted collars.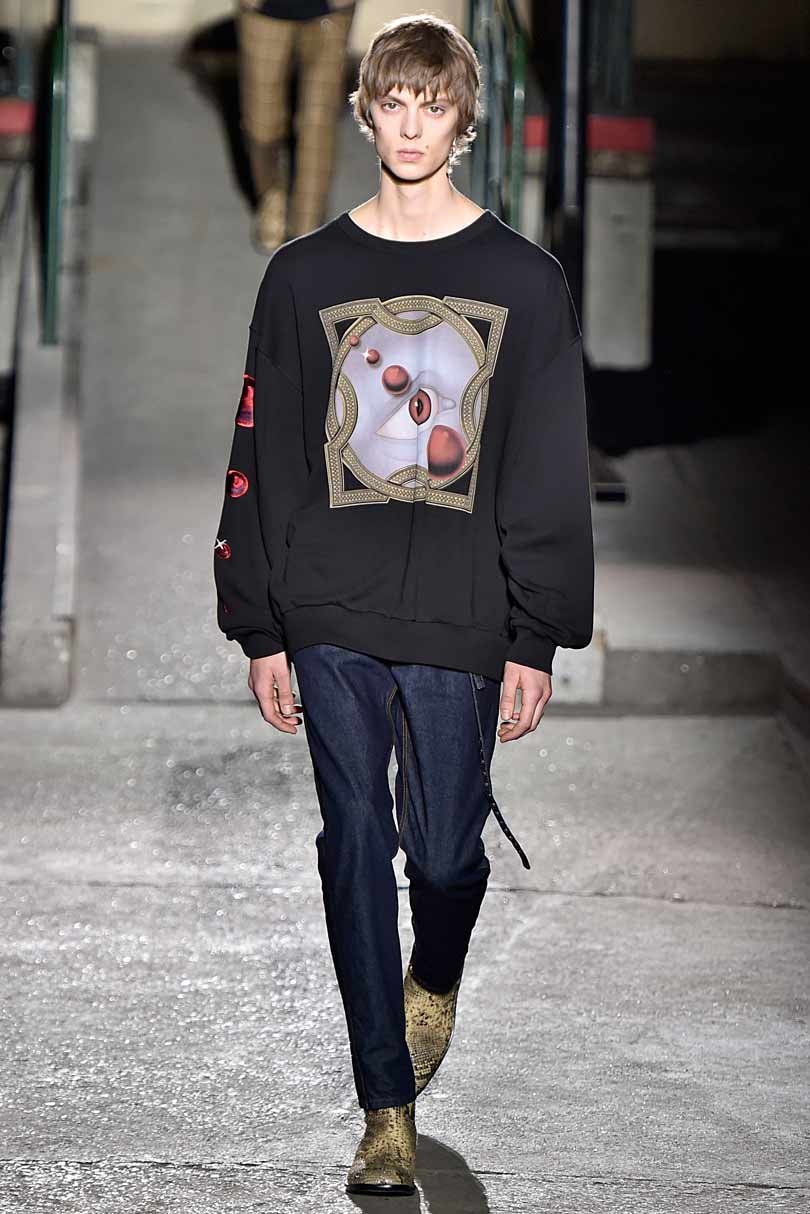 Photo: Dries Van Noten AW18 © Catwalkpictures.com

This was the Bay City Rollers rethought by one of the greatest designers on the planet, and his black and blue velvet bomber jackets with showers of copper floral embroidery are likely to push credit cards to their limit. The cowboy shirt and jacket was also sleekly rehabilitated from the bottom drawer of fashion oblivion, and turned up memorably under a knee-length Crombie-style coat with snakeskin boots. Paris' anglophile moment was further fed by British heritage brand Dunhill, which showed a series of much more subdued looks loosely inspired by 1950s Blighty, including fake fur plus fours. (AFP)

Header photo: Dries Van Noten (left) & Maison Margiela (right) AW18 © Catwalkpictures.com