Danielle Wightman-Stone

|
"Tonight is about women wearing the pants," explains actress Alison Brie, as Hollywood turned up to the 2018 Golden Globes red carpet in black to show solidarity with the Time's Up initiative to combat systemic sexual harassment, abuse and discrimination across all industries.
While the prospect of all all-black red carpet suggested a funeral procession, in reality it was far from it, instead it created a refreshing level fashion playing field that allowed actresses to take control of the image-making circus that the red carpet has become and for designers to be more creative, utilising embroidery, lace, sheer fabrics, and mannish detailing to create statement looks.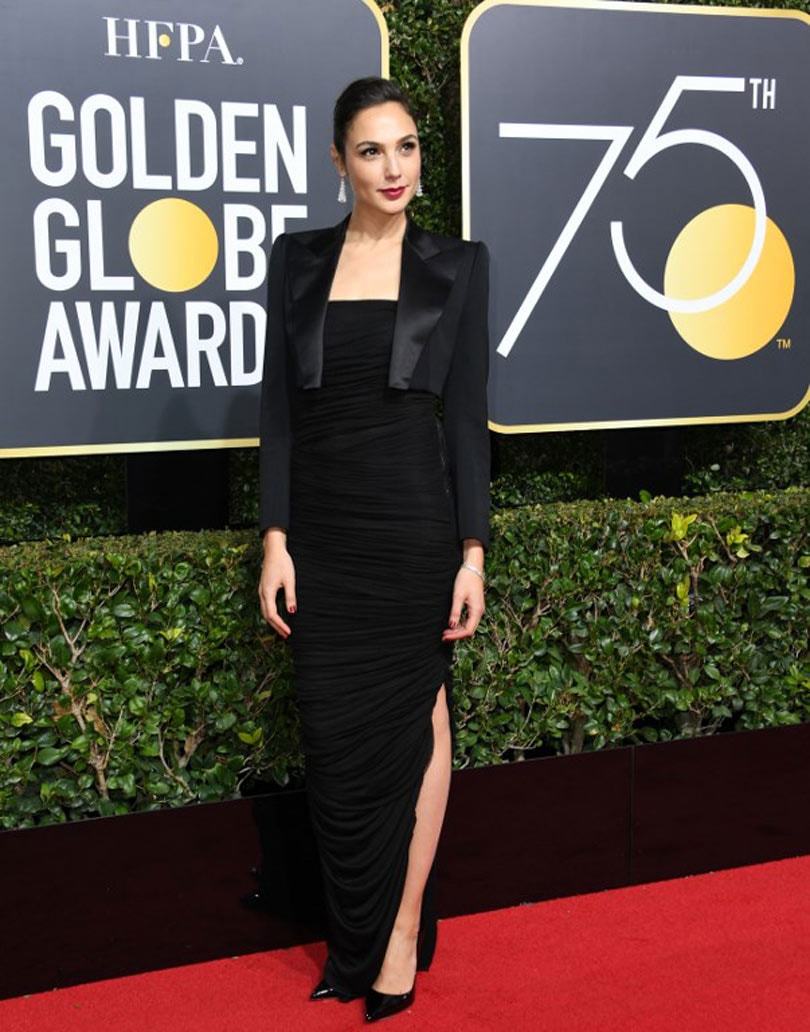 Instead of red carpet reporters asking, 'who are you wearing', the question of the night became 'why are you wearing black'. While this might have meant it was a bad night for designers, there was no name dropping of which luxury fashion house created their gorgeous gown, rather the actresses and directors used their fashion moment to communicate that together women can end "harassment, discrimination and abuse from the power imbalances we all face in the workplace," said Eva Longoria on the red carpet.
"Tonight is about women wearing the pants, so I chose to literally wear the pants,"
The Time's Up #WhyWeWearBlack movement launched at the beginning of the year when more than 300 women who work in film, television and theatre released an open letter of solidarity in the wake of the Harvey Weinstein sexual harassment scandal that rocked Hollywood. They called on Hollywood to wear black to highlight the issues that have graced the headlines that women and minorities have been facing, with a number of actresses including Michelle Williams, Emma Watson, Meryl Streep and Laura Dern going one step further by bringing activists as their dates.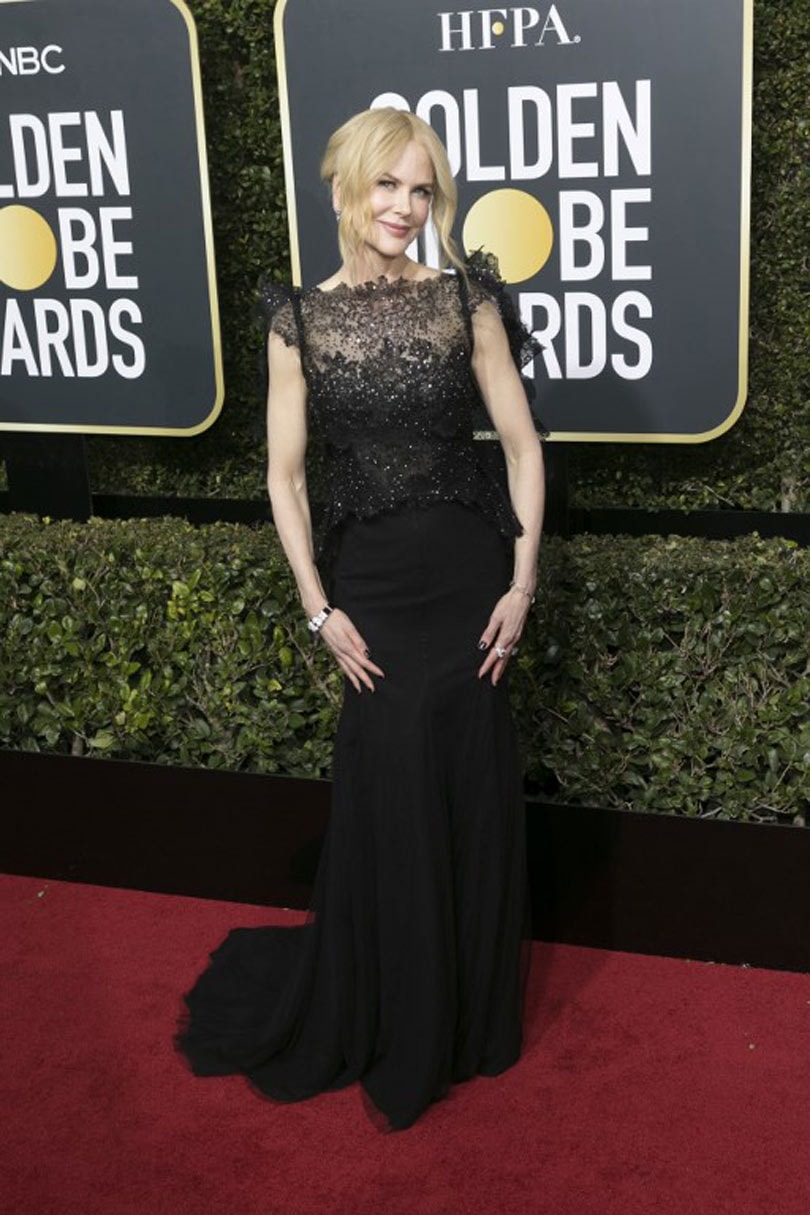 "The reason we're here, the reason we didn't just stay home, is because we feel we shouldn't have to sit out the night, give up our seats at the table, our voice in this industry because of bad behavior that wasn't ours," said Kerry Washington, before plugging the Time's Up legal defense fund that has already raised more than 15 million dollars to aid those who have experienced sexual harassment or assault in the workplace.
"I don't know that wearing black every single time will make a difference, but I know it's absolutely necessary for us not to forget about this conversation and to not forget about other people who are affected by toxic patriarchy,"
The initiative follows on from the #AskHerMore campaign in 2015, where red carpet reporters were urged to ask the actresses something other than what they were wearing, and instead to gear their questions to their actions and achievements like they did with the men that graced the red carpet. The Time's Up approach is clever, instead of ignoring the fashion, it has instead placed it front and centre, using the red carpet platform as a form of activism by just opting for black.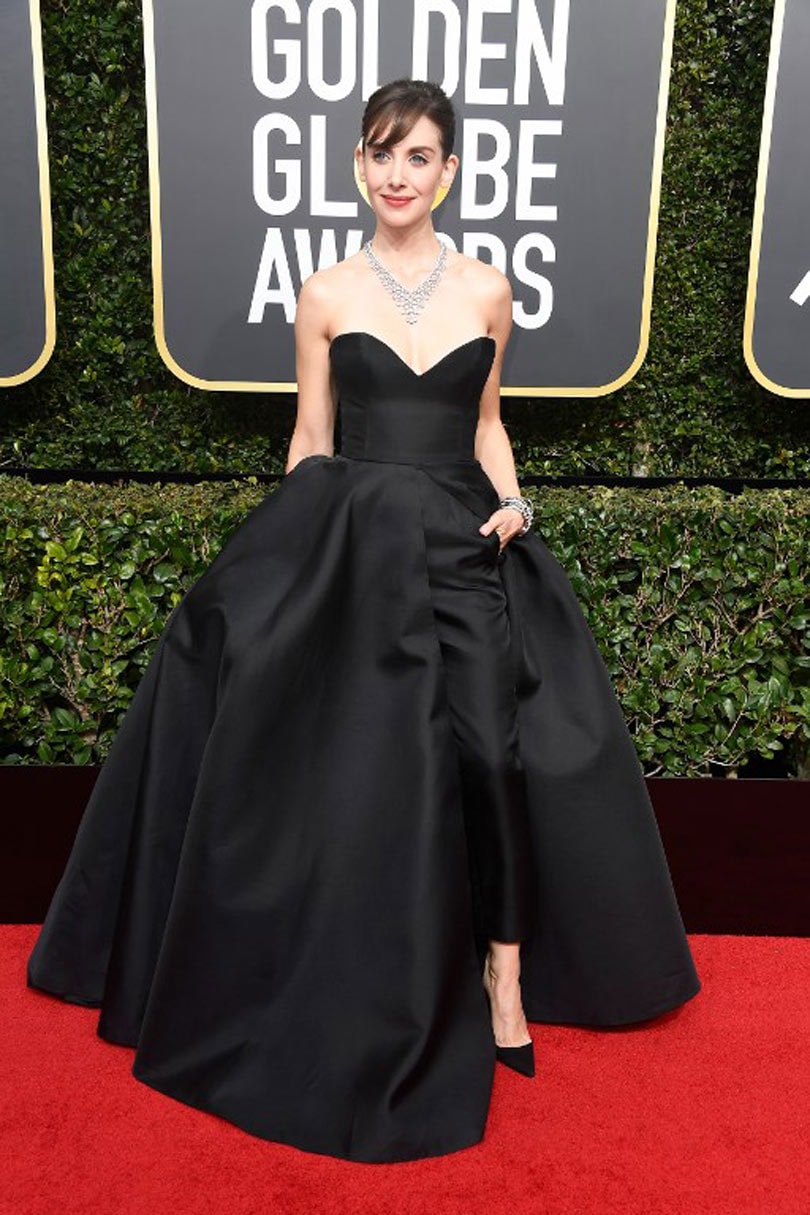 Celebrities wear black to Golden Globes 2018 in show of solidarity with Time's Up campaign
So while designers didn't get their shout out on the red carpet, a number of designers including Calvin Klein, Prabal Gurung and Gucci stressed on press releases about who they had dressed for the Golden Globes that they were supporting the Time's Up campaign.
A statement by Calvin Klein said: "The goals of Time's Up are consistent with Calvin Klein's commitment to having a positive impact on the people, environment and communities where it operates, including its diversity and inclusion efforts and the company's focus on equality and women's advancement."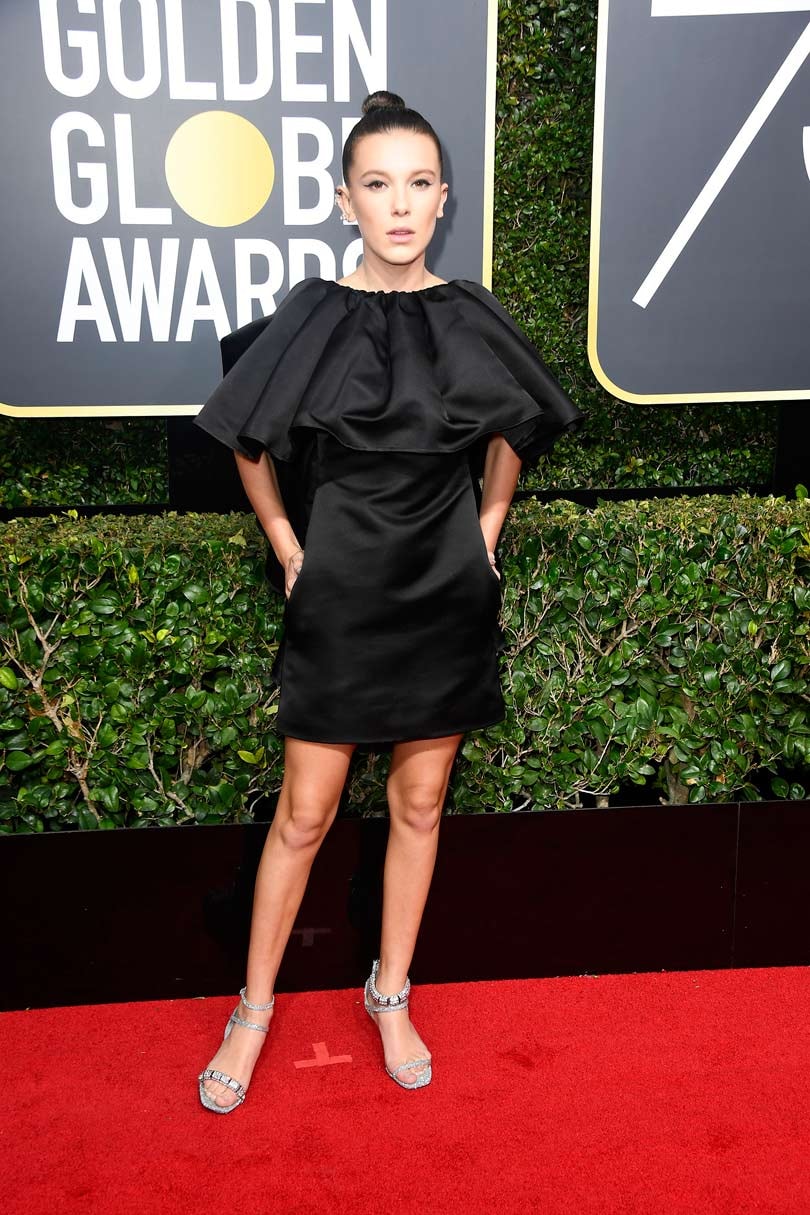 While Prabal Gurung said on Twitter: "We are honoured to stand with @timesupnow & all of the women at the #goldenglobes. Thanks @IssaRae and @kerrywashington for beautifully representing our brand ideals of equality & activism.
"To special order their looks email sales@prabalgurung.com. A portion will benefit #timesup."
In addition, celebrities including Reese Witherspoon took to their social media to highlight their gown, accessories, shoes, even giving a shout out to their make-up artists and stylists, who often sit in the background with no public recognition.
As for the fashion, there were a few trends that emerged, from statement jewellery to masculine-inspired looks, and even a few pops of accent colour, while many of the men, who also went for all-black, accessorised with black and white Time's Up lapel pins to show their solidarity with the cause.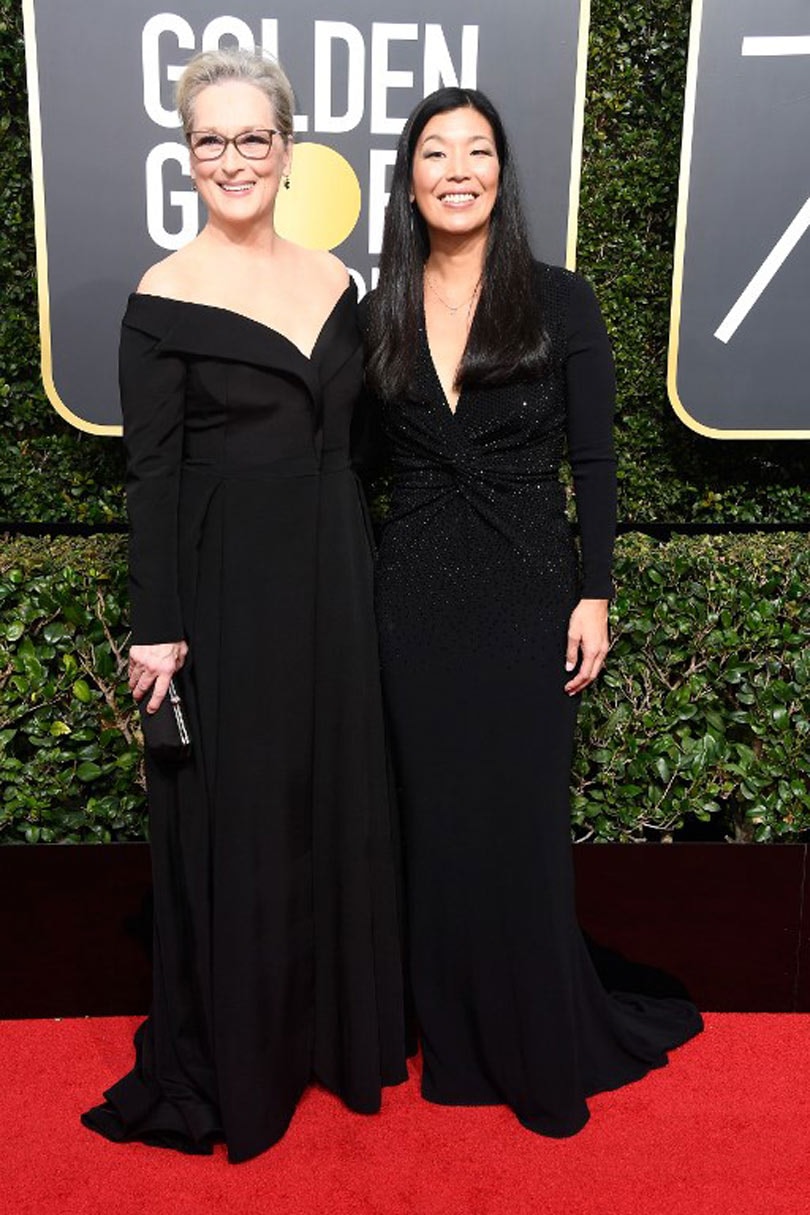 Masculine-meets-feminine was the biggest trend, from the dress-over-trouser look as worn by Debra Messing who sported an embellished black dress over trousers to Christina Hendricks who wore a custom trouser skirt ensemble, both designed by Christian Siriano, while Alison Brie opted for a voluminous skirt over a jumpsuit by Greek designer Vassills Zouilas.
Then there were tuxedo-inspired looks, with Wonder Woman Gal Gadot wearing a Tom Ford form-fitted black gown paired with a cropped blazer, while Meryl Streep turned to Vera Wang to create her a custom off the shoulder tuxedo inspired gown, and The Crown's Claire Foy wore a perfectly tailored black Stella McCartney suit.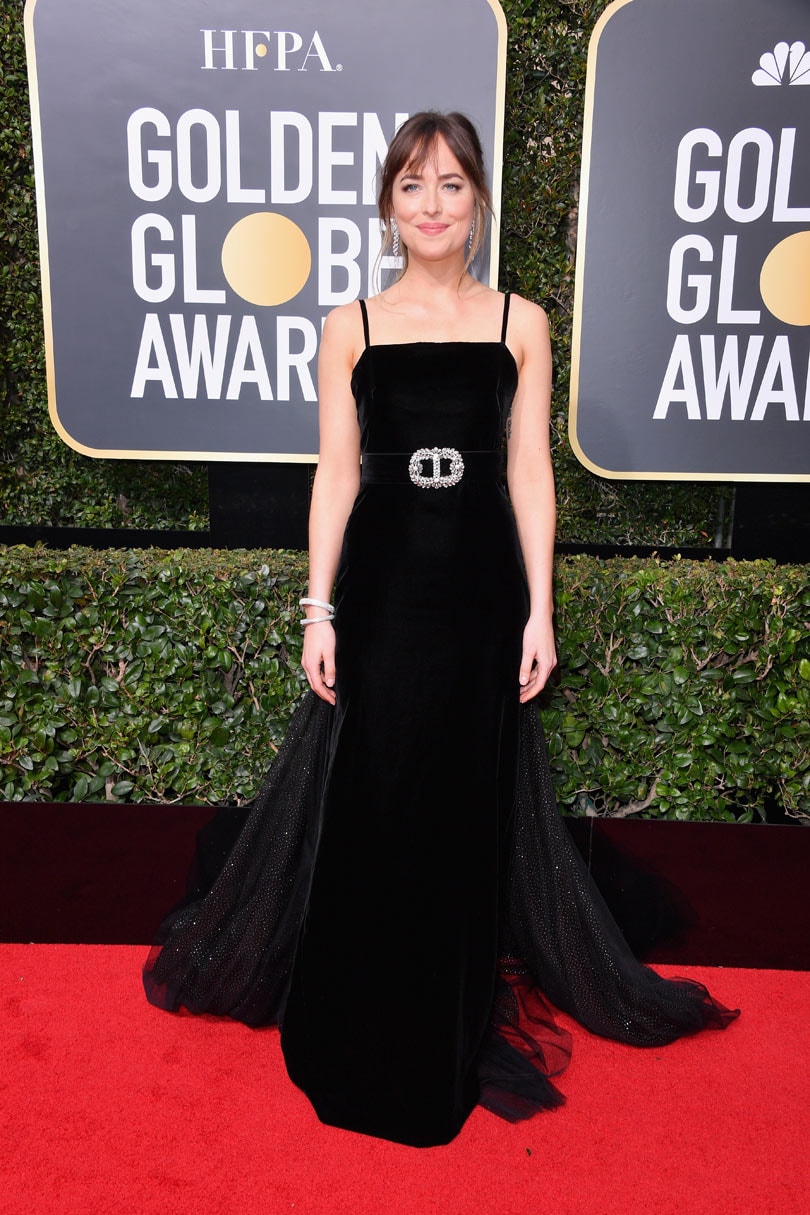 There were also romantic gowns including Nicole Kidman in a Chantilly lace Givenchy Couture number, while Dakota Johnson's velvet Gucci gown featured crystal embroidery to the back, and Diane Kruger looked ethereal in her caped Prada beaded dress.
Images: Claire Foy - Valerie Macon / AFP; Alison Brie - Frazer Harrison / Getty Images North America / AFP; Meryl Streep - Frazer Harrison / Getty Images North America / AFP; Gal Gadot - Valerie Macon / AFP; Nicole Kidman - Hubert Boesl / DPA; Millie Bobby Brown - courtesy of Calvin Klein; Dakota Johnson - courtesy of Gucci/Getty Images