Often seen as a real door-opener, an invitation to attend a collection presentation takes on a special character when crafted by the fingers of Nicolas Ouchenir. This famed calligraphist is now in demand by all the luxury fashion houses.
Chloé, Céline, Loewe, Sonia Rykiel, Christian Dior, Chanel, Prada, Rochas, Hermès, Maison Margiela, as well as young designers such as Elie Top (jewellery) or Hugo Matha (handbags)… the list of clients is a long one and during the international fashion week calendar, time is no matter for this craftsman whose challenge is to write all the invitation cards ordered by hand.
A self-taught artist
It all started by chance. After following business studies, this man who had always loved writing was hired as an assistant in a gallery of contemporary art where he began to write invitations for private viewings in beautiful calligraphy. "I did not even know that being a calligrapher was a job", he recounts. It is personalised attention reflected in his work which is adored by clients and which imparts an exclusive appeal. Afterwards a press office contacted him and his illustrious career began. In 2003, the thirty-year old opened his workshop in Paris and since then he has met with success. Cards and envelopes for big events, illustrations for magazines, special projects and particularly during the fashion week, rush jobs for show invitations. The telephone does not stop ringing. Orders flow in and the artist works night after night writing all the invitation cards and the envelopes by hand in different writing styles. In fact, everything often happens at the last moment, only a few hours before the fashion show, when the final seating is confirmed.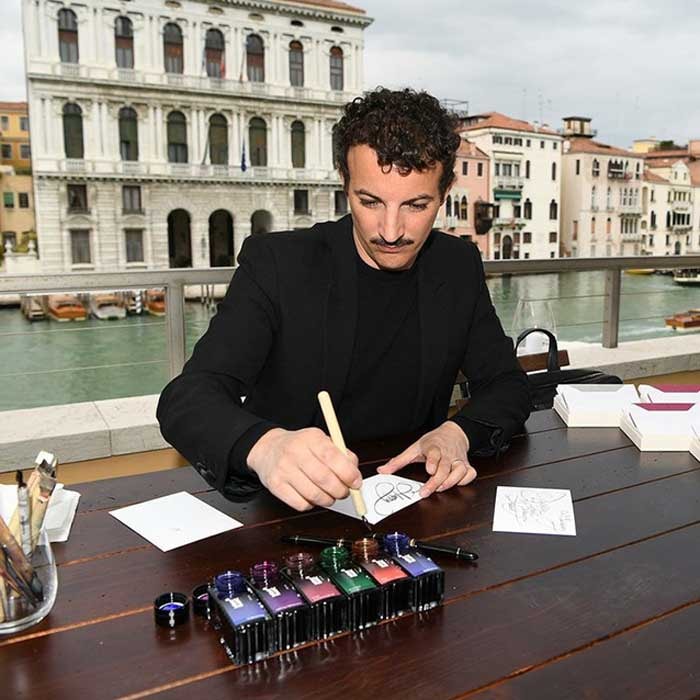 Customised writing
"The word 'calligraphy' is a signature in the strongest sense. More than a dimension, it involves an artistic direction," Ouchenir emphasises. In fact, like fashion, writing is rare and exclusive and elicits desire. So, for Berluti, the letters are simple, masculine and sanserif. For Versace on the other hand, they are all thick and fine and done in a very rococo style. Whilst for the fashion house Maison Margiela, the spirit is English. It is customised calligraphy that is in tune with the nature of each brand.
On paper, Nicolas Ouchenir uses all kinds of tools. Bristle, horse hair, forks, glass immersed in ink or even small pieces of rolled paper (one of his mannerisms). He loves all inks and markers, but he can also use a child's silver pen if needed be.
In an era when everything or almost everything has become digital, the work of Nicolas Ouchenir may appear outdated. That does not matter. The calligrapher is continually reinventing himself and collaborates with numerous magazines on publishing projects and in particular fashion, luxury and beauty brands that are looking for exclusivity (Promod, Darphin, Colette, Montblanc). Writing still has a great future ahead of it.
Stay stuned for part 2 on January 12: The pleats of Atelier Lognon
Photos : ©Atelier Nicolas Ouchenir