Danielle Wightman-Stone

|
London-based up-and-coming designer, Deborah Lyons followed up her catwalk on the Eurostar for spring/summer 2019 with a jazz night at the Burlington Arcade during London Fashion Week to showcased her autumn/winter 2019 ready-to-wear collection for the "warrior woman set to battle her busy schedule".
"The inspiration behind this collection was warrior women and empowerment, playing into the theme of who our woman is, a woman of action," explains Lyons following her presentation. "The pieces are like armouring, with strong detailing with the pleats, linear designs and tone-on-tone hues, it's quite dark."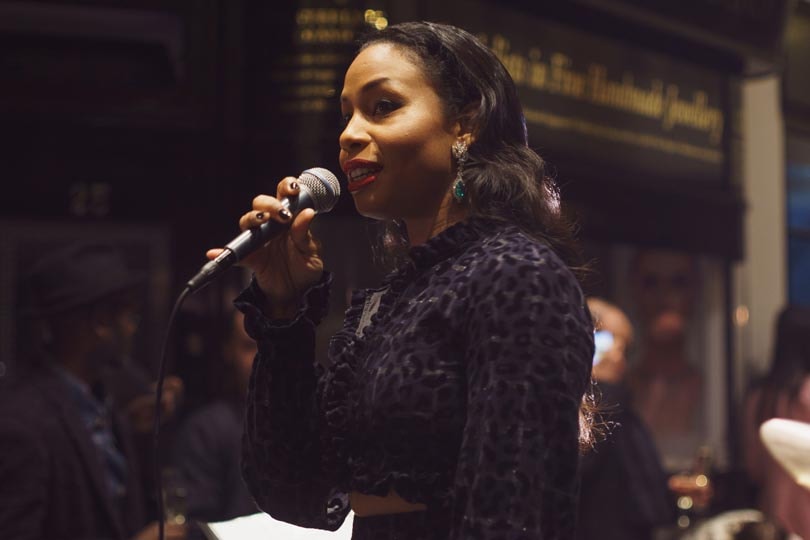 The fashion crowd was treated to a live jazz performance, where the band and singers showcased the new autumn/winter 2019 collection, which focused on the brand's signature tailored silhouettes, as well as pieces described by Lyons as "desk-to-dinner" including a dramatic pleated-hem maxi dress featuring a 3D floral print and body-hugging jumpsuits.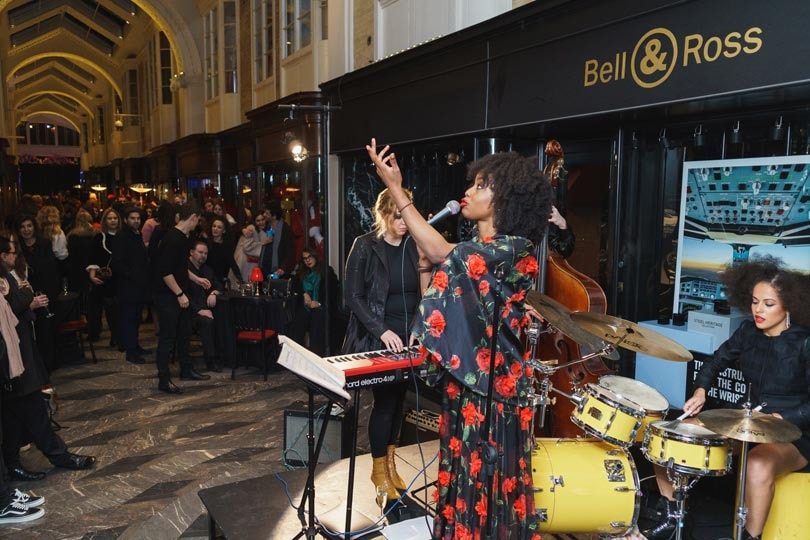 "We're talking to female leaders of tomorrow, which really in essence is women that we know that are doing really cool jobs, running their own businesses, and building the future for all the other women that are following," adds Lyons. "We've had a lot of women that we can really look up to, we have so many friends who have done so many incredible things, whether it's charity or starting companies or being super high up in a bank, those are the women that we basically want to be dressing."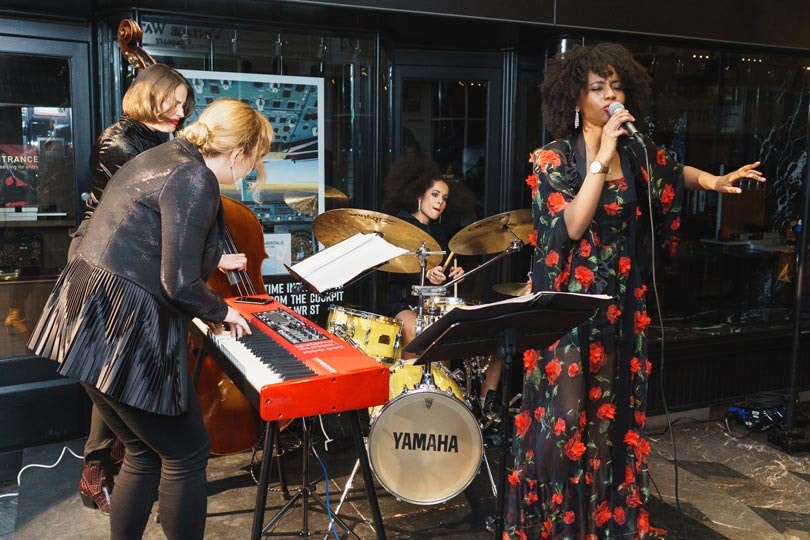 Deborah Lyons inspired by "warrior women" for autumn/winter 2019 collection
Described as an "unfussy uniform" in the designer's show notes, the collection is built around the exploration of "multi-faceted femininity" for forward-thinking women, by offering looks that can be dressed up and down to allow the "warrior woman" to take on whatever event is on her schedule, such as thigh-grazing co-ords and oversized outerwear to take one from the office desk to evening soiree with ease.
Her love affair with two pieces continues in the form of a Japanese trimmed leather mini skirt and crop top, while a knee-grazing button-up version is styled with a double-breasted hooded trucker that features rounded shoulders evocative of protective armour.
Lyons said: "We are always thinking about the lifestyle of our woman, what she's doing and what she needs, and we kind to think about that when we are designing, to try and make our looks transitional, rather than offer super formal eveningwear."
This can be seen in Lyons variety of tactile fabrics from a lurex little black dress coated in an iridescent bronze to another quilted in geometric patches of wet look material, and the checkered cheetah print jumpsuit and a glossy cowl neck leotard with bishop sleeves in a recurring bronze coating, which are reminiscent of the disco era, while for the more demure there is a black metallic midi dress cinched at the waste with dramatic sleeves.
For AW19, it also seems to be about the details, from the fabrications, with the majority being sourced in the UK and Italy, to the tailored elements such as the belted grey tweed jacket with broad shoulders to reinforce the "sturdiness of the collection," as well as the brand's trademark midriff cut-outs, and the addition of jewellery detailing.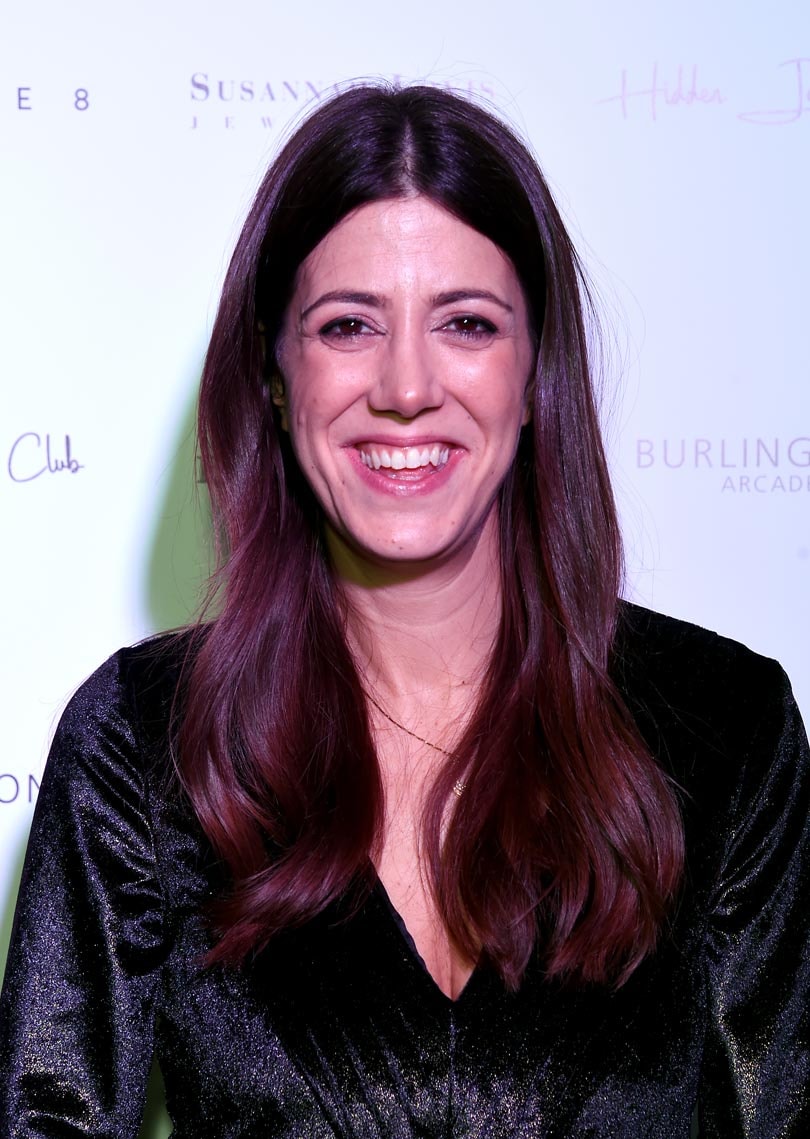 "I had the idea I think last winter to put chains on some of our dresses. I just thought it offered a nice differentiation, as well as being fun," said Lyons. "For this season, I wanted to do something that was a little bit more aggressive and played back into our collection, so I designed these spiky ones, which we've added onto the sleeves and the neck lines."
Lyons added: "We've used them in a way that means you can actually still wear jewellery or not, but they become part of the pieces rather than anything else. It's just quite fun to play with stuff like that, because I like metal and obviously I like shiny things and it just give a kind of empowerment to the finishing as well as being playfully - like at the back of the shorts with the skirt."
Before launching her eponymous womenswear brand in 2016, Lyons was known for her footwear label Mechanté of London, and the British designer has stated that adding footwear is in the future vision of her brand, but not before knitwear, which the designer stated has been "quite tricky".
Lyons added: "At some stage we'd like to introduce a few shoe styles, but I think there's a few things that we want to expand into first, within ready-to-wear, like we want to get a bit more knitwear in.
"The knitwear has been quite tricky, because if you do it super locally, it's super, super expensive. We've been working with these factories that have been around for hundreds of years in Wales, which is amazing, but it's super expensive and if you outsource miles away, you're getting things that you don't want.
"It's also going to be a little harder at least because that's not my background, that's not my expertise, I've done shoes and I've done tailoring, so it makes adding knitwear a little tricker."
Deborah Lyons focuses on local sourcing and attainable price points
Sourcing and sustainability is also an important factor for this emerging British label, with Lyons commenting: "Everything's made in London, which is really nice, really good in terms of production and I like being able to watch over it and be close to it. I like to know who we are sourcing from, it's important to know they are doing things the right way and they are not pumping dyes into rivers or using children as labour.

"It is also really nice in terms of being sustainable, being local, being able to run back and forth without getting on a plane or anything. A lot of our fabrics are also basically either British or Italian for the most part, sometimes we'll use the odd Japanese or Spanish fabric, but for the most part they tend to be Italian and British, so it's quite localised in terms of sourcing as well.

"As we're small, we should be there first because it's easier for us to, because we don't h

ave to eliminate years of bad practice - so we can pick and choose from now and that's great."

While there is an added confidence behind her autumn/winter 2019 collection, Lyons is still being very considered with the growth of her label, explaining that while growing her wholesale business is important, she already counts Harrods and Harvey Nichols in Hong Kong as stockists, that she doesn't want to "over-expand".

"We definitely do want to expand, but we don't want to be everywhere, we want to expand with the right accounts so that the right people can see us," explained Lyons. "We definitely want to be with the right wholesale partners, just not necessarily with all the wholesale partners."

This also touches on the price point of her collection, with Lyons noting that the "warrior woman" is in mind when determining her brand's price ranges, where nothing is higher than 900 pounds as she wants the customer to wear her pieces and not feel like it was "too much" that they don't want to wear it.

"We've tried really hard with the price point, as it kind of comes back to the customer, we know her, we are her, she wont spend over a certain amount and feel happy with what she's bought because she'll feel like she's gone so far out of her comfort zone. We don't want to isolate the person that we say we're designing for," added Lyons.

Images: courtesy of Deborah Lyons