2014 proved to be quite the pivotal year for French luxury house Louis Vuitton with its new creative director Nicolas Ghesquière creating a flawless transition when he stepped in, leading to Luxury Daily naming the brand Luxury Marketer of the Year.
The American website's looked at the brand's marketing efforts, strategy, creative, executive and tactical results, before declaring the French label the winner, followed by runner ups Hermès and Dior respectively. The award selection is said to have looked at all three brand's "strong ability to keep their presence known through efforts spanning print and online, maintaining key placement in important fashion publications and speaking directly to their audience through social media."
Luxury Daily names Louis Vuitton Luxury Marketer of the Year
2014 was the first year Louis Vuitton was under the artistic helm of its new creative director, Ghesquière, who was appointed back in November, 2013 as the successor to the label's former creative head, Marc Jacobs. Under Ghesquière reign, Louis Vuitton took a more simplistic approach to its print campaigns and catwalk shows, which has resonated well within the industry. The luxury label's first catwalk presented to bow under Ghesquière for Fall/Winter 2014 took place against a quieter and serene backdrop, which allowed the collection to shine through whilst highlighting the brand's new direction.
For his first advertorial campaign for Louis Vuitton, named "Series 1," Ghesquière also took a minimalist approach whilst remaining true to the label's roots. He took on three iconic photographers, Annie Leibovitz, Juergen Teller and Bruce Weber, who were given the freedom to select their own models and scenario. Louis Vuitton also reinvented its window displays to highlight its directional change. For Ghesquière's first collection, the label took over all 16 windows of Saks Fifth Avenue's flagship store in New York to showcase the collection during New York Fashion Week, a first for the French luxury label. The window displays celebrated items from Ghesquière's debut runway show, a move which is said to have helped consumers "embrace the brand's aesthetic transition," according to Luxury Daily.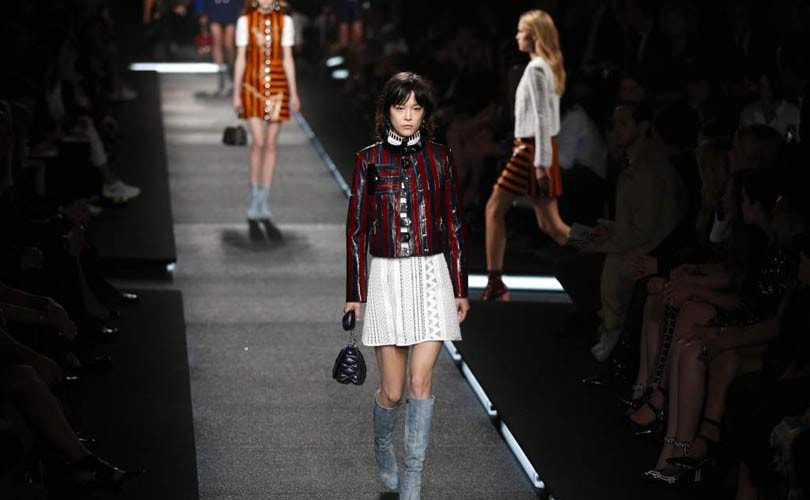 Louis Vuitton also employed additional marketing tactics to help oversee and encourage its creative transitional change. In October the luxury label began publishing it's own in-house magazine, known as "The Book," a bi-annual publication which is available in 11 languages and sent to selected Louis Vuitton customers. The label was also asked to design an exclusive case for the Fifa World Cup trophy, which was presented to the winning Germany team during the event last summer in Brazil in front of million of football fans.
Ghesquière reinvents Louis Vuitton image whilst remaining true to its brand DNA
Last year also saw Louis Vuitton support the opening of parent company LVMH museum, named Foundation Louis Vuitton. The museum, which officially opened its doors last October, was also home to it's Spring/Summer 2015 catwalk show and connects the brand to other ongoing artistic projects led by LVMH. Another campaign Louis Vuitton launched in 2014 was its "Iconoclasts," which celebrated the brand's distinct heritage. For this initiative, the label collaborated with 6 designers, including fashion designer Karl Lagerfeld and footwear designer Christian Louboutin, asking them to reinvent Louis Vuitton's monogram for a new series of bags.
Ghesquière first collection for Louis Vuitton was presented in March, 2014. The decor for the presentation was much different from the elaborate shows put on by the label's former creative director, Marc Jacobs. The catwalk and seating were both white and simple, without much detail. Danish top-model Freja Beha Erichsen opened the show in a cream colored A-line mini dress, a cropped jacket with leather sleeves, knee high boots and a small handbag. The cropped look of the dress and jacket were a recurring theme through the collection, paired with high and defined waist lines and a strong shoulder line.
The French luxury label was also named among the top 100 global brands in Interbrand's 15th annual Best Global Brands 2014 report, and was ranked the highest brand value within the luxury category according to a study from Millward Brown, with a brand value of 25.873 billion dollars (16.910 billion pounds.)