Danielle Wightman-Stone

|
Sportswear giant Nike is continuing its commitment to sustainability with the introduction of its new 'Flyleather', a new leather 'super' material that is made with at least 50 percent recycled leather and water power.
"The earth is the athlete's biggest playground, so one of our greatest opportunities is to create breakthrough products while protecting our planet," explains Hannah Jones, Nike chief sustainability officer and VP of the innovation accelerator. "Nike Flyleather is an important step toward ensuring athletes always have a place to enjoy sport."
The innovation has been developed to help Nike reduce the amount of leather it wastes during the manufacturing of its trainers, which in traditional manufacturing can lead up to 30 percent of a cow's hide being discarded and often ending up on landfill, according to the sport's giant.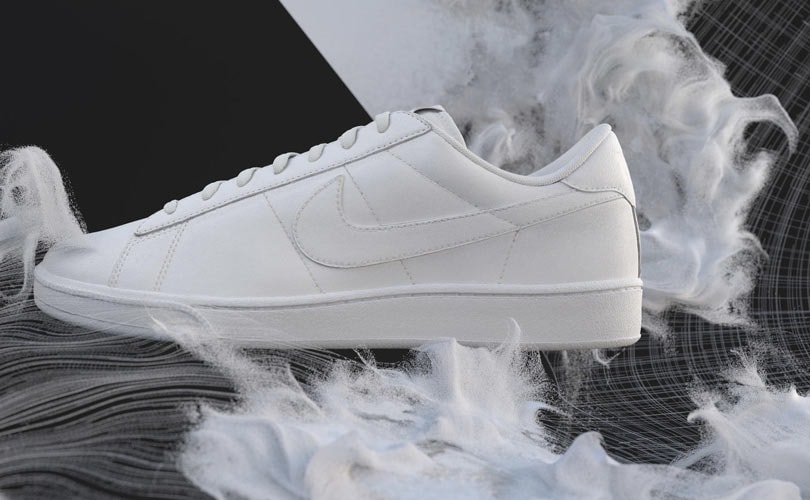 To reduce this waste, Nike is now gathering the discarded leather scraps from the floor of tanneries and turning them into fibres. Then, those recycled leather fibres are combined with synthetic fibres and a fabric infrastructure via a hydro process to fuse everything into one material. This material then goes through a finishing process, which can include things like pigmentation, and is completed by being put on a roll to be cut.
"Nike Flyleather completely mimics athletic, pigmented full-grain leathers in everything from fit to touch," added Tony Bignell, Nike VP of footwear innovation. "Unlike with traditional leathers, Flyleather can be produced with a consistent grade across a broader range of product."
Nike introduces Flyleather made from 50 percent recycled leather
Leather has the second-highest environmental impact on Nike's carbon emissions and water usage said the brand, it is hoping that Flyleather can change that as the new 'super' material uses 90 percent less water and has an 80 percent lower carbon footprint than traditional leather manufacturing.
A pair of Nike Flyleather shoes has approximately half the carbon footprint compared to shoes made with traditional leather, and because Nike Flyleather is produced on a roll, it improves cutting efficiency and creates less waste than traditional cut-and-sew methods for full-grain leather.
Jones added: "Nike believes in science, and that climate change is real. That's why Flyleather is a game-changer. As we witness the impact of climate change, the world is getting after a low-carbon economy, and Nike is innovating it."
In addition, Nike Flyleather is also 40 percent lighter and five times stronger than traditional leather, based on their own abrasion testing.
"Similar to what Nike Flyknit did for knit, Nike Flyleather can do for leather," said John Hoke, Nike chief design officer. "New technologies and platforms allow us to get closer to working at the molecular level. Flyleather is the latest example of this, and is particularly exciting because it allows for increased potential to extend our craft with more precision. This means opportunity for greater strength, support, elasticity and so on, based on the needs of specific sports."
The first Swoosh-adorned trainers to feature Nike Flyleather is the Nike Flyleather Tennis Classic, an all-white version of the premium court shoe, which is available from Nike.com and at the Nike SoHo store, NikeLab 21 Mercer and Dover Street Market in New York City.
In addition, Nike has created limited editions of the next generation Nike Flyleather footwear – versions of the Air Force 1, Air Max 90, Cortez, Jordan 1, and Tennis Classic made in Oregon that will be seen during New York during Climate Week NYC.
Images: courtesy of Nike