The Prada foundation has found itself a new home: Largo Iscaro in the Southern part of Milan. The foundation, which was first established in 1993, will now be housed in a complex of seven existing buildings made up from a distillery that dates its history back to 1916. The new complex is a whopping 205,000 square feet.
Patrizio Bertelli, Miuccia Prada's husband, has declined to state how much the new location cost, but, it's easy to imagine that it was quite the pretty penny. While the Prada Foundation bears the name of one of the world's most legendary fashion houses, Bertelli has made it clear that Fondazione Prada and the fashion house are two completely separate entities. "We've never held art exhibitions to coincide with our fashion shows, that would be unkind to the artist," Bertelli was quoted saying to WWD, to which his wife Miuccia Prada added: "And to the designer, too."
The new space is intended to be very much a space to honor contemporary art, something that Italy has long been lacking. Dario Franchesini, Italy's minister of culture and tourism, hopes that the space will become a hub for design, innovation, art, and culture. With one of fashion's most powerful ladies behind the helm of the project, that is a dream that could easily and quickly see fruition.
The venue is home to many incomparable exhibits, such as the "Serial Classic" which spans over two levels in one of their buildings called the podium, and collects about 60 works related to classical sculpture. While the Fondazione Prada may run independently from the fashion house, the exhibit is not without its cornucopia of fashion, three additional art projects have been unveiled showing artworks from Prada's collections. The South Gallery and Desposito warehouse house seventy pieces that are an ode to the inspirations behind Bertelli and Prada founding the Fondazione Prada.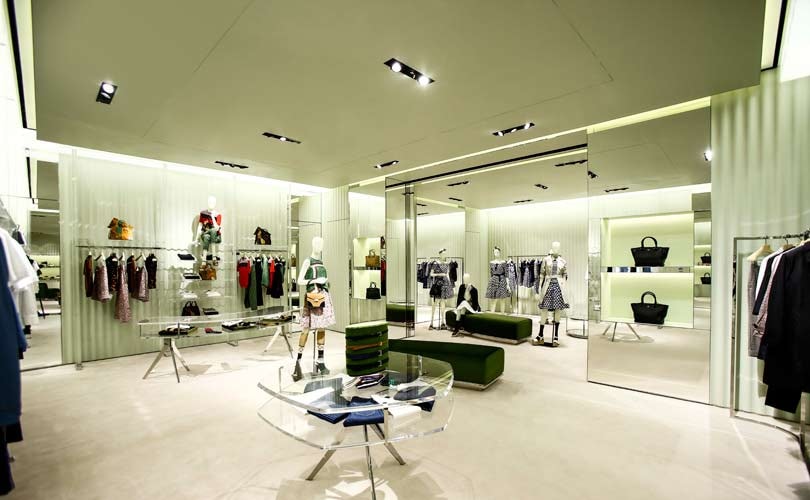 Some of the artwork includes works from Yves Klein, Piero Manzoni, and Francesco Vezzoli. In addition to the artwork, they have plans to add a library next year, and they also have a project specifically to cater to children called the Academia de Bambini. The new headquarters will officially be open to the public on May 9th, so, until then, Italy will wait with bated breath for this exciting new culmination of art and fashion.