Day five of New York Fashion week commenced, and several designers proved that sticking to the arena of your strengths is where you will find the greatest success.
Lela Rose presented her stellar collection afternoon. Her aesthetic could be described as "former Princeton graduate, who now has a very lucrative career in a field like finance or corporate retail, and is very into fashion." Rose's aesthetic is very understated, with looks including items such as a textured jacquard peplum dress, a black and white optic weave peplum dress, and a moss cable leaf sweater with fringe helm. Everything she does looks very expensive and tasteful though, and she occasionally will step out of the traditional formal zone with looks like an oxblood falling leaf fil coupe dress and a dusted pink and oxblood falling leaf printed silk gazar gown.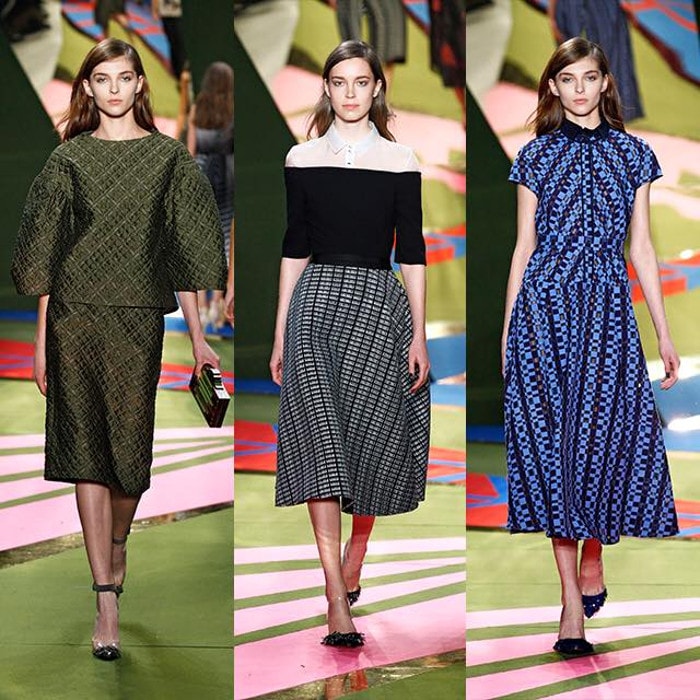 Her greatest skill as a designer lies in bringing texture to those classic aesthetics. She sticks to the sleek and feminine, and it works for her. In the spirit of a more consumer focused approach to Fashion Week, Rose also made several looks from her collection immediately available for purchase after the runway show.
Jeremy Scott always draws from pop culture, and whether it is for his eponymous label or Moschino, it's an approach to fashion that continues to work for him. Scott's collection was the usual ode to pop art and culture with sweatshirts featuring characters like Ren and Stimpy and Johnny Bravo. Candy colors were big for the designer, with colors like pink, yellow, blue, and green in bright, neon, or metallic shades as major staples of the color palette.
Reem Acra, Lela Rose, Jeremy Scott, and Libertine put their preferred aesthetics on display at New York Fashion Week
While a lot of the clothes were the usual Jeremy Scott style pieces, and some pieces looking like scaled down Moschino, there were a few standout pieces. His metallic blue pants for men were a very original offering. The highlight of his collection would have to be a lurex dress studded with giant beads. It was out-of-this-world to say the least, whether in a good or bad way depends on your preference for ostentatious things.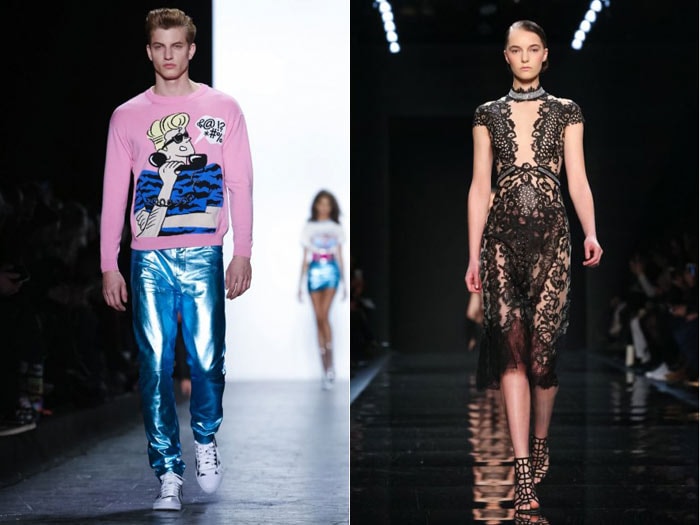 Reem Acra is always been creating the most glamorous gowns for the most high-fashion woman. She stuck to what she is known for when she was designing her fall 2016 collection, but this time she also brought a higher level of sex appeal to her chic designs. The theme for her collection this season was the femme fetale.
Her first look was an ebony lace embroidered dress that screamed high-fashion sexiness, and set the bar for what the audience could expect. The impressive set of looks that proceeded included a scarlet silk charmeuse dress with a lace bodice, a black lace dress with jet black detail, and a bordeaux silk fringe dress with a lace underpinning. Acra, who is known for her abilities to execute lace and embroidery, found the perfect balance between elegant craftsmanship, sexuality, and luxury design with this collection.
Of course, while everyone was sticking to their usual strengths, designer Johnson Hartig of Libertine was out to give the world something new that resulted in an ear shattering applause from the audience at the end of his show. The collection included embellishments and crystal embroidery galore, in addition to very out-of-the-box pieces such as a coat with a pattern of cigarettes all over it.

The line was a multitude of patterns and colors exploding and coming together for an urban chic, slightly avant garde, yet easily wearable collection. The finale of the show included models coming out holding signs making political statements like "Joint the Revolution." It was a show to remember, and one that would leave a lasting impression on the industry.

As Fashion Week continues, we'll see how designers will continue to display their talents.