On September 7th the Nolcha Shows, a leading platform for independent designers, held the Accessories Preview at the Bryant Park Hotel as part of a series of New York Fashion Week events.
The Accessories Preview welcomed four luxury independent accessory brands to showcase their Spring/Summer 2019 collections to an audience of industry professionals, influencers and media.
Straight from the Nolcha Shows runway that was held on September 6th, handbag brand ARANYANI showcased their Spring/Summer 2019 collection at the Accessories Preview offering an intimate environment to view the unique hand painted pieces. Each ARANYANI collection tells a story through hand paintings, using the different art forms to convey their story through music, dance and storytelling. The bold colors and truly unique paintings create a bold statement collection that was well received by media and influencers in attendance.
The Accessories Preview welcomed the return of fashion forward women's footwear brand, ALL BLACK. The brand focuses on three segments in their Spring/Summer 2019 collection: edgy young girl, man tailored look for women and fashion sneakers. The collection features lazer cuts, lavish shoe laces, unique studs, brocade fabrics, jewel embellishments combined with soft leathers and bright cheerful colors to create a truly unique collection. With strong attention to detail, the constant pushing the edge of style and high quality, ALL BLACK offer fashionable women of all ages affordable, innovative shoe designs reflecting the best of the past and the cutting edge of the future while putting a smile on their face and on their feet!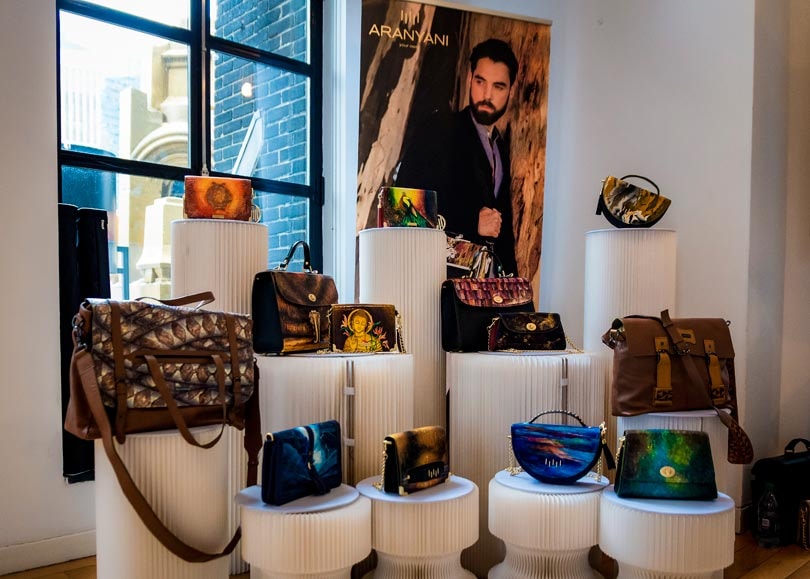 Returning for the second time to the Accessory Preview, handbag and footwear brand CoFi, presented their classic Spring/Summer 2019 collection. CoFi create a modern day twist on existing trends with additional versatility and options. The brands use of leathers continue to differentiate the CoFi brand from other existing brands, they believe style is a reflection of individuality, why blend in when you can stand out? CoFi use Italian papers and foils via a transfer process to manufacture their own unique leathers, and their SS19 collection is a strong example of their uniqueness, specializing in metallic, and adding a little shimmer and shine to everyday accessories.
Jewelry designer, Gena Myint presented her beautifully handcrafted Spring/Summer 2019 collection at the Nolcha Shows Accessories Preview. Gena Myint keeps the everyday woman in mind by creating timeless, elegant and transitional pieces that can be worn from day to night and to any occasion. Her passion for jewelry started at a young age, crafting her own creations by gathering odds and ends from her Grandmother's workshop. Continuing her love for jewelry making, she graduated from the Fashion Institute of Technology and has worked as a designer for various fashion labels. All necklace and earring designs are inspired by her travels around the globe. Each piece is made to order, and hand-crafted in New York City.
The Nolcha Shows are a leading award winning event, held during New York Fashion Week, for independent fashion designers to showcase their collections to a global audience of press, retailers, stylists and industry influencers. Over the past eleven years the Nolcha Shows have become established as a platform of discovery; promoting cutting edge innovative fashion designers through runway shows and exhibitions.
For more information on the Nolcha Shows and how you can showcase your collection with the platform visit: http://nolchashows.com