Now that London Fashion Week has come to an end, and buyers, editors and fashion weeks followers have moved onto Milan, FashionUnited reflects on some of the trends to have emerged from LFW autumn/winter 2017 collections. Whilst this season truly saw a mixed bag of designs take to the catwalk, ranging from commercially viable to fantastically whimsically, one thought on everyone's mind was the upcoming calendar shake-up, led by none other than British luxury fashion house.
Direct-to-consumer debate
Following Burberry's final Prorsum show on Monday, the entire women's wear collection was presented in its Regent Street flagship store for consumers to see and touch in person. Named, "A Patchwork," the collection is currently available for pre-order, with a select number of outerwear and bags available for personalized online until March 7, for delivery ahead of arrival in store. Whilst a number of fashion houses have announced their own plans to align catwalk shows with collection drops in store, including the likes of Tom Ford and Tommy Hilfiger, a number of smaller labels have shared their concern regarding the "see-now, buy-now" business model.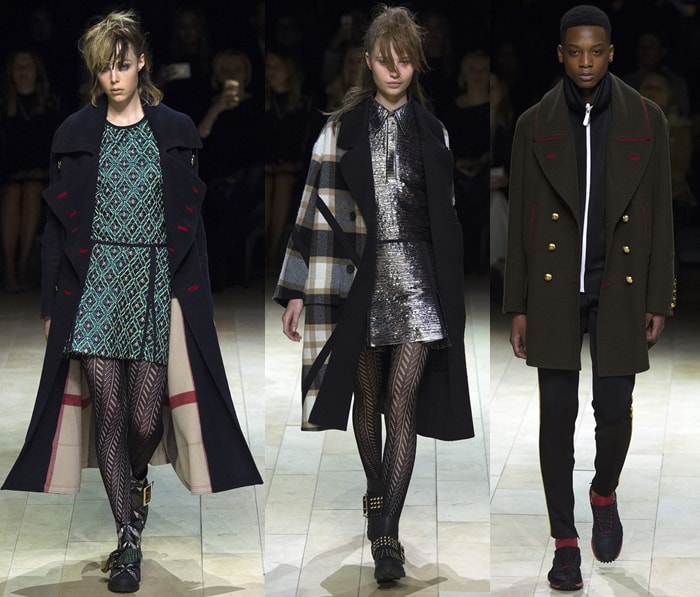 "As a small designer brand, we get the orders from buyers, put them into production, wait for the fabric, deliver that so we need to time to prepare that," said Jackie Lee, a Korean designer based in London to Reuters. Companies which may not have the pockets as well lined with coins as Burberry tend to need more time to develop their collections for wholesale, and may end up in finance trouble in the form of excess stock if they were unable to test consumers reactions to the collections first. "If you are quite a small operation, it's hard to see how you can make that shift and have access to the funds to make that shift," added Holly Fulton, a seasoned, fashion week designer, echoing the sentiment of designers such as Roksanda Ilincic.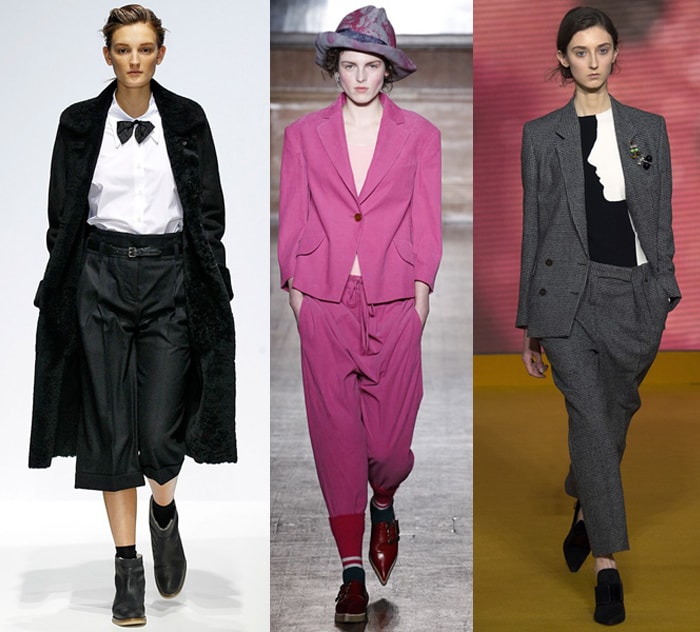 Masculine tailoring
As the boundaries between menswear and womenswear continue to blur, designers in London seemed to embrace the peaked interest in genderless fashion by adapting their silhouettes and tailoring. This season saw a striking number of male tailoring and power suits, with Margaret Howell showcasing a collection which featured cropped trousers and sensible, over the knee skirts paired with boxy blazers and loose blouses. Touches of the British countryside, student uniforms and dandy dressing served as a source of inspiration for the collection, which study materials, such as wool, tweed and velvet. Other labels, such as 1205, Gareth Pugh and Paul Smith, featured similar versions of the new power suit, complete with wide, cropped trousers and slouchy blazers in an array of dark winter hues.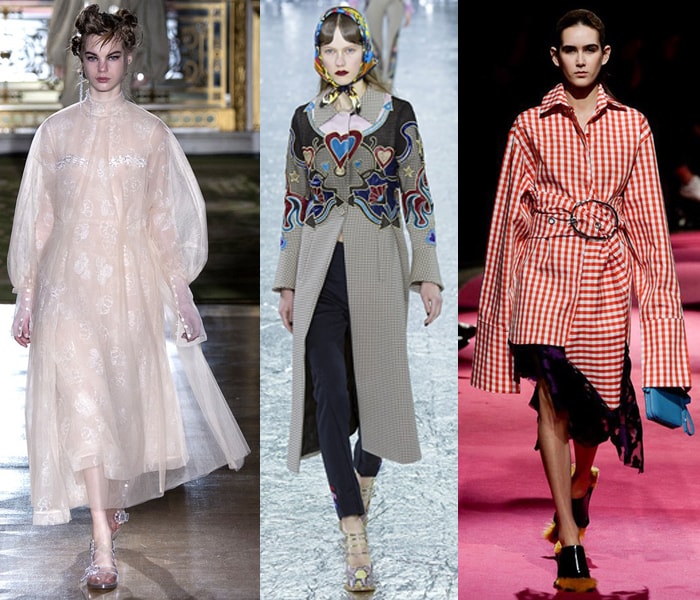 Embellished, Big and Puffy Sleeves
A number of designers paid close attention to their sleeve game this season at London Fashion Week, as sleeves were dropped from the shoulders, puffed out at the elbow and cinched in at the wrist, ruffled out at the wrist, laced up and sheer or heavily embellished. Designers ranging from Molly Goddard and Simone Rocha to House of Holland and Temperley London to Alexander McQueen featured elaborate sleeves, which sometime ballooned after the shoulder, or by the elbow. Some designers favoured sheer, lacey and semi-transparent sleeves, with a hint of the gothic/victorian, such as Simone Rocha, whilst others leaned towards embellished sleeves featuring graphic shapes, seen at Mary Katrantzou. Others went for romantically ruffled sleeves with tiered lace, as seen at Temperley London and Marques Almeida showcased oversized and longer-than-average sleeves.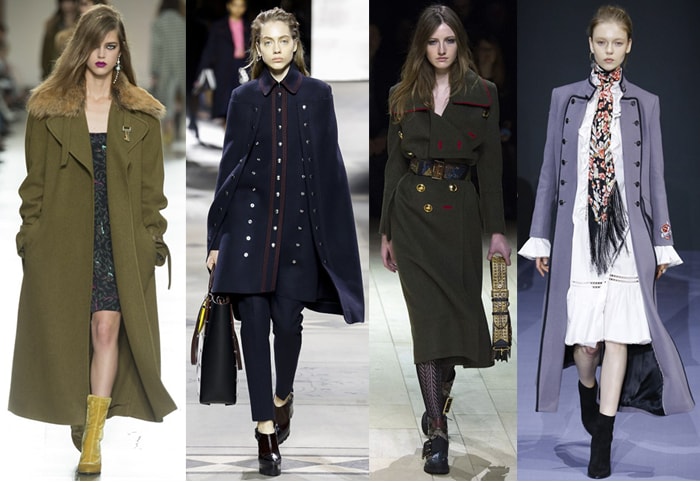 Military meets Outerwear
Another trend spotted on the runways during London Fashion Week was military inspired outerwear. Topshop Unique favoured army-green, boxy jackets complete with faux fur collars, whilst Johnny Coca debut collection for Mulberry showcased a series of military-esque wool capes, complete with topstitch and embellished buttons. Temperley London gave military a vintage, almost pirate-esque touch by pairing an ankle length, jacket with black topstitching, with a white, ruffled shift dress and fringed floral scarf. But it was British heritage label Burberry who really embodied this trend, showcasing cashmere military jackets, shearling aviator jackets as army green trench coats, complete with golden, oversized buttons and red stitching.
Photos: British Vogue