Danielle Wightman-Stone

|
Prestigious French fashion award the ANDAM Grand Prize has been presented to Y/Project's creative director Glenn Martens for being a designer that will "contribute to keep fashion relevant".
As the winner of the annual fashion prize, Y/Project will benefit from a 250,000 euro prize fund aimed at helping to develop and grow the label and establish it internationally. In addition, Martens will also receive a year's mentorship from Yves Saint Laurent president and chief executive, Francesca Bellettini.
"Glenn Martens for Y/Project has the talent, creativity and passion to be one of the designers that will contribute to keep fashion relevant," said Bellettini. "Those core values will be at the heart of our mentorship as they are fundamental to build a successful brand. It is part of the spirit of the Maison Yves Saint Laurent to foster creativity and develop talents."
Bellettini added: "Together, we will try to define the structure and environment to optimise his future and next opportunities to grow. I look forward to embrace this new exciting challenge together."
The Paris-based designer, who grew up in the Belgian city of Bruges and attended Antwerp's Royal Academy of Fine Arts, scooped the top honours ahead of finalists Aalto by Finnish designer Tuomas Merikoski, Koché helmed by Christelle Kocher, and French designer Martine Rose.
Y/Project founded in 2013 has become a fashion favourite for its innovative unisex designs and Martens ability to use deconstruction techniques to create new pieces.
The prestigious prize, supported by the French Ministry of Culture and a consortium of fashion brands including Chanel, Chloé, Fondation Pierre Bergé - Yves Saint Laurent, Galeries Lafayette, hermès, Kering, Longchamp, and LVMH, has acted as an international springboard for numerous designers including Martin Margiela, Viktor and Rolf, Christophe Lemaire, Jeremy Scott, and most recently year's winner, Johanna Senyk of Wanda Nylon.
In addition to winning the 250,000 euro prize fund, Y/Project will also receive 10,000 euros worth of crystals to be used within the year following his win from Swarovski.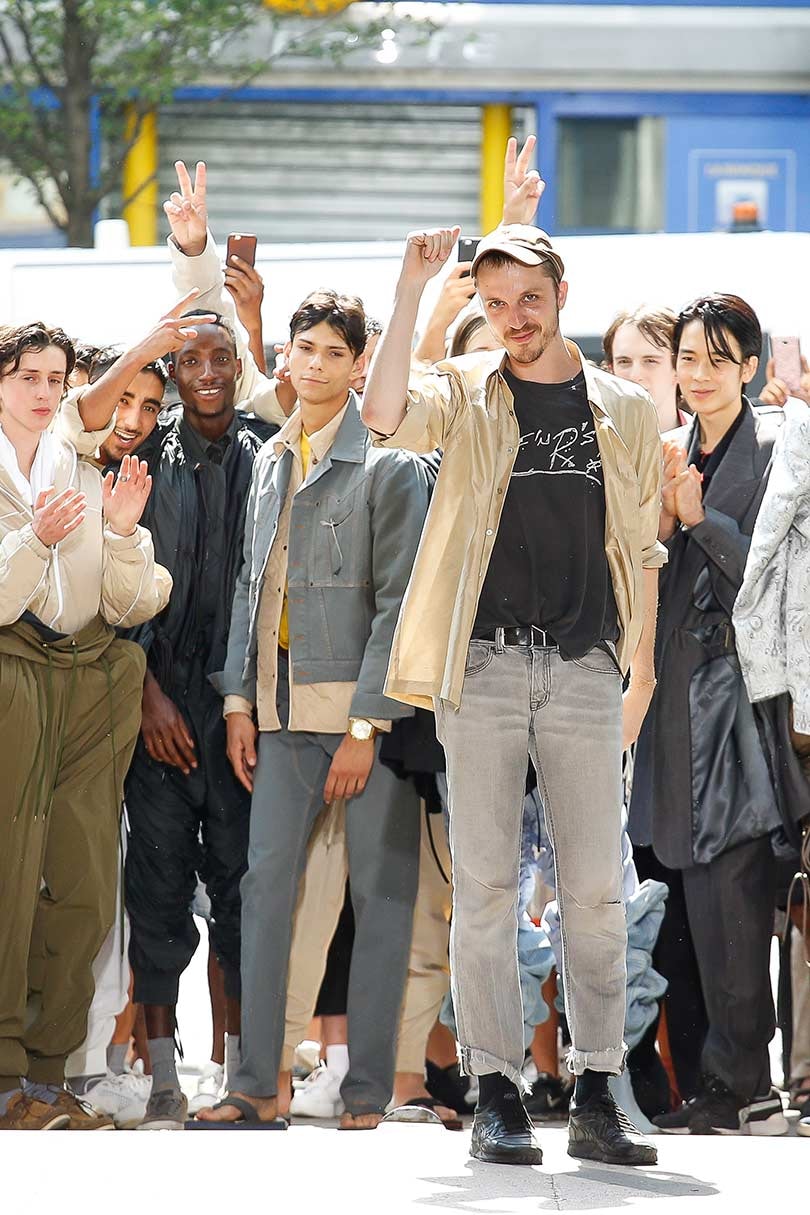 ANDAM names 2017 award winners
Alongside the main Grand Prize, ANDAM also announced the winner's of its other three awards, including the Creative Label prize, which was awarded to Paris-based indie label, Avoc, founded by Laura Do and Bastien Laurent. In addition to winning a prize worth 100,000 euros, Avoc will also receive a year's worth of mentoring on its digital and communication strategy from Ruth Chapman, cofounder and co-executive chairman of Matchesfashion.com, as well as mentoring sessions from the buying teams of Galeries Lafayette, and commercial mentoring from distribution showroom, Tomorrow London.
Ruth Chapman, co-founder and co-executive chairman at MatchesFashion.com said: "We are thrilled that Avoc has been chosen as the Creative Label Prize winner in the ANDAM Fashion Awards for 2017. Highly talented with incredible vision, we are particularly pleased to be making a personal contribution through mentoring Laura Do and Bastien Laurent for Avoc over the next year."
Galeries Lafayette has also pledged to buy Avoc's next two collections and to give them exclusive visibility in its Paris flagship store space dedicated to young creation. In addition, Tomorrow London will show Avoc's collections in its Paris and Milan showrooms will appoint a brand support sales manager to promote and sell the collection alongside Avoc's team.
The Accessories Prize, which comes with a grant of 50,000 euros, went to Brazilian jewellery designer Ana Khouri. While new prize, the Innovation Award, created to promote innovation within fashion, was awarded to smart mannequins specialist Euveka. They win 30,000 euros and a year's worth of mentoring from Pascal Morand, executive president of La Fédération de la Haute Couture et de la Mode, who is also a member of the French National Academy of Technologies.
Audrey-Laure Bergenthal, Euveka president said: "Winning the ANDAM 2017 prize for innovation is an incredible recognition from our peers. Artisanal creation moves ever closer to technology, it's a real step towards the future — a great honour has been bestowed on our work."
The winners were all chosen by a 25-member jury composed of fashion executives, editors, actresses and models including ANDAM founder and managing director Nathalie Dufour, Pierre Bergé, Ruth Chapman, Sophia Neophitou-Apostolou, Renzo Rosso, Caroline de Maigret, and Nadja Swarovski.
Image: courtesy of ANDAM - Y/Project
Photo 2: Y/Project SS18, in Parijs. Credit: Catwalkpictures.com