London - The industry was on edge for the better part of Monday, awaiting confirmation that Belgian designer Anthony Vaccarello was the one to take up the creative reins at French fashion house Yves Saint Laurent, following the exit of Hedi Slimane on Friday. Although rumours have been circulating for the better part of three months that Slimane and the heads at Yves Saint Laurent and parent company Kering were unable to come to an agreement considering the extension of his contract, suggesting Slimane was out and Vaccarello was in, the designer coyly deflected all speculation until now.
Now that his appointment at Yves Saint Laurent is confirmed (note, the referral to the fashion house's original name, not Slimane's rebranding of Saint Laurent) industry insiders have already begun to speculate what his debut collection for the maison will look like, which is set to debut this October, and if his vision for Yves Saint Laurent will continue from where the highly acclaimed - and criticized - Slimane left off, or turn a new leaf. However, those who are not as familiar with the comings and goings of fashion houses creative directors are most likely wondering who exactly this Anthony Vaccarello is. FashionUnited has gathered the top five need-to-know basics on the 36-year old designer to make the transition of creative directors that little bit smoother.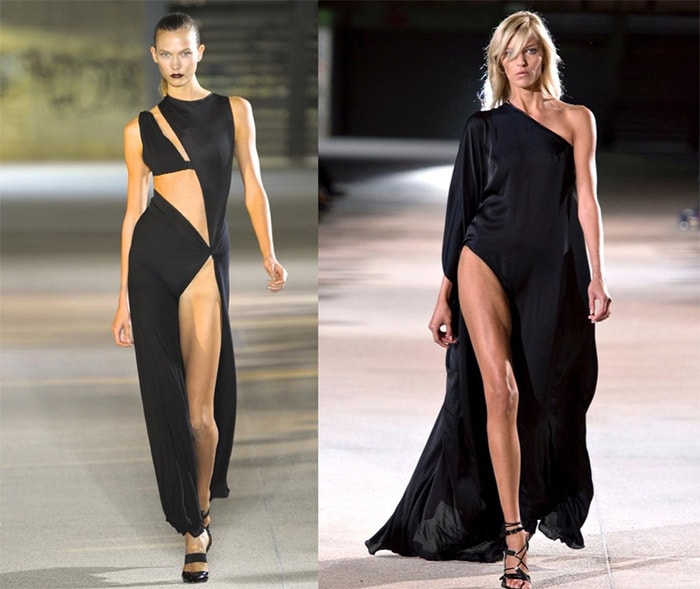 1) Anthony Vaccarello 's designs are favoured by models across the globe
Even though his name has yet to become a household staple, Anthony Vaccarello designs have been worn by models and artists alike on red carpets around the world for a number of years now. The designer, who studied at the prestigious L'École de la Cambre in Brussels, Belgium, first launched his own eponymous brand in 2009, following a two-year stint at Fendi. There he worked under the guidance of creative director Karl Lagerfeld designing furs. However, through his own women's wear label the designer quickly became known for his signature, sexy power dresses, which sit at the core of all his collections and feature razor sharp tailoring, asymmetrical, sky high hemlines and leather strapping.
Vaccarello has been called "a designer who demands clavicle perfection of his clients," by Eric Wilson, in the New York Times in 2013, and his loyal following has proved this to be true. His little black dresses are favourited by models such as Alessandra Ambrosio, Anja Rubik, Gisele Bundchen and Karlie Kloss and have graced the cover of Harper's Bazaar in 2012, donning the form of Gwyneth Paltrow, who wore a slinky, black gown with a slit up to the thigh from his Spring 2012 collection.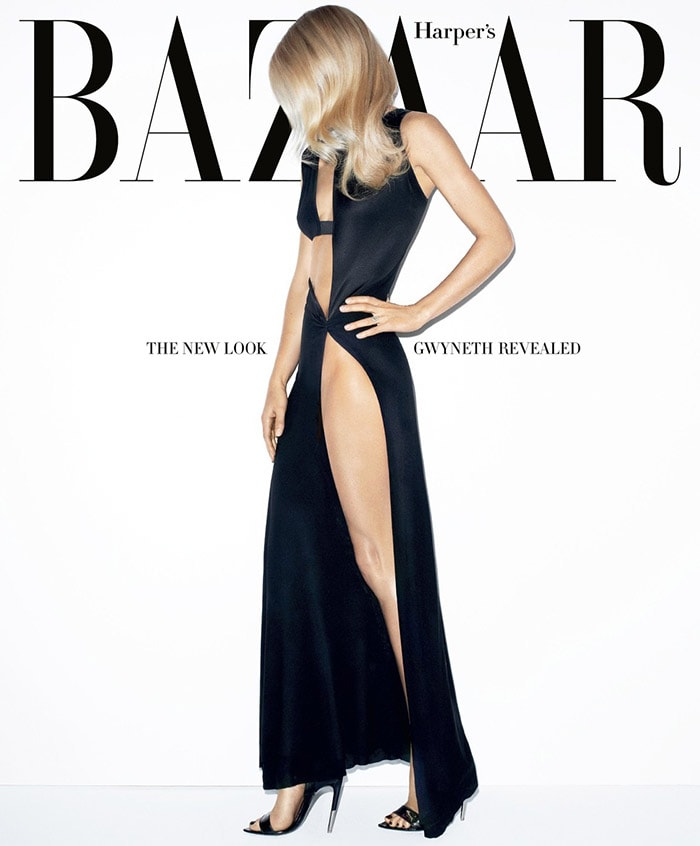 2) He is a winner of both the Hyères International Festival of Fashion and Photography and ANDAM Fashion Award
Back before he was dressing models and overseeing the direction of his own fashion label, Vaccarello was a promising student at La Cambre. In 2006 he presented his leather-based, graduate collection at the Hyères Festival in Côte d'Azur, a fashion and photography fair known for shining the spotlight on emerging designers. Vaccarello collection, which is said to have been based on Italian pornstar Cicciolina, won the Grand Jury Prize, which saw fellow Belgian designer Ann Demeulemeester act as one of the judges. After winning the award, Vaccarello quickly snapped up by Lagerfeld for Fendi.
Then in 2011, Vaccarello was awarded with the Association Nationale pour le Développement des Arts de la Mode (ANDAM) Fashion Award, France's equal to the British Fashion Council. He was given a cash prize of 200.000 euros as well as 10.000 euros worth Swarovski-crystal to use in his collection for spring 2012. "I was completely shocked," he said at the time of winning the award to ELLE magazine. "In my opinion, the other contestants explained what their collections were about much better during their speeches."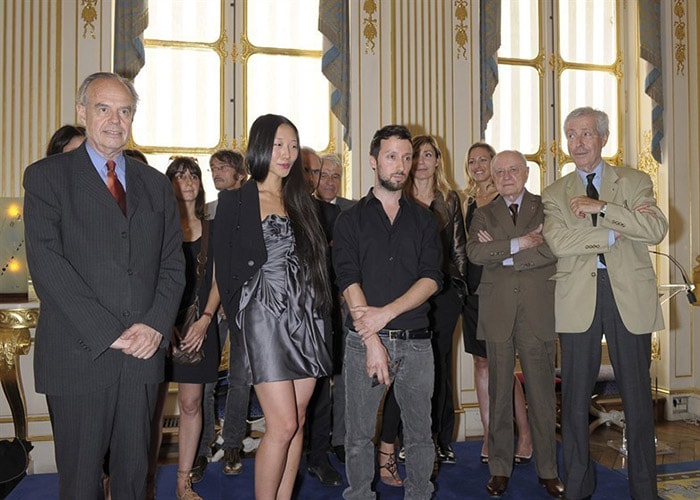 3) He has worked with Donatella Versace for three years
Although he was officially named creative director of Versace's Versus label, the younger sister label of Versace which the late Gianni Versace left in the hands of his sibling Donatella, a year ago the two have been working together for three years. In 2013, Donatella asked Vaccarello to come on board as a brand consultant for Versace Versus and then later she invited him to be one of the guest designers for the collection.
"We chose each other," said Donatella previously to the Telegraph on her appointment of Vaccarello as creative director. "What Anthony does is very close to my work. My woman is cool and sexy, and to combine those two things is not always easy...Not many have this quality of combining very cool and sexy. But it's what women and men want." Versace said she has been a fan of Vaccarello's work from his very first collection and immediately felt that he was "the one." During his time at Versace Versus he has been credited with re- igniting the buzz around the brand and also introducing the 'See-now-buy-buy' business model to the brand.
4) He will turn his full attention to Yves Saint Laurent
Now that Vaccarello has been appointed Creative Director at Yves Saint Laurent, the designer has forfeited his former role at Versace Versus. Donatella confirmed his departure on Sunday and gave the Belgian designer her blessings. "While I'm sad to see him leave the Versace family, I wish Anthony Vaccarello tremendous success with his next chapter," she said in a statement. "In the past several years, I have worked with three great young talents on Versus Versace: Christopher Kane, JW Anderson and Anthony Vaccarello," she added.
"In each instance, their time on Versus Versace led to them making a huge advancement in their design career. I appreciated the chance to work with each of these three designers, and I enjoyed seeing what they brought to a brand I truly love. I'm proud that Versus can be such a remarkable global platform for emerging design talent." In addition to departing his role at Versace Versus, the designer has also confirmed that he will press pause on the production of his own label.
5) He still does not have his own Wikipedia Page
Even though Anthony Vaccarello has been gaining a lot of trajectory and attention within the fashion industry over the years, the designer still does not have his own Wikipedia page dedicated to his work, unlike his predecessors at Yves Saint Laurent. Perhaps the heads of the French fashion house will take it upon themselves to create one for him, which will make it easier for those outside of the industry to learn more about Vaccarello.