French fashion house Guy Laroche has appointed Central Saint Martins graduate Adam Andrascik as its new creative director.
Succeeding Marcel Marongiu, who has overseen the creative direction of the label since 2007, Andrascik is set to unveil his first collection during the label's upcoming Paris Fashion Week show, on March 4, according to WWD. The young graduate, who has been designing garments under his own name since 2010 and debuted at Paris Fashion Week last September, has put work on his own eponymous fashion label on pause for the next year whilst he takes over the reins at Guy Laroche.
"Working for myself up to this point has been interesting, but it's very tough to write your own language every season, to really figure out what you're trying to say," he said to WWD. He first began working together with the French fashion house last October, when he began searching through Guy Laroche's archives for inspiration for his debut collection. Andrascik describes his work for Guy Laroche as "something dark, something romantic, something elegant, something new."
"When I talk to anyone, they have knowledge of the brand without actually knowing the type of clothing or silhouettes," said Andrascik, who adds that his role is to "tap into that heritage without being overly reverential." The London-based designer believes that the label's namesake founder, who passed away in 1989, was good at understanding where the "zeitgeist" was going, enveloping himself in it and pulling his own statement from it.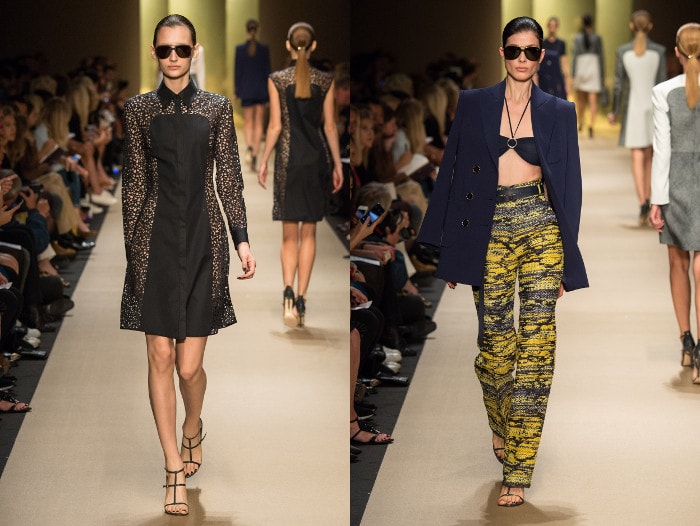 "I don't want to say [it's a] revamp because it's not like it's a label that went away, but it's a reimagining of what [Guy Laroche's] ethos would be now, who the customer would be now for this kind of idea. Then to come into this house and see what [Guy Laroche has] done, and be able to go 'wow that's such an amazing idea.' To be able to go into that and work with those existing bases, that's an absolute dream."
Prior to studying at Central Saint Martins under the late Louise Wilson, Andrascik attended the Fashion Institute of Technology in New York, interning at labels such as Gucci and Proenza Schouler before moving to London.
Images: Adam Andrascik, Guy Laroche SS15