Calvin Klein and Amazon Fashion are teaming up to launch Calvin Klein X Amazon Fashion holiday retail experience, available for customers to shop now through December 31st. The company said a statement that this experience will include pop-up shops in New York City and Los Angeles, as well as an online brand store on Amazon.com/mycalvins.
"We are proud to collaborate with Amazon Fashion on this exciting retail concept," said Cheryl Abel-Hodges, Head of Calvin Klein Underwear and President, The Underwear Group of PVH in a statement, adding, "It is our goal to deliver an immersive and content-driven shopping environment to the consumer, and we are thrilled to introduce this experience to Calvin Klein and Amazon shoppers, both online and offline, just in time for the holiday season."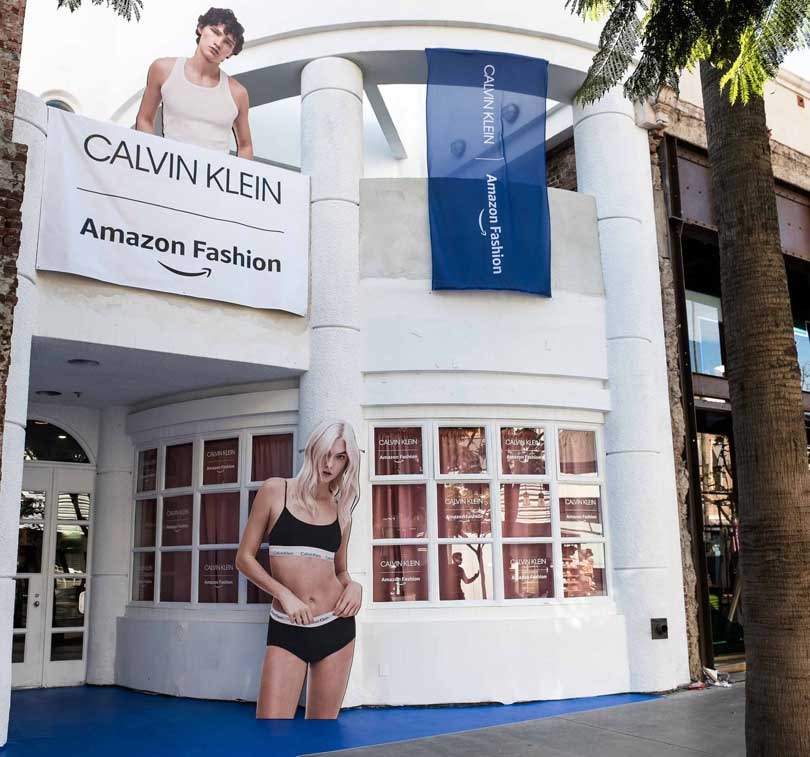 Calvin Klein to launch pop-ups, online store with Amazon
The company added that this first of its kind initiative between Amazon Fashion and Calvin Klein will include exclusive styles available only to Amazon customers at the pop-ups and the online brand store. The pop-ups will be located in New York City's SoHo neighborhood and in the city of Santa Monica in Los Angeles. Each location will sell Calvin Klein underwear products, including men's and women's underwear and loungewear offerings, while the online brand store will offer an expanded selection of both Calvin Klein underwear and jeans.
The pop-up shops will allow the customer to make purchases by scanning a bar code in the Amazon App and having their items delivered to their home, or they can even purchase in-store. Fitting rooms will contain AmazonEcho devices, which will allow shoppers to ask Alexa various questions about the Calvin Klein product and experience, control lighting features, and play music of their choice.
"The holiday season is one of the most important shopping times for our customers, and we are delighted to team up with Calvin Klein to provide a fun, interactive experience that connects our customers to product in an engaging way," added Michelle Rothman, Vice President at Amazon Fashion.
Calvin Klein ties up with Amazon to woo customers
The customization stations at the pop-up stores will also allow shoppers to have their purchased Calvin Klein underwear personalized with special embroidery. Content creation spaces will encourage shoppers to create their own unique, sharable social media clips. Lounge areas will connect shoppers between the bi-coastal shops via video calling on the AmazonEcho Show, allowing them to interact and share content in real time.
The company further stated that throughout the holiday season, the shops will host special events with notable personalities, including supermodel and entrepreneur Karlie Klossand comedian and author Lilly Singh.
Picture credit:Calvin Klein