Italian luxury fashion brand Ermenegildo Zegna announced on 26th June that it picked up a minority stake in Indian designer brand Raghavendra Rathore Jodhpur, thus investing in "Brand India". The Milan-based company made the move together with its Indian retail partner, Reliance Brands Limited, the retail arm of conglomerate holding Reliance Industries, for an undisclosed amount.
"In some sense, it heralds the coming of age and maturing of India's luxury fashion business," said Gildo Zegna, CEO of Ermenegildo Zegna, in an interview with The Times of India. For years, Indian designer brands and luxury fashion houses have been mainly catering to the - admittedly, considerable - domestic traditional wear and wedding market but in recent years, this has been changing with global fashion houses and private equity funds alike investing in the growing segment. "I'm delighted with the possibility of this opportunity; it is perhaps wise to partner and invest in key players in developing markets, to take the threshold for luxury to a new level," added Zegna.
The three-way partnership, which saw Ermenegildo Zegna and Reliance Brands Limited acquire the same share capital of the Indian luxury brand, will work with the designer to improve its positioning as one of the most authoritative Indian men's brands, which has been around for the past 25 years. "The scope of the investment includes the sharing of strategic strengths aimed at helping Raghavendra Rathore Jodhpur accelerate its growth and brand potential," said the two companies in a joint statement announcing the deal. "The appreciation of the results achieved by Mr. Raghavendra Rathore along with the ease with which we discussed this project were key factors in making this crucial decision," added Zegna.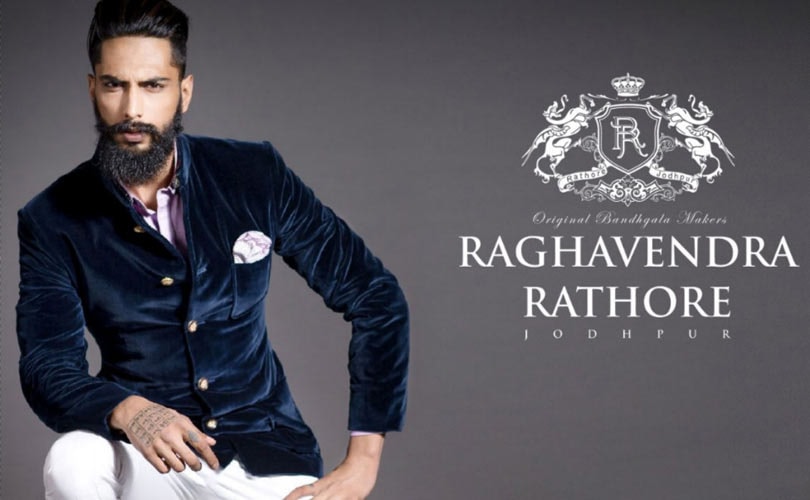 "This strategic alliance represents a partnership that can nurture my vision of promoting our rich tradition, craft and the epitome of Indian style through my products. This alliance facilitates and opens endless possibilities for the brand to flourish, nationally and internationally," confirmed the designer who belongs to the royal family of Jodhpur - an heritage he celebrate in a style that he describes as "classic with clean and modern sensibilities, cutting across the borders and corners of the world".

The Indian luxury brand specialises in festive and wedding wear for men and women, including accessoires like pocket squares, belts, buttons and cufflinks as well as shoes. It also offers bespoke tailoring that many business and Bollywood celebrities alike have made use of. Rathore was also one of the first designers to use the "Brand India" positioning for a fashion company.

Raghavendra Rathore graduated from Parsons School of Design in New York in 1992 and went on to work for designers like Oscar de la Renta and Donna Karan before launching his own label in 1994. There are currently seven Raghavendra Rathore boutiques in India - in Mumbai, New Delhi, Kolkata, Hyderabad and Surat - and the brand is distributed in Asia as well as in the Middle East and the UK, among others.

Photos: Raghavendera Rathore Jodhpur website