Guess has released its second sustainability report highlighting the company's development towards a higher standard for social and environmental performance. This year, Guess assessed the water footprint of its denim, and mapped its denim production by global water availability, as an important first step to better manage its impacts. The company is currently working on a comprehensive water action management plan to address these impacts that will be released next year.
"Through my experience leading this truly global company, I see one constant across borders: people, particularly the younger generation, are deeply concerned about the future of this planet," said Victor Herrero, Chief Executive Officer, Guess in a statement, adding, "At Guess, we understand that we must continue to grow and contribute to the global community with increasing care for people and the environment; we aim to embrace existing solutions as well as try new ones to address the social and environmental challenges of our time."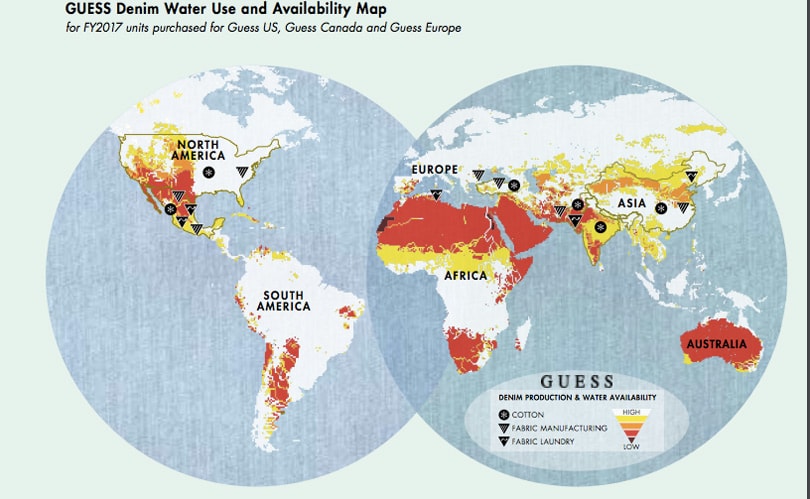 Guess releases its second sustainability report
Since the release of its first sustainability report in 2015, the brand has developed its first formal sustainability strategy and commitments, and established new goals and initiatives that will play a large role in the future business of Guess. The company added that these goals will motivate the company's efforts over the next five years to enhance the sustainability of both its global operations and local communities, and connect customers with more sustainable fashion choices.
The company said, as a member of the Global Reporting Initiative's Standards Pioneers Program, Guess is one of the first organizations to implement GRI's rigorous international sustainability reporting standards. Guess has also joined a global industry pledge to advance a circular fashion system – the idea that fashion should last, and be continuously repurposed, reused and recycled. The company will also be announcing a product take back program later this year.
The report also updates other areas of progress, including successfully reducing its carbon footprint across its stores, distribution centers and headquarters in Los Angeles, California. In FY 2015, Guess reported its efforts to improve store energy efficiency by replacing existing lighting systems with more efficient LED lighting. As part of the company's recent commitment to the science based target initiative, the company will also be transitioning its current emission reduction goal to create more aggressive carbon emission reduction goals within the next two years as its contribution to help limit global warming.
Pictures:Guess website