His work has travelled the globe, but from the May 13 onwards, Denmark will be home to its debut Mario Testino exhibition. An induction is most likely unnecessary, as the Peruvian-born and London-based Mario Testino (61) is one of the world's most famous and celebrated/critically acclaimed/renowned (fashion)photographers. He is known as the 'in house' photographer for the likes of Vogue and Vanity Fair, as well as numerous luxury brands such as Burberry, Gucci and Versace.
The exhibition, which has been named 'Mario Testino: No Limits', is set to span three floors in the gallery GL Strand in Copenhagen. Two opposing concepts which often recur in his work are nudity and clothing. A brief overview:
Princess Diana for Vanity Fair
Testino was said to have been one of Diana, Princess of Wales, favourite photographers. In 1997 he shot a photo series of the late Princess for Vanity Fair, shortly before the tragic accident which claimed her life took place. The photo serie, perhaps Testino's most famous series to date, was published in a book format following her death and put on display in London. Testino continues to photograph royalty, and stills retain a good relationship with the British Royal Family.
His Muse: Kate Moss
Kate Moss is one of his strongest muses: Testino has photographed the British model countless times and the two have built a true friendship between them over the years. A reference book was issued in 2010 of all the the photos that Testino had taken of the British supermodel to that point, named "Kate Moss by Mario Testino."
A special photo of Moss is said to be the cover of British Vogue 2008 October Edition, named 'Hope and Glory.' In the photo, Moss is seen wearing a jacket bearing the Union Jack, whilst lifting up her skirt to expose her knickers. The original photograph was auctioned off in September 2013 by Christie's auction house for the impressive sum of 26,000 pounds (31,000 euros). The photograph will be a part of the exhibition in Copenhagen.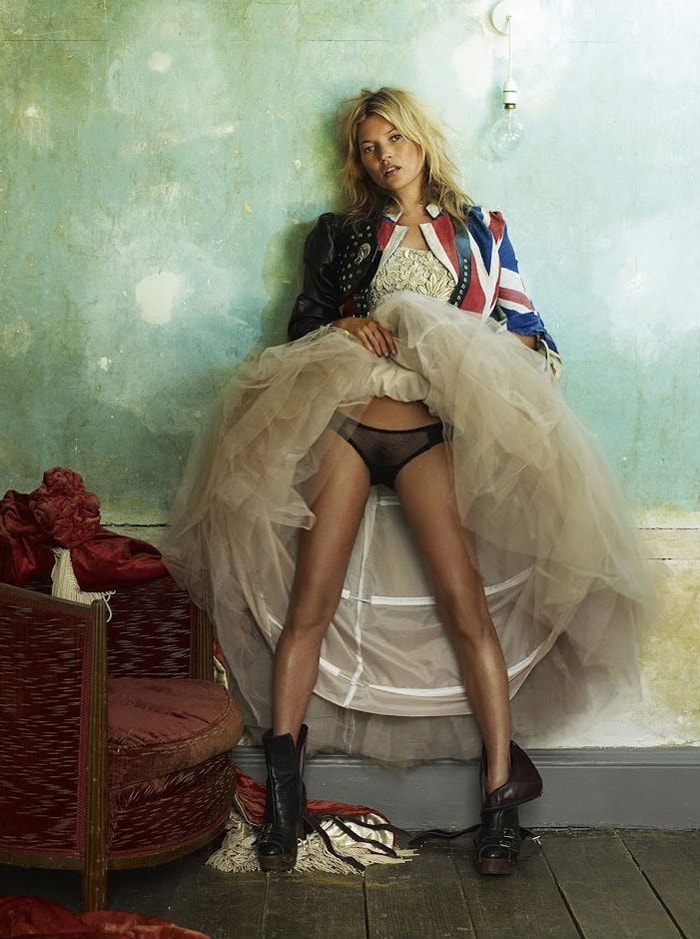 Photo: Kate Moss, London, British Vogue, 2008. Credit: Mario Testino
Gucci's heydays/glory days
In the mid-nineties Testino teamed up with Carine Roitfeld from French Vogue and fashion designer Tom Ford to blow new life into Gucci. Through a series of adventestivement campaigns they transformed Gucci's imaged into a sexy, yet elegant luxury brand, with a touch of fetishism. The brand was rejuvenate and enjoyed its glory days, thanks to its new image. The most controversial advert shot by Testino was that of Carmen Cass' pubic hair shaved to form the letter 'G'. The campaign photo was eventually banned everywhere.
Roitfeld, Ford and Testino continued to work together for years. Their style was described as 'erotic chic.' In his own words, Testino made a switch in his own personal style in this period to exuberant and sexy photography.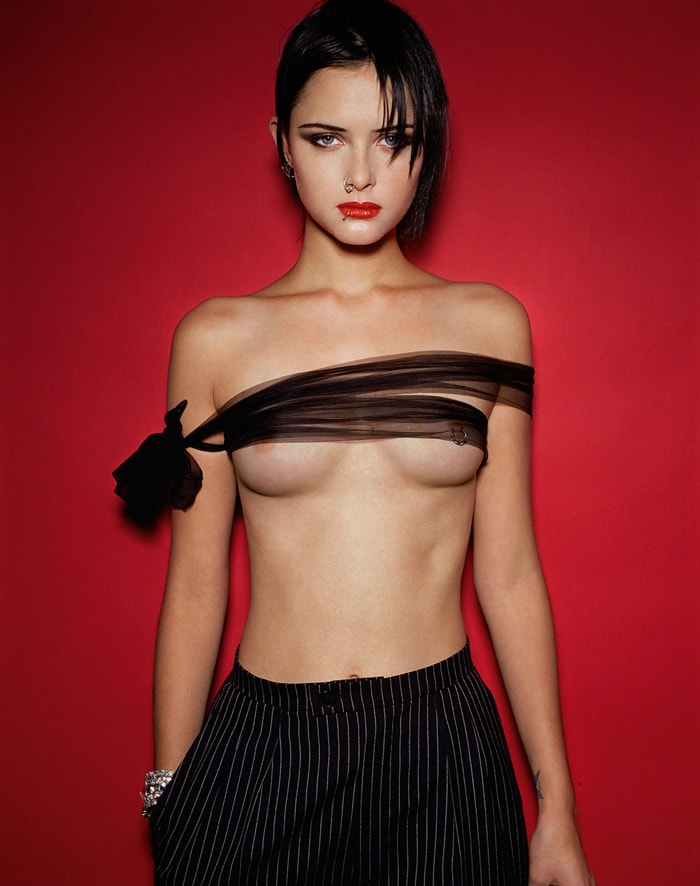 Photo: Tasha Tilberg, Paris, Dutch Magazine, 1997 - from Testino, Roitfeld and Ford. Credit: Mario Testino
#TowelSeries
If you happen to be one of Mario Testino's 2.1 million followers on Instagram, then you will be familiar with the #TowelSeries. A 'personal project' of Testino, it is a portrait series featuring A-list models and celebrities, such as Naomi Campbell posing in nothing but a towel - or a dressing gown in the case of US Vogue-Editor Anna Wintour. Testino's Instagram feed is filled with the portraits. The number one photo of the #TowelSeries? Kate Moss (of course). Testino is said to have come up with the idea for the series when he spotted Moss waiting for a photoshoot to begin in a white dressing gown.
Burberry Campaign
Mario Testino has been working together with British fashion house Burberry for over 15 years. Similarly to Gucci, Testino decided to take another path here. The fashion house was given a modern make-over, which saw Testino being in his muse Moss once more.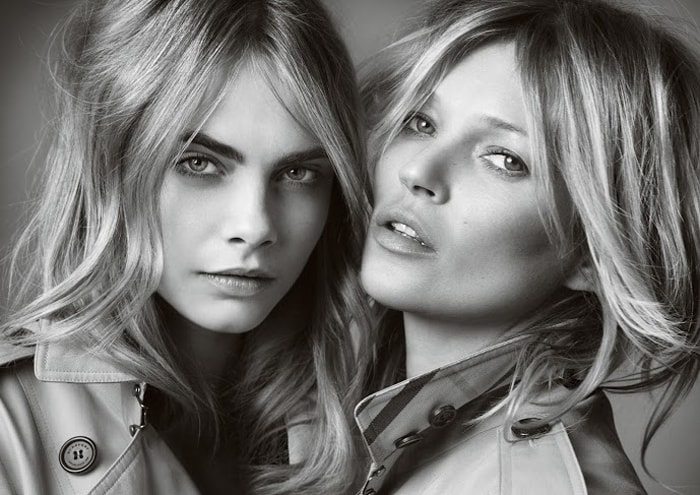 Photo: Kate Moss Kate Moss & Cara Delevingne for Burberry perfume advert campaign door Mario Testino. Credit: Burberry
Magazine Covers
Testino has photographed hundreds of covers for 'fashion bible' Vogue, glamour magazine Vanity Fair and fashion magazine V. The cover pages from V magazine are said to be the most controversial. One example is the cover featuring Kate Moss and Rihanna. There were two versions: one with a nude Moss and one with a nude Rihanna. In both versions the two ladies were shown entwined with each other. The following edition of V magazine, number 83, cover photo also stirred also some controversy. Under the title "the emancipation of Miley", singer Miley Cyrus is depicted in a provocative pose. The infamous Wrecking ball' music video with Cyrus was released shortly after the cover was released and since then the American singer has been frequently photographer topless or nude.
Video: Kate Moss and Rihanna for V magazine
Gisele Bündchen
The Guardian published an article a few years ago with the title: "Mario Testino: the man who makes supermodels." This was certainly the case with Gisele Bundchen, according to the photographer himself. In an interview with the British newspaper he said: "Nobody wanted her, except me." The campaign and the editorial photos, in which Testino remained committed to Bündchen, contribute to the development of her modelling career and subsequent supermodel statue - resulting in her becoming of the the highest earning models in the world.
The opening of the exhibition is set to take place on May 12, the same day the Copenhagen Fashion Summit kicks off. 'Mario Testino: No Limits' is open to the public from May 13 to September 18, 2016.
Homepage photo: Sienna Miller, Rome, American Vogue, 2007. Credit: Mario Testino